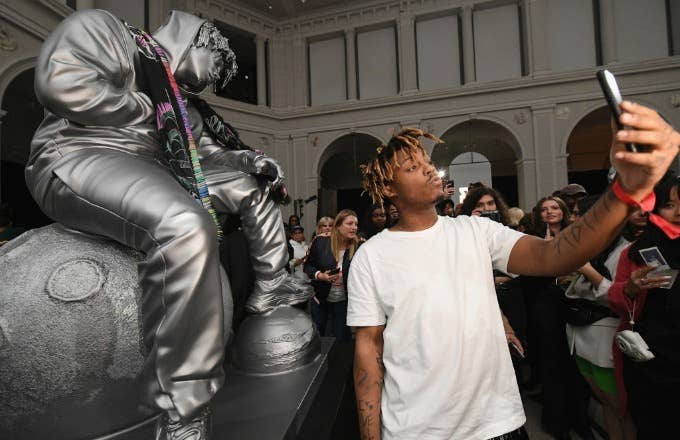 Juice WRLD reportedly had an estimated 2,000 unreleased songs at the time of his death.
A new report from TMZ, out early Tuesday, cites sources close to the Death Race for Love artist's team as saying that the collection of unreleased music is currently at the center of discussions on how to best "pay tribute with his unheard work." While it's not clear how complete the songs in question are, the report adds that a posthumous release of some sort is being considered.
The report also points out that Juice worked on and recorded new songs "constantly," including while he was on tour. Earlier this month, as many as 26 unreleased songs surfaced online and were promptly removed by his team. According to Tuesday's report, that leak is believed to have stemmed from a hard drive Juice would occasionally utilize at the studio.
The latest report follows just days after a message from Juice's family and Grade A Productions in which it was announced that "unreleased music and other projects" would be shared. 
"You guys meant the world to Juice and by listening to his music, watching his videos, and sharing your stories about him, you are keeping his memory alive forever," the statement said.
As reported on Monday, "Godzilla"—a new Eminem song including the first posthumously released feature from Juice WRLD—debuted at No. 3 on the Billboard Hot 100.
RIP Juice WRLD.