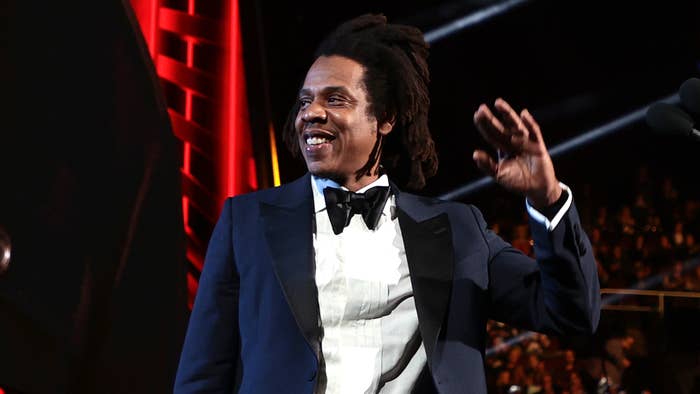 Shawn "Jay-Z" Carter and Bacardi have announced a long-term agreement surrounding the D'USSÉ premium cognac brand following a well-publicized legal battle.
"Growing D'USSÉ over the past decade from an idea to one of the fastest-selling spirits in history has been a blessing," Jay said in a statement. "The next phase of this journey will further cement D'USSÉ's legacy as one of the world's most respected brands. I am excited to renew this partnership with Bacardi."
The agreement is billed as marking the launch of the next chapter of D'USSÉ and sees Bacardi acquiring a majority interest in the multibillion-dollar brand, while Jay will also retain a "significant ownership stake." Evercore, notably, served as Jay-Z's exclusive financial advisor.
As for the preceding legal battle, readers will recall it focused largely on D'USSÉ's valuation, with Jay alleging that he was not getting an accurate assessment. With Friday's news, we now know that Bacardi has purchased a majority stake in Jay's stake, thus settling this agreement.
Expectedly, it's not known exactly how much of Jay's stake Bacardi has purchased. However, Jay was previously confirmed to own 50 percent, while Bacardi owned the other 50. Thus, a majority stake would mean at least 26 percent of Jay's 50.
According to public court documents viewed by Complex, including court proceedings from last month detailing an offer from Jay-Z to buy Bacardi's interest for $1.5 billion and a valuation of SC Liquor's (Bacardi) share at $2.5 billion, it can be surmised that the newly announced acquisition stake was sold at a valuation of at least $3 billion.
Back in December, it was reported that Jay had previously made a $1.5 billion buyout offer but was turned down. The offer, as reported at the time, followed differing valuations from both sides in the now-quashed disagreement.