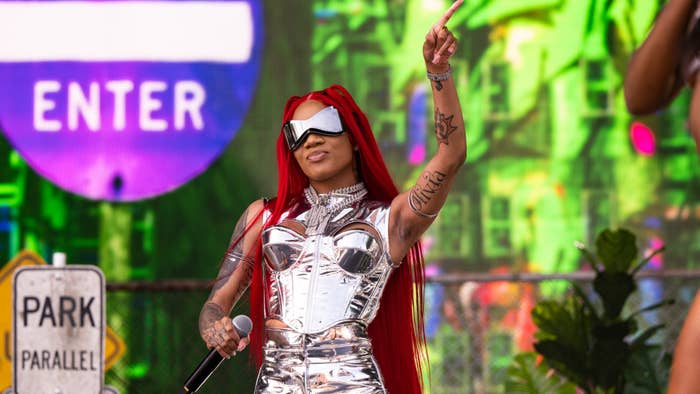 GloRilla was quick to put some self-centered concertgoers in their place after objects were tossed on the stage during a recent live performance.
As seen in tweeted footage, GloRilla stopped her set during the festival performance in question to call out those responsible for throwing what she said were bottles at her and her team. At the time of this writing, however, it was unclear from the footage what all was thrown onto the stage.
"Who the fuck threw that? Them right there. … Get them the fuck out," GloRilla said when stopping the show. From there, her DJ joined in, also urging officials to "get them the fuck outta here."
GloRilla, as seen in the clip below, continued to call for the audience members' removal.
"Both of 'em," she said when pointing out the offending attendees.
GloRilla later addressed the incident in a tweet of her own, further calling out the "insane" behavior.
"Da fact dat y'all make a mf have to talk to y'all like somebody auntie is insane," she said.
Complex has reached out to a rep for GloRilla for comment. This story may be updated.
This moment isn't the first time GloRilla has dealt with such behavior; at separate points earlier this year, she made headlines in connection with a jacket-throwing incident and another involving a water bottle.
More broadly, other artists have also recently faced similar incidents of their own. Bebe Rexha, for example, was hit in the face with a phone earlier this month. The man responsible has since been arrested and charged.
On Sunday, GloRilla was among the performers assembled for the 2023 edition of the BET Awards at the Microsoft Theater in Los Angeles. In addition to scoring multiple nominations at the annual ceremony, GloRilla also performed her recent "Lick or Sum" single.