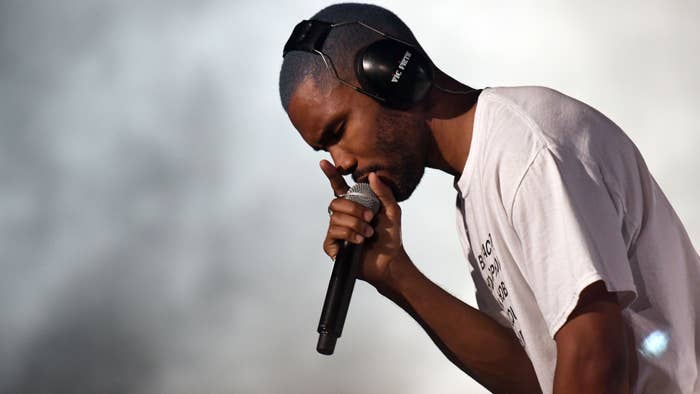 Frank Ocean hinted at a new album during his long-awaited Coachella set on Sunday night.
"Who's on drugs tonight? Who's high right now?" Ocean asked the crowd during his set, which kicked off roughly an hour behind schedule. "It's been so long. Everybody talks about how long it's been. It's like, 'It's been so long, it's been so long.' But I have missed you. I wanna talk about why we're here because it's not because of a new album. … Not that there's not a new album but there's not right now. No, chill chill chill. It's not right now."
From there, Ocean reflected on the Coachella memories he shared with his brother Ryan Breaux, who died in a car accident in 2020.
"The last couple years, my life changed so much," he said. "My brother and I, we came to this festival a lot. I feel like I was dragged out here half the time because I hated the dust out here. I always wound up with a respiratory infection or what have you. So I would, like, avoid coming. But I would always ended up here. One of my fondest memories is watching Rae Sremmurd … with my brother."
As Ocean explained to the crowd, his brother "would have been so excited" to be there on Sunday night.
"I wanna say thank you for the support and the ears and the love over all this time," Ocean. "Let me get back to these songs."
At the last minute, fans at home were informed that Ocean's set would not be livestreamed as part of the festival's extensive YouTube coverage. Additionally, presumably due to the delayed start time, Ocean's set was also seemingly cut short.
"I'm being told it's curfew, so that's the end of the show," he said at the end of his performance.
Complex has reached out to Coachella for comment about the livestream confusion. This story may be updated. At the time of this writing, it wasn't clear whether Ocean's scheduled performance at the second weekend of the festival would be streamed.
This weekend was a truly stacked one for the 2023 edition of the festival. On Friday, the classic lineup of blink-182 brought together multiple generations of festivalgoers with an acclaimed set spanning 25 years of hits, plus their most recent chart-topper "EDGING." Also on Friday, The Weeknd made his own surprise appearance, during which he debuted a new song from his upcoming HBO series The Idol. Headlining Friday was Bad Bunny, who made history in doing so.