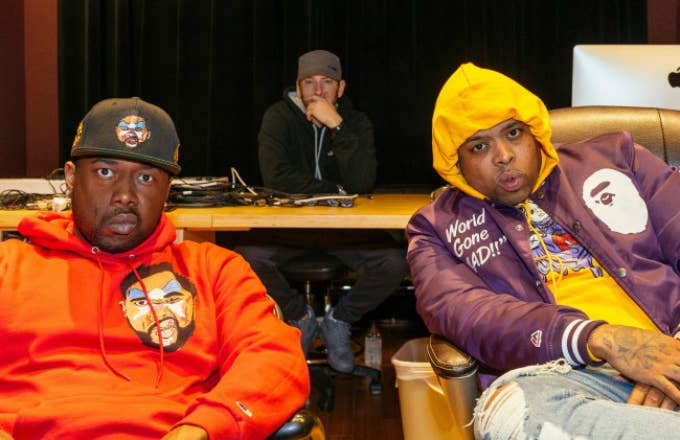 Shady Records has inked a deal with Griselda Records to include solo and collab projects from Westside Gunn and Conway, the label announced Friday. The exclusive deal with Buffalo, NY-based Griselda Records makes the artists the first from Buffalo to ink a major label distribution deal. 
"The style and energy of Griselda Records, Gunn, and Conway are infectious," Shady co-founder Eminem said in a press release. "We can't wait to put them on the platform they have earned and deserve." In a new Just Blaze-produced track released Friday, Eminem links his Detroit history with the Buffalo story of Westside Gunn and Conway:
Westside Gunn, who founded Griselda in 2014 after spending years as Conway's manager, said a "new lane" was being carved through their work. "We're bringing a new sound to the game, but it's also reminiscent of the grimey 90's," he said in a statement. "Art is in everything we do…it's the essence. We're fusing boom-bap/dark sounds with the hipster cool kid lifestyle."
Complex named Westside Gunn and Conway two of the 17 artists to watch this year, with our own Eric Diep highlighting their ability to conjure memories of Mobb Depp and CNN while still making something unmistakably fresh. As a duo, Westside Gunn and Conway are known as Hall n' Nash and recently wrapped a project with The Alchemist. Westside Gunn's most recent solo project was the Hitler Wears Hermes IV tape, released in October. Conway has been busy releasing selections from his Devil's Reject series.