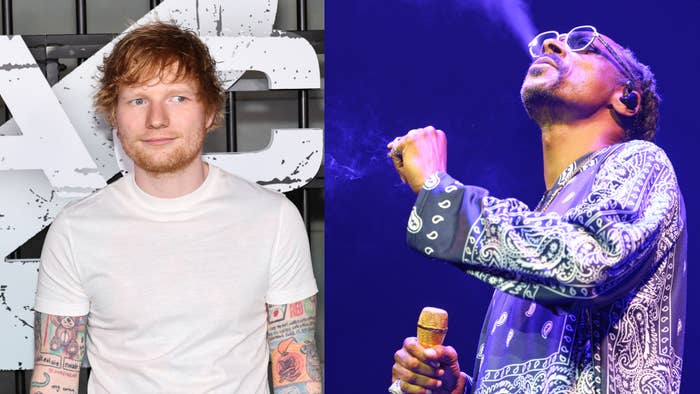 Ed Sheeran claims he temporarily lost the ability to see while smoking a blunt with Snoop Dogg in Melbourne.
The singer, now eight years removed from the defecation-related headlines of 2015, opened up about the moment of megahighness during a recent appearance on Conan O'Brien's Conan O'Brien Needs a Friend podcast. Per Sheeran, Russell Crowe was also on hand for the blunts-long hangout.
"He's really close with Snoop Dogg," Sheeran said. "They have sort of like smoke-offs and stuff. They're really cool. I don't really smoke at all and I was in the dressing room and they're just, you know, blunt for blunt for blunt for blunt. And I'm like, I guess at some point during the night I have to [smoke]."
Later, Sheeran—who'd also been drinking wine by this point—accepted Snoop's mid-conversation invitation to get in on a blunt. Sheeran said he then proceeded to have "more and more," ultimately leading to him announcing his own highness.
"I just remember looking at him and being like, I can't see right now," Sheeran said.
Ed, Russell, and Snoop did indeed make headlines earlier this year after hanging together in Melbourne. In one clip shared at the time, Snoop joked about Sheeran "smoking all your weed."