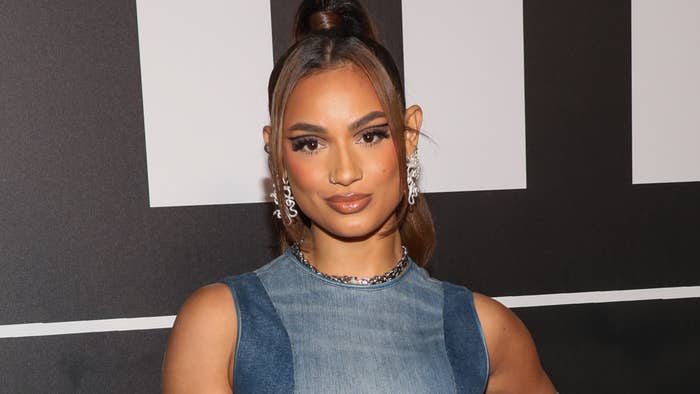 DaniLeigh was arrested early Tuesday in the Miami Beach area after allegedly being behind the wheel in a hit-and-run DUI incident.
As first reported by TMZ, DaniLeigh—real name Danielle Leigh Curiel—was arrested and booked on felony-level charges including driving under the influence, fleeing the scene of a crash with serious bodily injury, and DUI-related property damage. Police allege that DaniLeigh was observed driving erratically before hitting someone who was driving a moped.
In an arrest affidavit obtained by Complex, police say they were first called to the scene after receiving a report of an accident involving a vehicle and a scooter. According to police, a witness said they saw the driver of a Mercedes-Benz G550 (allegedly DaniLeigh) "traveling at a high rate of speed" while "weaving in and out of traffic." The same witness said they also saw the vehicle hit a moped, at which point they "continued traveling" and "did not stop." According to the witness, the moped was lodged in the front of the vehicle for about a block. Another witness offered a similar account.
Ultimately, police initiated a traffic stop on the vehicle, resulting in an officer observing an allegedly "strong odor of alcohol." The driver, alleged to be DaniLeigh, is said to have been displaying "sluggish" motor skills at the time. A passenger in the vehicle, meanwhile, is alleged to have been "heavily intoxicated." Later, DaniLeigh failed a series of field sobriety tests; subsequent breath tests showed alcohol levels of 0.145 and 0.148 for DaniLeigh.
According to a police report, the alleged victim on the scooter in the hit-and-run sustained a kidney laceration and a spinal fracture. In the inventory process of DaniLeigh's ultimately towed vehicle, police claim they found an open and emptied bottle of tequila.
Complex has also reached out to a rep for DaniLeigh for comment. This story may be updated. Mere hours before news of the arrest, DaniLeigh had been active on social media, including by posting a series of Instagram Stories updates.