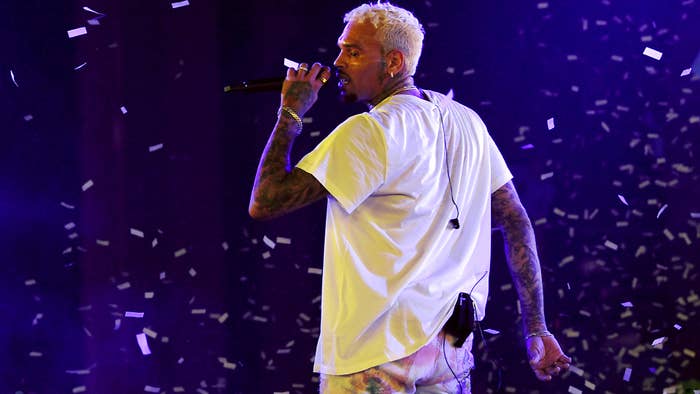 The first-week numbers projections for Breezy, Chris Brown's tenth solo studio album, are in.
In a breakdown of expectations surrounding the latest chart update, Hits Daily Double said Brown's new album was currently projected to land somewhere in the 60,000-70,000 range. 
Also released on Friday was the latest album from Luke Combs, Growin' Up. HDD reported Saturday it was projected to move 65,000-75,000 in its inaugural week. Other releases currently being made the subject of first-week speculations include deluxe rollouts from Lil Durk and Machine Gun Kelly, which are expected to net 65,000-75,000 and 20,000-25,000, respectively.
Breezysees Brown enlisting Fivio Foreign, Lil Baby, H.E.R., Wizkid, and more for the 24-track follow-up to 2019's Indigo. In a recent interview with Big Boy, Brown revealed he had amassed nearly 250 songs at one point in the Breezy process.
"I was like, 'Yeah, we gotta scale it down and figure out what we gonna do. … Too many of the songs sound in the same frequency,'" Brown said at the time. "It's like a show. You got the beginning, the climax, and then the end. But I still want to give my audience at least two or three of the same and not release a whole album where every song sounds the same." 
During the same conversation with Big Boy, Brown addressed recent viral comparisons of him and Michael Jackson. In Brown's opinion, there is "no competing" with the late King of Pop.