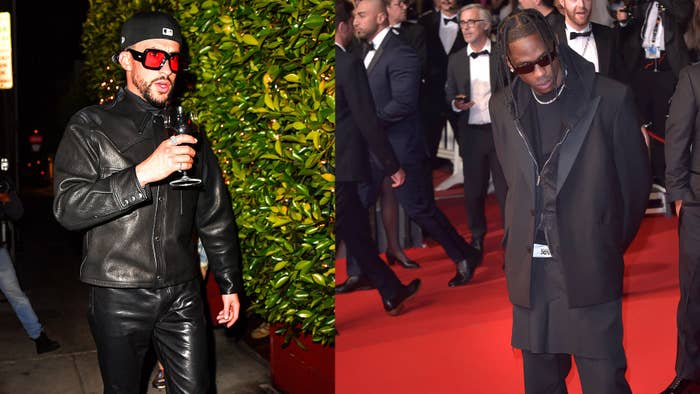 A new song from Bad Bunny and Travis Scott, marking the first collaboration between the two blockbuster artists, is imminent.
Speaking with Julyssa Lopez for Rolling Stone, Bad Bunny confirmed the collab, which has been the subject of intense speculation among fans.
"We worked on that a while back—and I think Travis has been working on his project for a minute," he told the outlet in a new cover story interview, available here.
That project, of course, is the long-teased Utopia. The Astroworld follow-up has been at the center of numerous headlines-inspiring updates for years now, including the ongoing string of appearances of a mysterious briefcase.
Bad Bunny himself, as pictured below, was recently spotted with the Utopia-emblazoned briefcase.
Last week, the briefcase made an appearance with SZA's bodyguard outside the singer's dressing room in Manchester. At the time, sources close to the situation told Complex that La Flame and SZA had been recording together after the latter's shows in the region.
The SZA update came amid fan commentary in response to images showing Scott leaving Abbey Road Studios, complete with a well-executed Beatles homage.
Now, in terms of a firm release date, we don't have that just yet. Scott fans have been pretty evenly divided as of late into those convinced Trav's first album in five years would arrive at some point in June and those who believed deeper into 2023 was more likely.
With June now winding down, it remains to be seen whether we'll be stepping into Utopia before we're more squarely in the throes of the summer season. Regardless, all signs indeed point to the album being released soon.