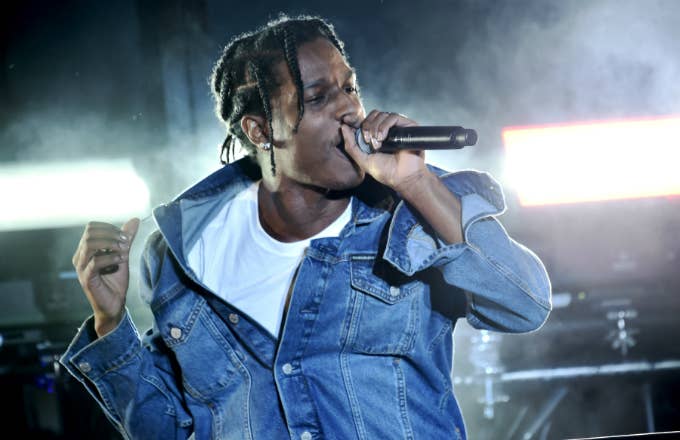 For reasons not entirely clear, the topic of orgies was broached in a new ASAP Rocky interview.
Rocky, after detailing the difficulties of designing a $100,000 bed for his Beverly Hills home, claimed to Esquire in an interview published Tuesday that his first experience with orgies occurred when he was 13 years old.
But first, some thoughts on the present day: "Yeah man, lot of orgies," Rocky said. "I've photographed and documented many of them. The women that I'm around are into that free-spirited shit like me. Usually guys are insecure with working, successful women, they can't handle it when it's on the other foot, you know? So they get with a guy like me—they know I don't want to break their hearts or nothing. And why not? Let's smoke some good weed in the teepee and have a fun time!"
Later, Rocky noted that he also did this "when I was poor," at which point he detailed the aforementioned seventh grade experience. "Yeah, I was at Booker T Washington [High School] in New York City," Rocky recalled. "My dad had went to jail for drugs, so my mom moved us to a homeless shelter on 104th and Broadway. Our school was like three blocks away, and they used to let us out for lunch, for 45 minutes. The first time was in this apartment building. We took the elevator to the roof, and everybody put their coats on the ground. There were like five girls and 10 guys, and we all just took turns. And hopefully you didn't have a little dick because they're going to tease you! At that time, I wasn't the biggest guy, but come on, cut me some slack, I was in the seventh grade! Fucking bullies!"
Elsewhere, Rocky talked the proven importance of hallucinogens in his creative process. Though mushrooms aren't his typical cup of tea, LSD—which served as song title and topic inspiration on his Rocky's previous album At. Long. Last. ASAP—has remained a consistent provider of creative flashes. Specifically, Rocky gave a more detailed rundown of the LSD-assisted "Praise the Lord (Da Shine)" recording sessions with Skepta and a neuroscientist from University College London. Enjoy the full discussion here.
Rocky's Testing dropped back in May via RCA and his own AWGE. Last week, he made a cameo in French Montana and Drake's "No Stylist" video, which also features Dapper Dan and Slick Rick.