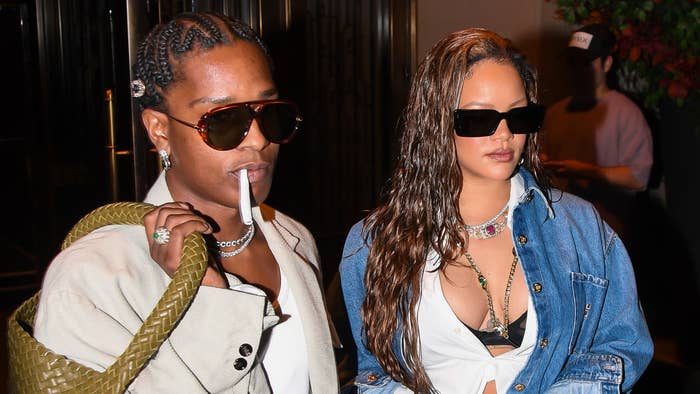 ASAP Rocky is now the star of a new meme that's sure to become a mainstay on Twitter, which I refuse to refer to as X.
Indeed, Rocky was seen halting his own words mid-sentence in reaction to seemingly hearing Rihanna's laugh in the distance in a swiftly-made-viral clip.
At the top of the decidedly brief clip, Rocky is seen starting to answer a question at a red carpet event before hitting the pause button.
"What the fuck is that?" Rocky says after playfully looking at his surroundings and directly into the camera. "What was that?"
Naturally, reactions to Rocky's reaction were immediate and plentiful. See a selection of them below. Fans will note that this is the second instance of Rocky inadvertently tapping into social media virality in as many months. In October, there was the whole vomiting paparazzo thing.
Rocky recently staged what Complex's Mike DeStefano later declared "the hottest destination" amid F1 festivities in Las Vegas. The pop-up event, launched Friday in commemoration of Rocky's new Puma and F1 collection, saw Rocky making an unforgettable entrance while hanging out of the window of a car. Rihanna, notably, also made an appearance.
During an interview with Complex that same evening, Rocky was asked about the possibility of artistically collaborating with his partner, prompting him to shout out their two children together as their "best creation" yet.
"If me and my lady was to collab, what could we team up and just fucking just smash and go crazy on?" Rocky told Complex. "I think we do a real great job at collaborating and making children. I think that's our best creation so far."