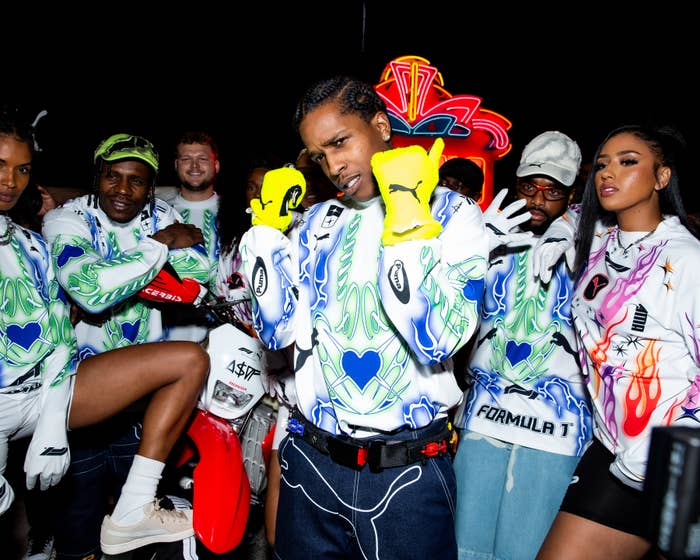 ASAP Rocky knows how to make an entrance.
On the night of Nov. 17, dirt bikes ripped through the street ahead of a black SUV in the Fremont East District of Las Vegas. Rocky, dressed in a sweatsuit mimicking an F1 driver's coveralls and red fabric hood meant to look like a racing helmet, hung out of the window hyping up the crowd that had gathered at a pop-up to celebrate his first Puma x F1 apparel collection.
Pandemonium ensued before the vehicle disappeared into a fenced-in parking lot. After a few minutes passed, ASAP Rocky emerged from the gated area to mingle with the crowd and pose with the various models that were positioned around the pavement in pieces from his Puma x F1 capsule. As if the crowd wasn't excited enough already, Rihanna arrived soon after to support her partner's newest venture. In a city rife with activities celebrating F1's first annual Las Vegas Grand Prix, a gas station on the outskirts of the Vegas strip was the place to be. ASAP Rocky's era with Puma was starting off with a bang.
"I'm so glad how it turned out," ASAP Rocky told Complex during a sitdown interview later that night. "The overall exection, everything, I'm fucking thrilled."
ASAP Rocky and Puma refurbished an abandoned gas station for the pop-up. Gas station kiosks were retooled to act as displays for items like airbrushed long sleeve T-shirts and pre-distressed balaclavas. Two garages were also transformed. One became a photo area complete with quads and stacks of tires to pose on. The other was a customization station where select pieces like jeans and tote bags could be embroidered with special edition racing patches. Traditional neon signage promoting Rocky's Puma x F1 project was also positioned throughout the space.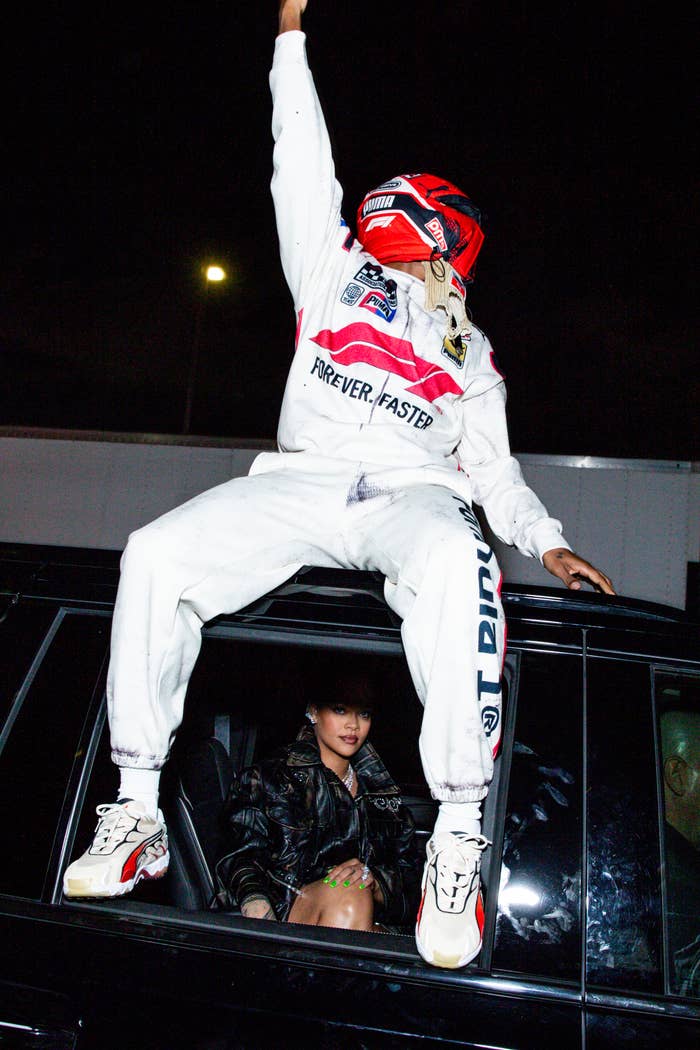 Earlier in the afternoon, ASAP Rocky and Puma Chief Product Officer Maria Valdes sat down for an intimate conversation with a select group of editors moderated by Minya Oh to discuss the goals for his Puma x F1 partnership.
"I think car culture has always been present in hip-hop," says ASAP Rocky. "I don't see the urban side or the hip-hop side really glorified or displayed in [car culture]. I want to make it more prevalent."
This isn't just a big name entertainer aligning with a brand and stamping their name on some apparel. According to Valdes, Rocky has been super involved since day one.
"I was really impressed by the amount of research that he did for that first meeting. He was pulling up YouTube videos and naming different names from the history of motorsports," says Valdes. "The exchange [of ideas] is endless. I think it's important that that happens. Otherwise, it's not really a partnership. I think the beauty of this is that we spent a long time trying to understand each other."
While Rocky's Puma x F1 capsule certainly leans more into the world of streetwear, there are still design elements that nod to the traditional F1 uniform. Knee pads built into jeans or colorful racing gloves have the potential to pique the interest of a longtime racing fan. Achieving that balance without coming across as a tacky riff on F1 racing presented its own set of challenges.
"The most difficult part was conveying [my creative] to anybody else besides me and my brain because I have a weird way that I process things," says ASAP Rocky. "I think these capsules make sense because they introduce a new point of view. This isn't too high end. It feels relatively youthful, but still if you're in your mid 30s or 40s, you probably won't feel too silly wearing a few of the pieces. It's gives people time to develop their taste or grow with you."
ASAP Rocky insists that this debut capsule collection with Puma is just the beginning of the innovative partnership. There's plenty more to look forward to.
"It's a reset button. This is the new form," says ASAP Rocky. "Excuse my French, I plan on letting my nuts hang at Puma."