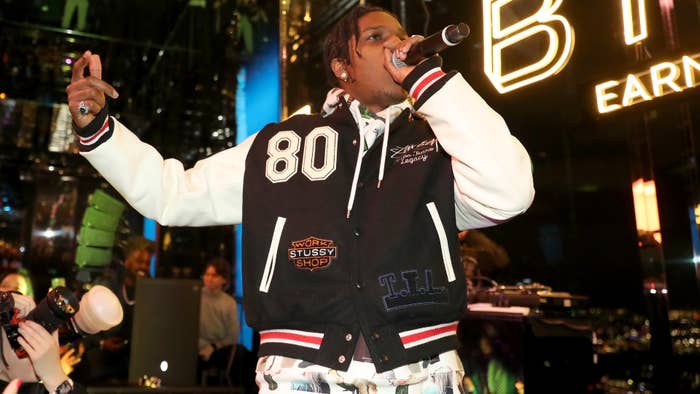 ASAP Rocky and Jerrod Carmichael, who both have new projects either on the horizon or fresh in the rear view, linked up for a well-worth-the-read Interview magazine discussion this week.
At one point in the conversation between the two celebrated artists, Rocky reflected on his assessment of why rap is currently (in his opinion) "stuck" in a place made possible by the rise of the internet.
"Rap is in its adolescence and it's been stuck here since Soulja Boy," Rocky told Jerrod when asked about "growing older" as an artist. "Before, everybody looked 35 and up. When Lil Wayne and Jay-Z and T.I. and Jeezy and Ross was on, rappers looked old. Like, we had Lil' Bow Wow and that was it. That all changed with the internet and self-releasing. Now, rap is stuck in this braggadocious, adolescent space. It's not as mature."
Adding to that after Jerrod shouted out Jay-Z (whose 2017 "Moonlight" video featured him) as the "first rapper" he ever heard who spoke about family life, Rocky pointed to the expectations of an artist in 2022. Namely, Rocky explained, "there's a responsibility to put people on the right path."
Naturally, Rocky's pristine and oft-emulated fashion choices were also brought up in his conversation with Jerrod, whose superb film On the Count of Three and equally superb stand-up special Rothaniel were both recently released to critical acclaim. As Rocky explained, everyone should simply wear whatever they want, regardless of how it's categorized or intended. This approach, he said, marks an extension of the "punk" mentality.
"It's dope because it plays with expectations. My girl could wear all of my clothes and get away with it," Rocky said. "When I shop, I go to the women's section to find good pieces, because I know that no other guys will have them. The Gucci North Face coats, the bubble jackets, those were all for females. That's why you never saw no other guys walking around in them. Another thing with the kilts is, I feel more badass when I'm in a kilt. I feel more tough, if that makes any sense. I feel like you should wear what you want."
The two stars also bonded over the power of humor in moments that would otherwise be wholly tragic. Providing an example of this in action, Rocky looked back on the death of ASAP Yams, who died in 2015 of an accidental overdose.
As Rocky (who's spoken on the heartbreaking death of his friend in the past) recalled, he and ASAP Lou found Yams unresponsive. Amid the frantic rush to try and help their friend, Rocky said he first went to the kitchen where they were all staying to retrieve water and ice and other "shit like that." While in the kitchen, Rocky explained, he was able to see into the hallway of the residence, which ultimately provided him with a view of Lou trying to run into the kitchen but tripping and sliding down the hallway "on a carpet like Aladdin." In fact, Rocky remembered, Lou slid "all the way to the kitchen" after tripping.
"I'm literally dying crying, but I'm crying from laughing, and I'm crying 'cause Yams is dead," Rocky told Jerrod.
ASAP Rocky also got candid about his "goofball" status among those who know him best, revealed whether he is "nervous" about fatherhood (he's not), and again teased his impending new album by mentioning recent sessions with Tyler, the Creator. Read the full piece, which also sees Carmichael reflecting on the similarly "masculine" worlds of comedy and music and how this initially gave him worries about coming out, here.
It's unclear when, exactly, fans can expect to hear Rocky's long-teased Testing follow-up. However, all signs currently point to sooner rather than later.