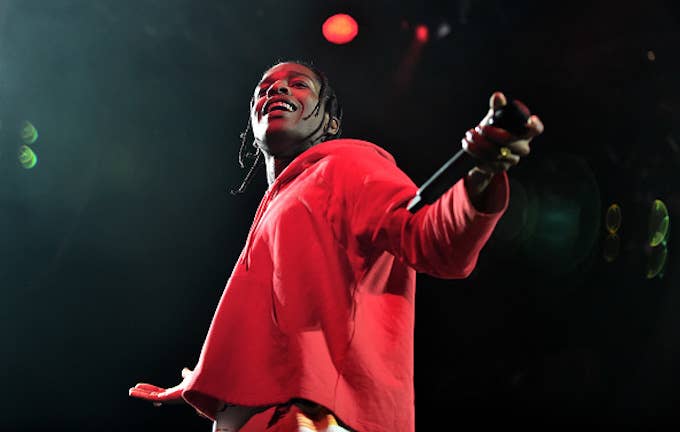 ASAP Rocky is the "greatest fuckin' artist of all time." Just ask ASAP Rocky. He crowned himself as such during an ASAP Mob performance at Hammerstein Ballroom in New York City Tuesday night, confirming to the audience that he is indeed on his "cocky Kanye shit" and that new music is imminent.
"In case you don't know, like I said last time, I'm the greatest fuckin' artist of all time, n****," Rocky said. "Yeah, I'm on my cocky Kanye shit, whatever the fuck, suck my dick with that, n****. I'm the greatest contemporary artist of all time, Renaissance, contemporary, all that. I need y'all n****s to know. All this little razzle dazzle bum-ass shit going on, but Flacko Season 'bout to drop real soon." As the greatest fucking writer of all time, I deeply relate to Rocky's comments.
Rocky has been dropping incremental teases about the new album, his first since the hallucinogens-complementing At. Long. Last. ASAP, in recent months. Speaking with Complex surrounding the release of ASAP Mob's Cozy Tapes Vol. 2: Too Cozy in August, Rocky said the untitled album would be dropping before year's end.
And fret not about Rocky ditching the experimentation at the heart of At. Long. Last. ASAP, as Rocky has already confirmed LSD is still a part of his life. "Oh trust me: I love it," he told the Evening Standard in September. "Yeah. I just dropped yesterday!"
According to French Montana, fans should also expect a French x Rocky collab project to drop soon.