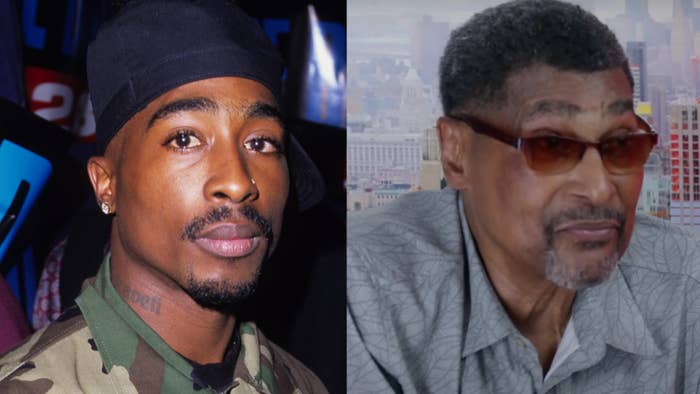 2Pac's biological father, Billy Garland, says he was initially "upset" when first hearing the lyrics to his late son's 1995 track "Dear Mama."
Speaking with Delray Richardson for The Art of Dialogue, as seen below, Garland was asked to detail his reaction to hearing the lyrics in question, specifically being called a "coward" in the track's second verse.
"At first, I was upset," Garland said. "Because I'm trying to see you. But then it hit me. For one, I ain't dead and so you really didn't know me. Because if you would have known me, you would have known that that I wasn't dead. So I knew there that someone had lied to him from that point. So later on when I found out that someone did lie to him, that song made perfectly good sense. I understood it totally."
These days, Garland is fond not only of the "Dear Mama" track but of his late son's entire catalog.
"I think it's absolutely beautiful," he said. "I love all his music though. I listen to his music daily, every freaking day, and I like it. And then it hits me, he's my son."
During the same interview, Garland also spoke on the recently released docuseries Dear Mama, produced and directed by Allen Hughes. The series, billed as an "audio and visual experience," spans decades of key historical moments while telling the story of 2Pac and his mother, Afeni Shakur.
According to Garland, he first declined the filmmaker's request for an interview, the full context of which he says was not made clear to him. In fact, though Garland was ultimately "persuaded' into a two-hour interview with Hughes, he alleges he was not informed that it would be used in the manner it ultimately was.
"I didn't like it, to be honest with you," Garland said. "I thought it was more about something else than about 2Pac, if you know what I'm saying."
See more below.
This week, 2Pac was honored with a star on the Hollywood Walk of Fame. The ceremony for the posthumous honor was held mere days before what would have been his 52nd birthday.