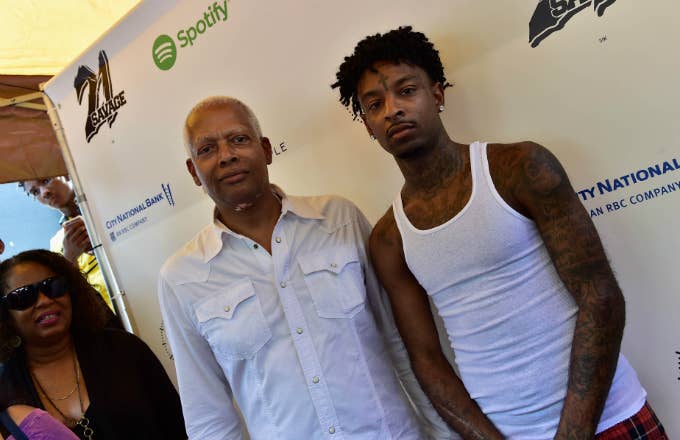 The Issa Back 2 School Drive, which hit Decatur Sunday, provided school supplies—including uniforms, backpacks, and more—completely free of charge. Students were also given the opportunity to get a free haircut. "Giving back to where I grew up means a lot to me," 21 said last month in a statement announcing the event. "These kids need it and I use to be one of those kids."
The Spotify-partnered event was made possible by 21's own Leading by Example Foundation, which previously received a signal boost via Ellen DeGeneres. On the same March episode of DeGeneres' daytime talk show that included a "Bank Account" performance, 21 launched the 21 Savage Bank Account Campaign, which provided $1,000 to 21 teens to open a bank account.
Unfortunately, some reports have seemingly tried to conflate an incident that occurred at at the free Zone 6 Day event at Coan Park Saturday with 21's incident-free Issa Back 2 School Drive. Per the Atlanta Journal-Constitution, a 23-year-old man was shot in the leg during Zone 6 and is in stable condition. In a subsequent statement, a rep for 21—who attended Zone 6—said he was "saddened" by the incident. "Zone 6 was intended to be an uplifting and positive event that brings the community closer together," the rep added. Despite what reports like these would have you believe, the shooting is in no way connected to 21's Issa Back 2 School Drive.