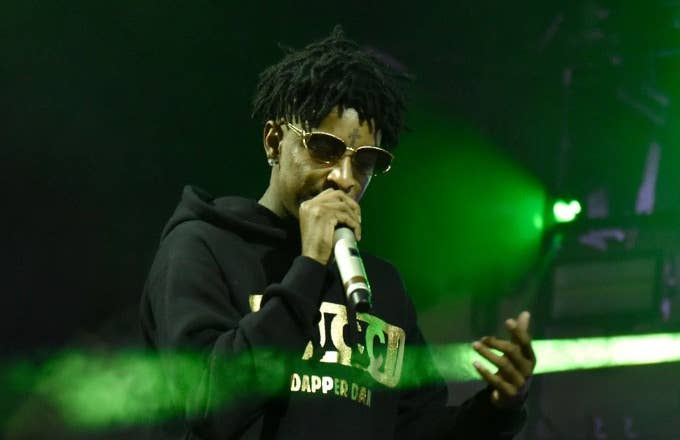 21 Savage has given his first interview since being targeted by the should-be-abolished U.S. Immigration and Customs Enforcement (ICE) agency.
"My mama told me to picture where I wanna be," 21 Savage toldGood Morning America in an interview that aired Friday when detailing his mindset during the "definitely targeted" detainment. "'Visualize yourself, whatever you wanna do, just close your eyes and visualize yourself doing that. And as long as you do that, you will never be in jail.'"
Recalling the moments that led up to his Feb. 3 arrest, 21 Savage said he was never actually told that he was being taken into custody. "I was just driving," he said. "And I just seen guns and blue lights. And then, I was in the back of a car and I was gone . . . They didn't, they didn't say nothing. They just said, 'We got Savage.'" The arrest, he added, also involved a helicopter. "It was definitely targeted," he said.
21 also spoke on his life in Atlanta, a life ICE tried to publicly call into question in its initial statements on his arrest. He entered the country when he was seven, started the first grade, and then briefly visited the U.K. again for his uncle's funeral. Given his age at the time, 21 explained, he doesn't remember much. "I've been in Atlanta probably 20 years, 19 years," he said. "I'm from Atlanta, in my eyes."
Speaking on how this country presently handles immigration in general, 21 shared a powerful message of support for those currently detained under similar pretenses. "I don't feel like you should be arrested and put in a place where a murderer would be for just being in the country for too long," he said, later vowing to use his platform to put as many eyes on this issue as possible. 
"I feel your pain, and I'm gonna do everything in my power to try and bring awareness to your pain," 21 said. 
21's legal team is now saying definitively they believe he was targeted by ICE due to his "A Lot" lyrics about immigration.
Here's more on why we all should be screaming "Fuck ICE!" from the rooftops.