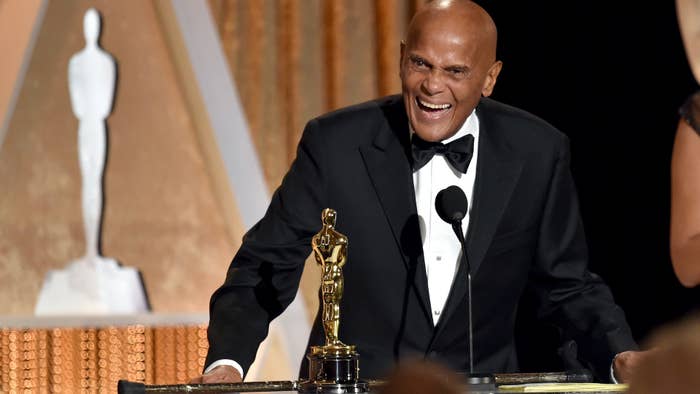 Harry Belafonte, the iconic singer, actor, and ardent supporter of the civil rights movement, has died, The New York Timesreports. He was 96 years old.
Belafonte passed away from congestive heart failure on Tuesday at his home in Manhattan, per his spokesman, Ken Sunshine. 
Belafonte was born on March 1, 1927, where he was raised by his parents who were Caribbean immigrants.
He joined the Navy during World War II, and began pursuing acting after he was discharged. Belafonte studied drama in the same workshop as Walter Matthau and Marlon Brandon, and supported himself by singing at jazz clubs alongside the likes of Charlie Parker and Miles Davis.
After scoring a recording contract, Belafonte began making music inspired by the Calypso genre, which led to the hits "Day-O (The Banana Boat Song)" and "Jamaica Farewell," both of which appeared on his 1956 album Calypso. The project topped the Billboard album chart shortly after its release and remained there for 31 weeks, and Belafonte became the first solo artist to move over a million copies of an album. He became the best-paid Black performer in history by 1959, landing large performance contracts in Las Vegas, Los Angeles, and New York.
Belafonte's acting career began in 1953, when he appeared on Broadway in the musical Almanac, which earned him a Tony Award for supporting actor. He eventually scored his first lead role in a Hollywood movie, when he appeared alongside James Mason, Joan Fontaine and Joan Collins in Island in the Sun. Belafonte's acting career was notable for the way he avoided playing Black stereotypes in a time when many of his counterparts were being pigeonholed. Belafonte would make his final final appearance in Spike Lee's 2018 movie BlacKkKlansman.
Apart from his storied career in the arts, Belafonte was deeply involved in the civil rights movement, and was a close friend of Martin Luther King, who he bailed out of jail on at least one occasion. Belafonte also participated in the March on Washington in 1963, and was a principal fundraiser for Dr. King's Southern Christian Leadership Conference.
Being outspoken on racial and civil rights issues made him a target of criticism, but also made him a heralded figure, as evidenced by the multiple accolades he earned throughout his life. Belafonte won a Kennedy Center Honor in 1989, the National Medal of Arts in 1994, and a Grammy lifetime achievement award in 2000. In 2014, he was given the Jean Hersholt Humanitarian Award at the Oscars for his continued fight for civil rights and other causes. 
Belafonte leaves behind his children Adrienne Biesemeyer and Shari Belafonte with ex-wife Marguerite Byrd; children Gina Belafonte and David with ex-wife Julie Robinson; and eight grandchildren. He also leaves behind his third wife, Pamela Frank, his stepdaughter, Sarah Frank, and stepson, Lindsey Frank, as well as three step-grandchildren.

Rest in peace.