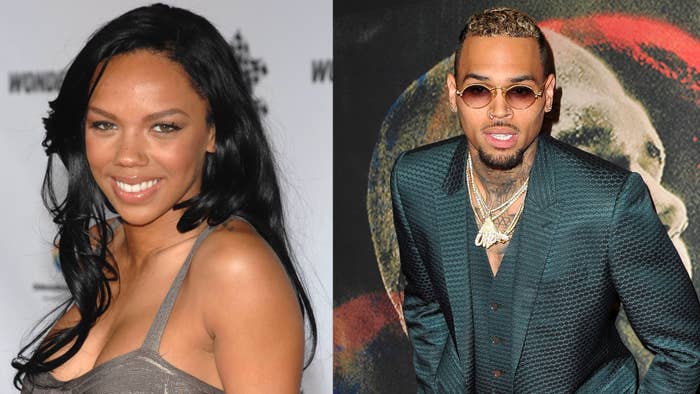 3LW and Cheetah Girls singer Kiely Williams also had a strong opinion about the song, and it wasn't good.
"Let him come out with his own record—so genius, so captivating that it makes us all forget HE BEATS WOMEN. He can't so he wont. So what does he do?" she wrote when quote-tweeting Bailey. "He slowly creeps back into the mainstream by getting small nods for features on Black Women's merit. Black women who are more talented, more worthy, but give him the okay."
Williams concluded by saying, "I am swatting the fucking air rn. Garbage."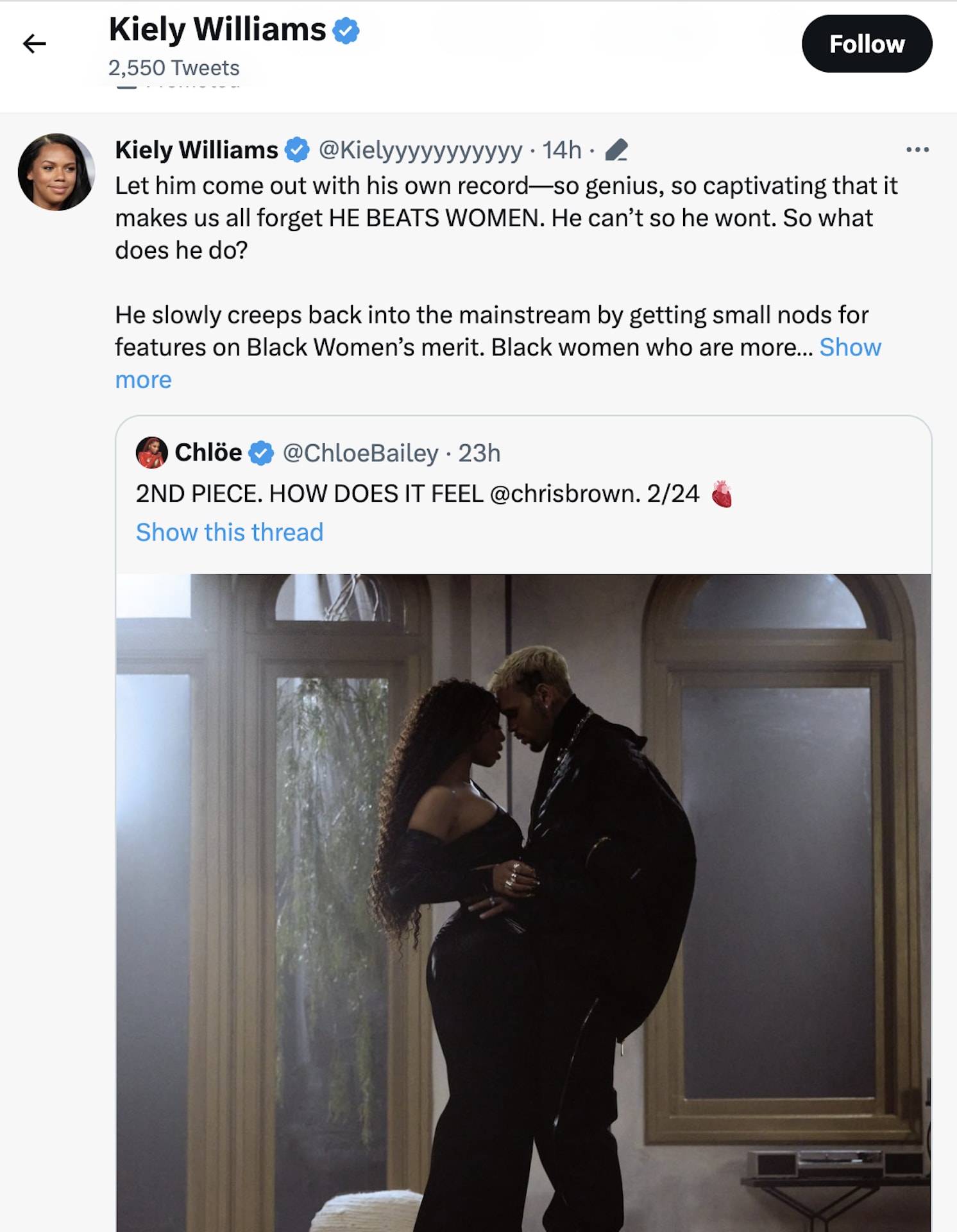 Brown caught wind of Williams' comments and responded to her on his Instagram Stories with a meme that featured a photo of himself that read, "The face I make right before I go all Team Breezy on the haters."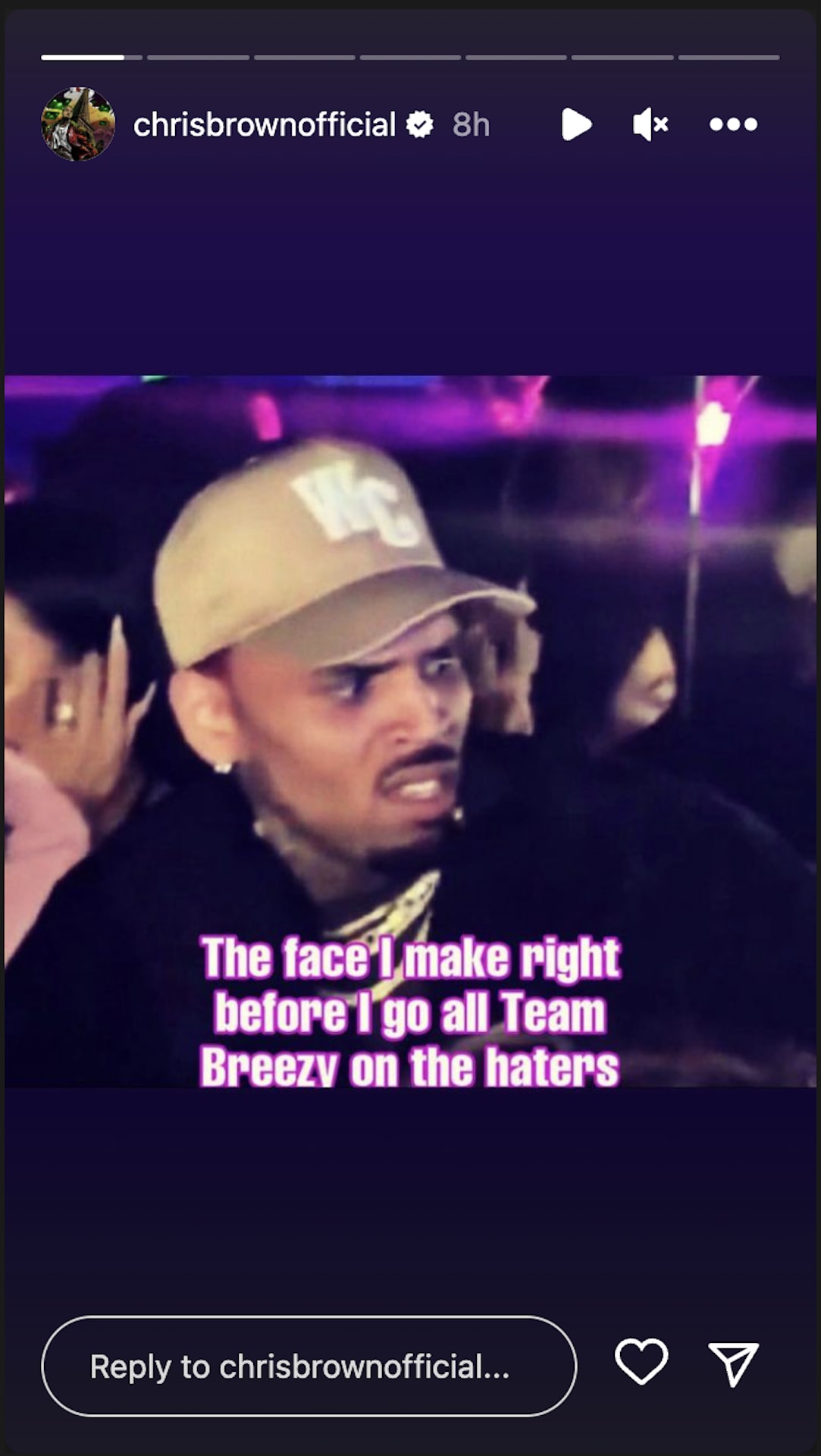 He followed that up with a screenshot of Williams' tweet and wrote, "I'm getting kinda tired of ya broken promithis promithis," pointing to Williams' verse on the 3LW song, "No More (Baby I'ma Do Right). He's also making a joke about her having a lisp even though she's previously said she doesn't.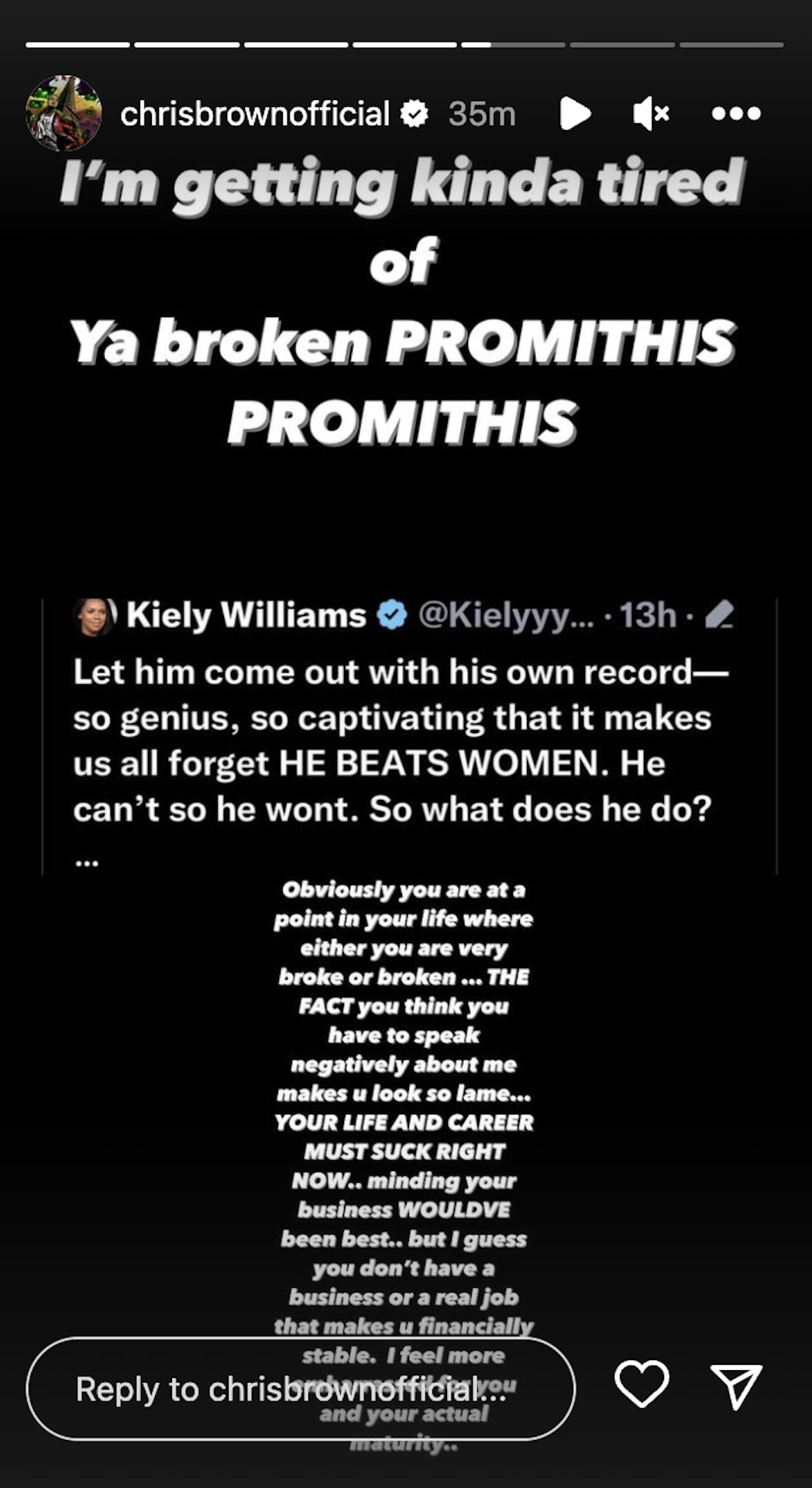 "Obviously you are at a point in your life where either you are very broke or broken," Brown wrote in the same post. "The fact you think you have to speak negatively about me makes u look so lame…your life and career must suck right now..minding your business wouldve [sic] been best..but I guess you don't have a business or a real job that makes u financially stable. I feel more embarrassed for you and your actual maturity."
Brown made the lisp joke again in a different meme, which features Williams' face and the text "thop it." Breezy continued his personal onslaught by going onto her IG and commenting under her last post, "Wack as fuck," "Miss Amtrak," and a series of tomato emojis.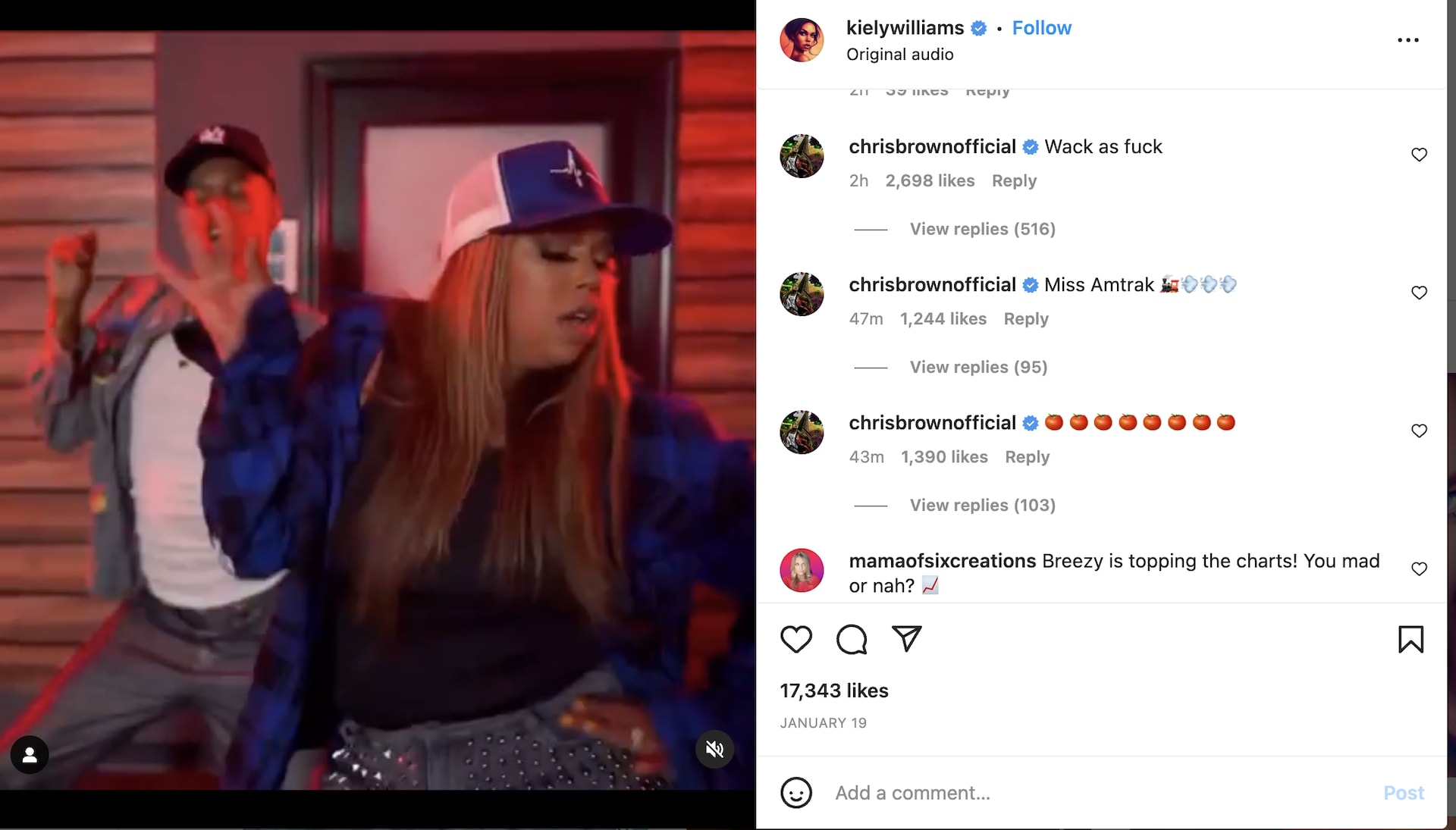 Brown then took his grievances to the world at large, writing, "If yall still hate me for a mistake I made as a 17 year old please kiss my whole entire ass! Im fucking 33! Im so tired of yall running wit this narrative..you weird ass n***as are the same ones that tune in every week to see Blueface and Chrisean beat the fuck out each other in front the world. But thats OK? It's entertainment? All yall can suck my dick disrespectfully. Where are the cancel culture with these white artist that date underage women, beat the fuck out their wives, giving bitches AIDS, oh. That's right..they are your buddies😏 No more fake love from me..stay out my way or get ran over simple as that. None of you and mean none of you n***as can fuck wit me."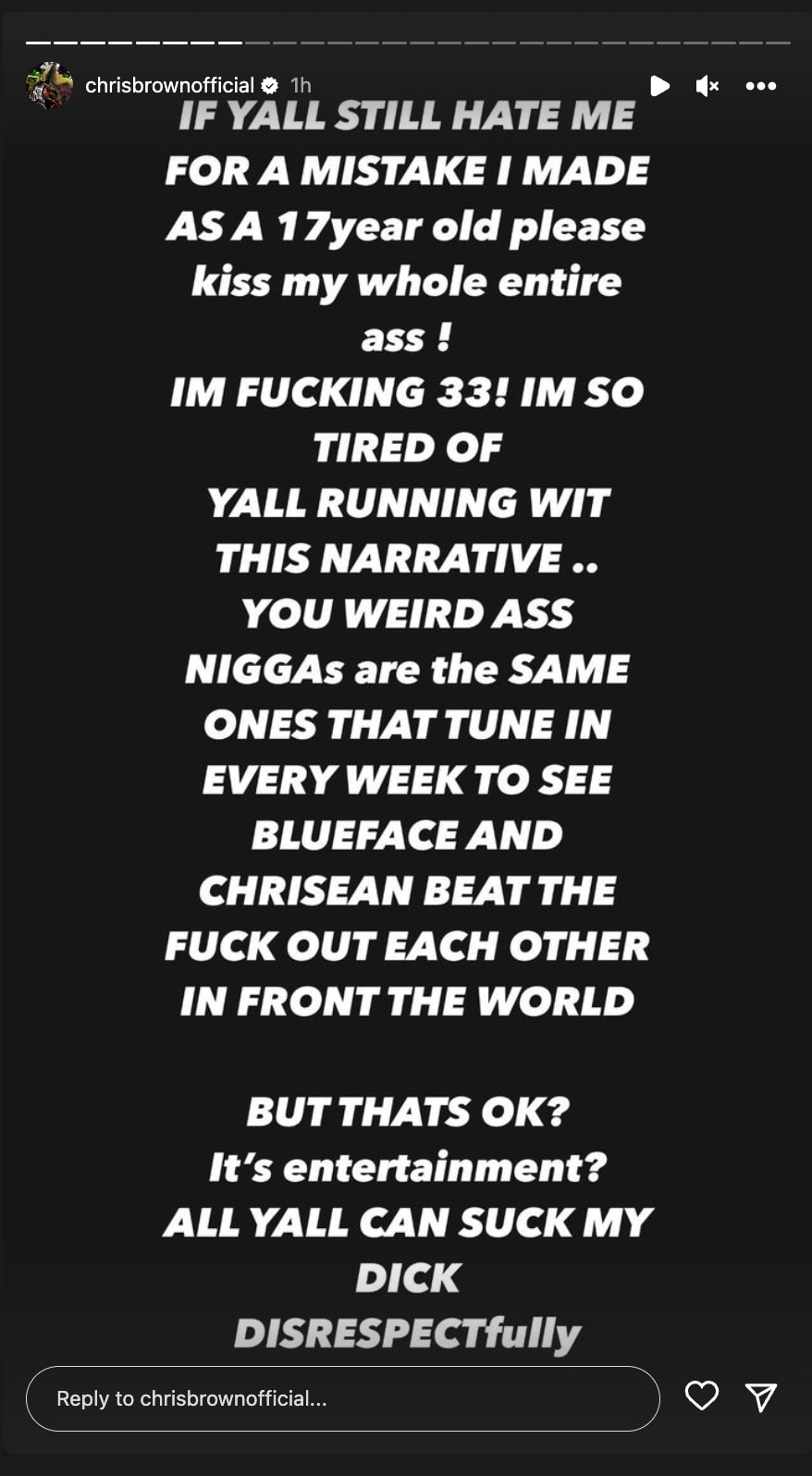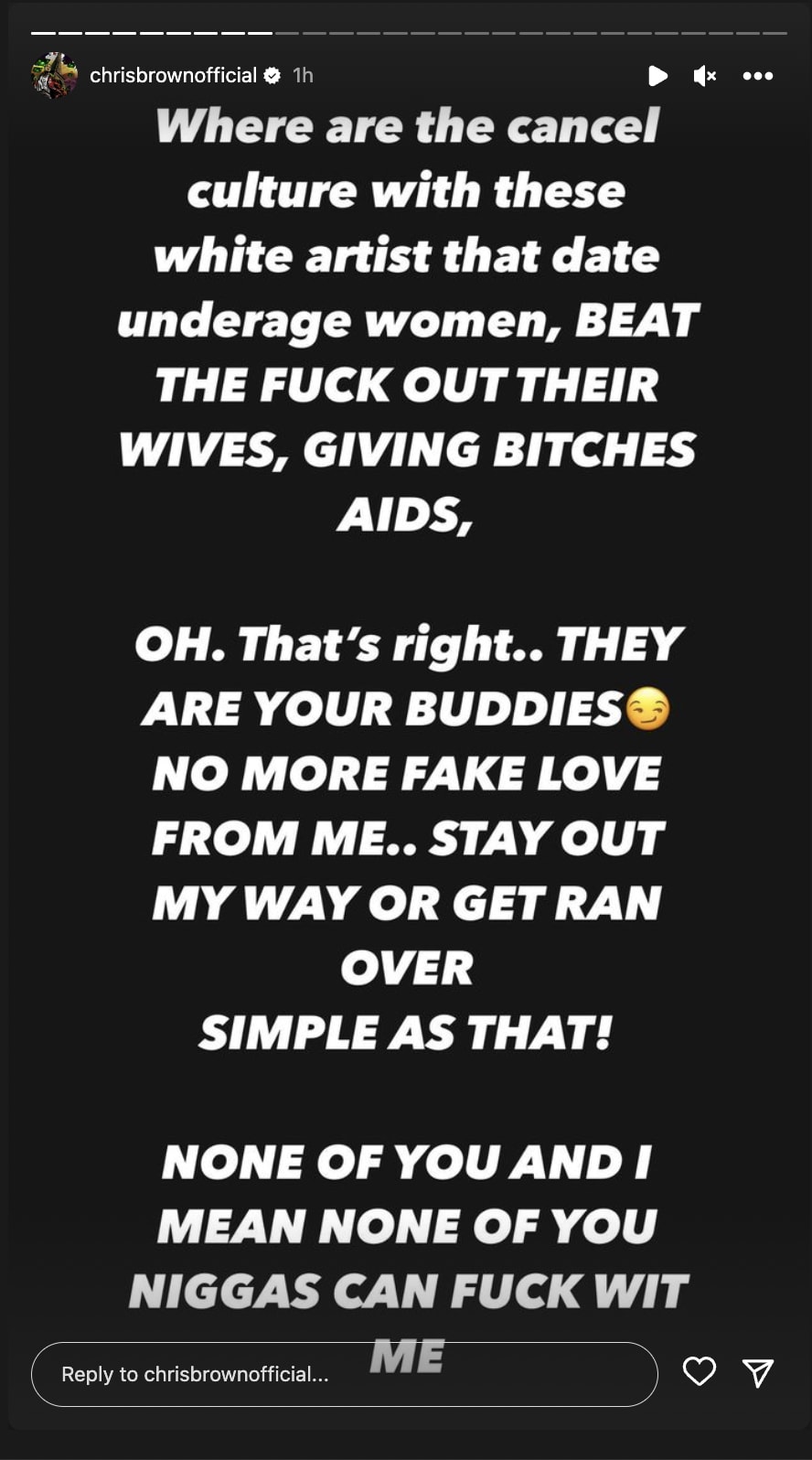 He proceeded to post 15 screenshots—evidently from a Ranker post titled "Celebrities Who Have Been Charged With Domestic Abuse"—of notable white figures who've been embroiled in their own abuse scandals, plus one of Slash from Guns N' Roses.