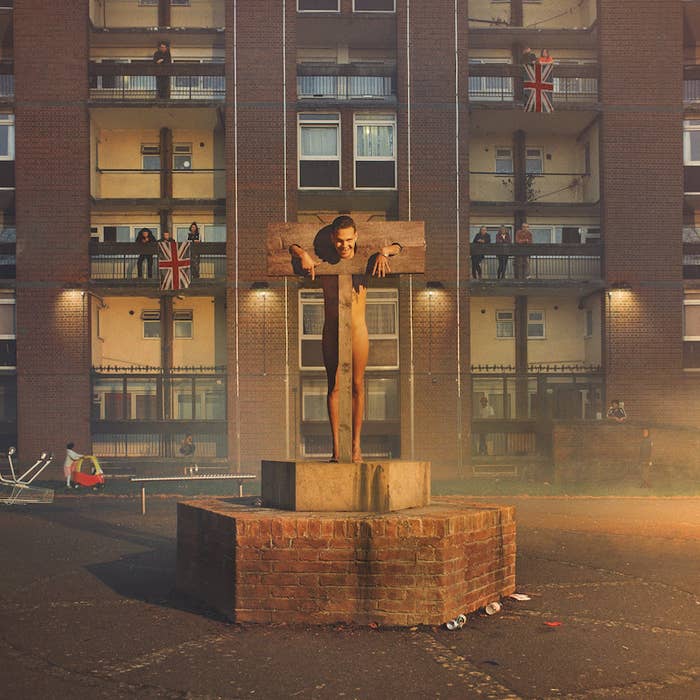 Words like "vital" and "important" are overused in contemporary arts criticism—but, inarguably, slowthai is one of the most vital and important acts to have emerged in Britain's mainstream in recent years.
Born Tyron Frampton, the Northampton-raised rapper has made a name for himself for his drawling, powerful delivery and bars that go from cackling jester to gentle dreamer to searing iconoclast. This is all without mentioning slowthai's sweaty and exhilarating live shows, which have previously seen him start rousing choruses of "Fuck Theresa May". Which brings us back to importance: politics is an intrinsic part of what slowthai does. Take the posters promoting his debut album: rather than your standard album artwork, Thai's London billboards offered things like, "Recorded offences of hate crime in the UK have increased by 123% in the last 5 years..." and "If you're black you are 8 times more likely to be the subject of a stop and search than if you're white." He didnotcome to play.
In earnest, Nothing Great About Britain places slowthai in the pantheon of UK music greats—everyone from Dizzee, The Streets, to even The Prodigy and the Sex Pistols. Like all these, his work interrogates and slyly observes his home country; the tone is set from the opening track, where he says in faux-posh intonations, "I will treat you with the utmost respect / only if you respect me a little bit Elizabeth, you cunt", and continues throughout. Sometimes his way with words can be a little clowny("I love you like a crackhead loves crack", he half-sings on "Crack", while on "Peace Of Mind" he thanks his mum "for the 23 years she wiped my arse"), but you get the feeling that's the point. Sometimes the jester is the one who has the most insight into what's really going on. Frampton's mum is half-Bajan, and this is very much a record that finds a young, mixed-race man taking down the Brexit-y, EDL-era we're in at the same time as alluding to the crimes of this country's history. 
This means he can slip in harrowing lines like, "I feel peace of mind when I'm dreaming of a life I ain't living" or "I wear chains like my granddad did in slavery / You're about as black as Ainsley, that's bounty", and it takes you a minute to actually clock what he's saying. 
The reality of hotwiring cars, slingshots, considering identity and the tough time his mother had can be glossed over with silly jokes, but also with the prospect of pure joy and dreams. For all the rightful interrogation and mockery of Britishness, Thai is simultaneously celebrating his country, thriving in UK underground music and culture—pushing it forward. He channels a recent history of local sounds, giving the album pleasing sonic variety.
With much of the production handled by Kwes Darko, slowthai's go-to guy and live hypeman, the record's got that distinctly gleaming, ethereal sound that is somehow hard and metallic but softly futuristic all at once. But, again, he's channelling UK sounds across the board: the punk energy on the Mura Masa-produced "Doorman" hits as hard as when it was released as a single last year; the soft, poppy guitars on "Toaster" have a beat that wouldn't sound out of place on Original Pirate Material; then there's JD. Reid's skittering, dance-y beat on "Inglorious" featuring Skepta. Skep is a welcome addition to proceedings, amping slowthai up so they're both shooting to kill—the same is true of Jaykae's hefty feature on "Grow Up", but as much as anything, the guests just highlight how impressively engaging slowthai's voice is when standing alone.

This is an album that goes hard, goes introspective, and sometimes even goes laugh out loud funny. slowthai's importance as an artist is not merely in his being political or woke, but in his ability to present his Britain to the listener: for better or worse, for big tunes or Brexit bleakness, Nothing Great About Britain paints an impressively nuanced picture of slowthai's home and, in turn, of the man himself. Frampton announces himself as king and Prime Minister throughout the album, and, after such a strong debut, he cements himself as the people's champ.
5/5