Charmaine on Her SoundCloud Collab With Rico Nasty and Bold New EP
The Toronto rapper talks being the only Canadian selected for SoundCloud's 'First on SoundCloud' Accelerator Program and her debut EP Hood Avant-Garde.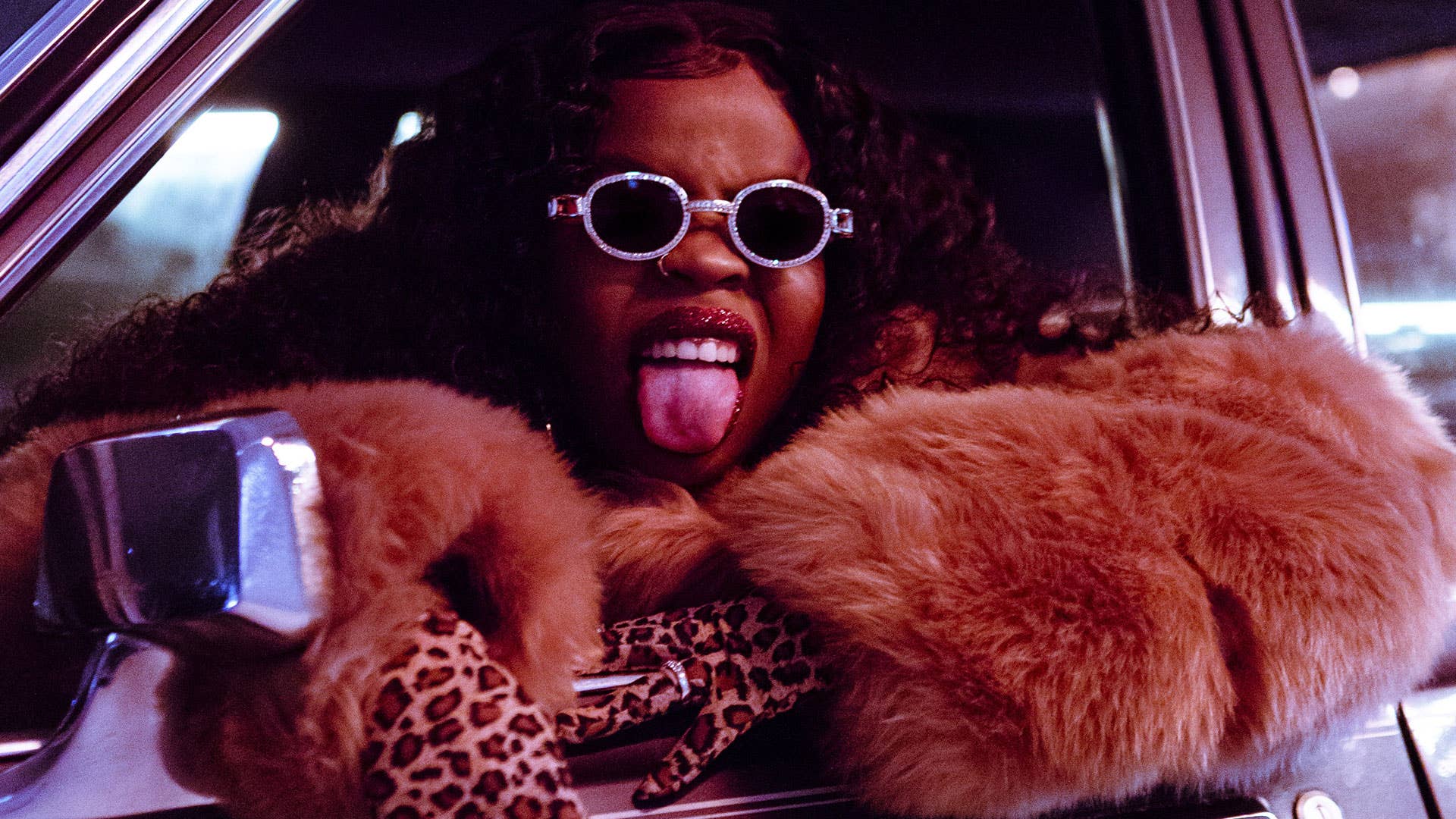 Publicist
Image via Spencer Edwards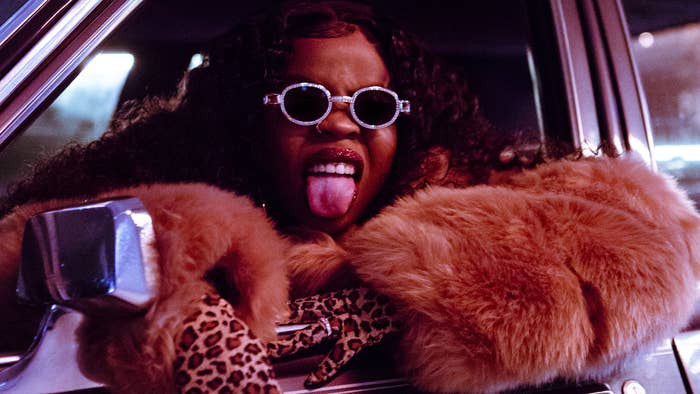 "My EP is about to really change the game," says Charmaine. Speaking to Complex Canada hours before the spring solstice and weeks ahead of dropping her debut, the Zimbabwe-born, Toronto-based emcee is at the precipice of her breakout year. 
The campy, crystallized, colourful looks that she opted for in the visuals for her two singles, "Bold" and "Woo!," are reminiscent of Lil Kim at her '90s peak. But the brash, braggadocious narrative that weaves through Charmaine's first EP, Hood Avant-Garde, is an of-the-moment addition to hip-hop in its current state. Today, we're seeing women in rap thriving simultaneously and supporting one another while doing so. It's not the first time we've seen this, but it's the first time in a long time.  
"The one thing about me is that I just want women to get the recognition that they deserve," Charmaine says emphatically via Zoom. "Because we are talented and we can out-rap a lot of these men out here."
Her debut is short—with just five songs, Hood Avant-Garde clocks in at under 15 minutes. But it's been years in the making. Nearly ten years ago Charmaine caught the attention of Ron Lopata, Warner Music Canada's VP of A&R, when she sang in a Toronto showcase. From then on, she's been in and out of development, working on honing her craft and swapping from singing R&B ballads to writing bars. 
Though it's taken nearly a decade to bring her debut to fruition, arriving on the heels of such a triumphant year for women in rap, the timing feels perfect. 
For Charmaine, Hood Avant-Garde is an assertion of her sound and a reclamation of an aesthetic that is often distilled away from Blackness. To many, the EP's title can be likened to an oxymoron, but at its essence it's a celebration of the creativity and inventiveness that emerges from underserved communities. The concepts that are often elevated to avant-garde status tend to originate in the hood, after all. 
Read on for our interview with the "Bold" rapper, where she gives insight on being the only Canadian selected for SoundCloud's 'First on SoundCloud' Accelerator Program and walks us through her journey from getting discovered to finally bringing her EP to life.
What can we expect from your new SoundCloud partnership?
A lot of dope content. My focus is building right now so I'm trying to get my face on everything that I can possibly get it on. So more of my face on everything.
You'll be joining an impressive roster! Who are you most excited to be working with?
Definitely Rico Nasty. I love her; her creativity, her visuals, her personality, everything is so dope.
I was reading up on your discovery story and I was wowed. It sounded like a movie! Walk us through what that was like. To my knowledge, you sang at a showcase at Lee's Palace in Toronto and an A&R approached you.
Yeah, I sang "1+1" by Beyonce and "If I Ain't Got You" by Alicia Keys. I got a really great response from the crowd so I was already excited when I was getting off the stage. As soon as I walked off, the organizer for the showcase came up to me and said that someone wanted to meet me. In my head, I knew that an A&R was supposed to be there but I had no idea what he looked like. So I didn't think that I would be meeting a label rep, I thought that it would be someone who just enjoyed the performance. But then the organizer said, "This is Ron. He's the VP of A&R for Warner Music Canada." I froze. I kept telling myself "Don't mess this up." But we hit it off immediately and it's been magic since then. 
"You can call me hood, you can call me ratchet, you can call me whatever you want to call me, but this is who I am and you're going to hear me and respect me."
Wow, that was almost a decade ago. What was it like between meeting Ron nine years ago and finally dropping your debut in 2021? Was the wait frustrating?
It was super frustrating. I actually ended up quitting music after I met my A&R. I felt like I wasn't prepared. I didn't feel like I fit the mould of what a star was. I'm very curvy and I'm on the thicker side, and back in the day people weren't as receptive to different body types. So I wasn't confident. I also wasn't confident in my lyricism so I needed to take a step back and go through life a little bit. 
I took four years off and during that time off, I had my son. I was working as a freelance makeup artist and I worked at Sephora but after my son turned two, I realized that I need to set an example for him. I don't want him to ignore his talents or his gifts because of fear, so I decided to go all in. I quit my job—which is crazy because I still had a kid to take care of—and I started doing music full-time. 
I automatically knew what direction I wanted my sound to go in and the second song I wrote was the one that got me my record deal. It still didn't feel right, though. I didn't feel like I was there yet with my sound and my label agreed, so I spent two years just working with producer after producer after producer. This got frustrating because I would feel like something was right and then I'd be told that we have to go back to the drawing board. I got to the point where I almost lost faith. I thought that I'd never get off the shelf. But one day, I ended up meeting my team, Lance (Runway the Catwalker) and David Ariza, and it was just magic. Ever since we started working together, we haven't made one song that doesn't sound like a hit. 
We just happened to try rap one day. I was already on the trap-beat side of singing so it wasn't a far stretch to go full rap. So we tried it and "Bold" came out of that. It was so fire that I was like, "Maybe I am a rapper."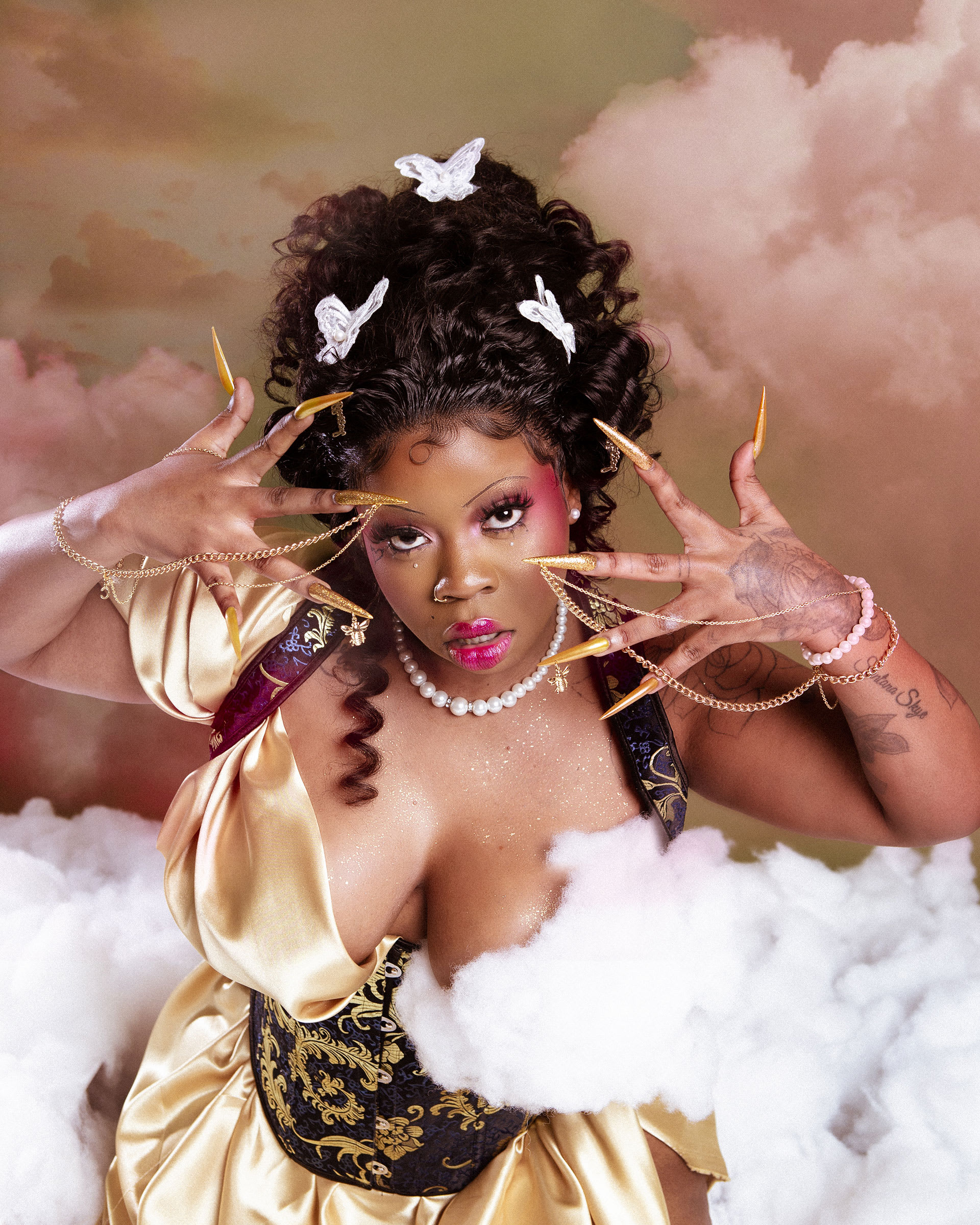 What compelled you to switch from singing to rapping? Did the beat just sound like a rap beat? 
Whenever we go into the studio it's never pre-planned. I usually don't hear the beat until I get there. I had been doing R&B and pop stuff in our sessions but one day I came in and they told me, "By the way, we're gonna do a rap song today." I was like, "Huh?" But he already had a beat ready and everything. It wasn't "Bold," though—that was the second song. As soon as he started playing the first beat, though, it just started flowing out of me. It was very spontaneous.
So "Bold," your debut single, is the second rap song that you ever recorded?
It's crazy when I think about it. I'm grateful, though. I feel like I have so many great things flowing so effortlessly that it makes me feel like this really is my craft.
Why did the title Hood Avant-Garde feel like the right fit? 
I wanted to reinvent what it means to be a modern-day renaissance woman. A woman who's strong, who is unapologetically herself, who doesn't care what anybody has to say. You can call me hood, you can call me ratchet, you can call me whatever you want to call me, but this is who I am and you're going to hear me and respect me. Like, you may not like me, but you will respect me.
When I listened to the EP, I felt empowered but also frustrated that it can't be enjoyed live right now (due to the pandemic). What do you want the world to take away from your project?
You hit it right on the head. I want women to feel empowered. I want them to feel like bad bitches. I want this to be the soundtrack to women blowing shit up. It's meant to be an EP full of anthems for women, that they can listen to through whatever it is that they're going through and feeling.