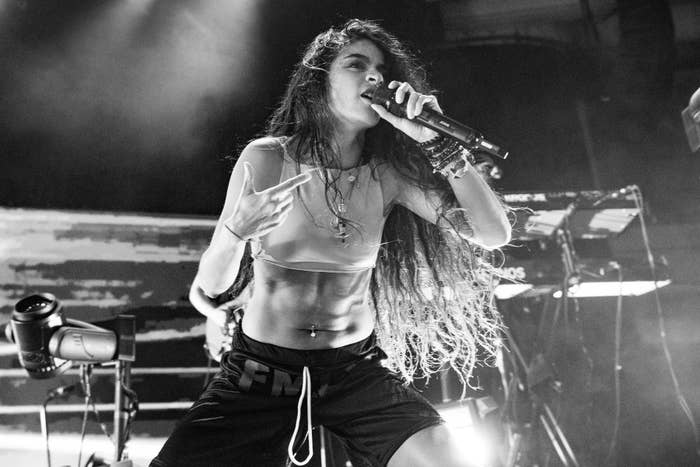 "Breathe in, inhale!" Jessie Reyez says into the microphone. "Breathe out, exhale." While some chose to yell during this moment of serenity, Jessie played it off by saying "I've never heard anyone yell when they meditate, but do you!" 
Moments before her sold-out Los Angeles show on Oct. 24, the Colombian-Canadian artist posted a reel that showed a long line of fans that stemmed from the iconic Hollywood Palladium for blocks on end. The venue has a capacity of 4,000 people, and the "Imported" singer was about to show out.
It's no secret that meditation does the mind and body wonders, and Reyez took the time to share that with her fanbase and serve her desire to help others heal. She also likes to call her shows "sing-a-longs," encouraging concert-goers to sing with her every lyric to their favorite songs.
When asked what she wants attendees to take away from her shows, she says it's "presence." Jessie tells Complex, "I hope people just feel loose, and shameless. Just themselves, for the moment even. If someone doesn't frequent those emotions often, I hope they just feel themselves."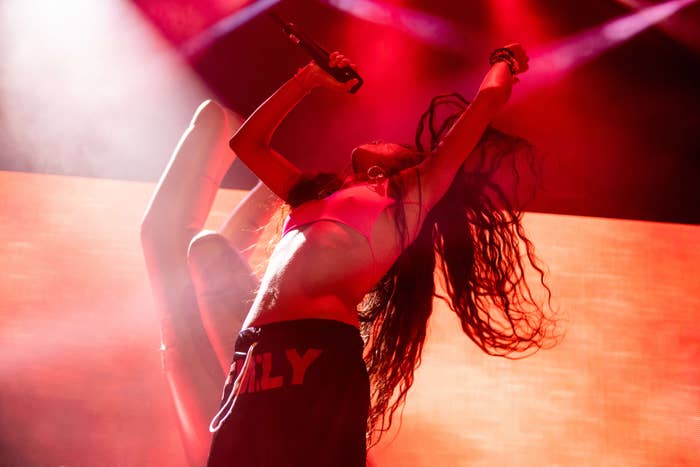 The 31-year-old revealed that the last time she was here, she was watching the legendary Lauryn Hill. While she's had some historical moments in her career—the success of "Figures" (102 million views and counting on YouTube), two standout features on Eminem's Kamikaze album, a Grammy nomination for Being Human In Public (Best Contemporary Urban Album in 2020), and more—Jessie's biggest contribution to society is her ability to feel. Her ability to relate to her audience, acknowledge that life is hard, but also give comfort in knowing that there are active steps you can take daily to improve your overall state of mind and well-being.
What ultimately changed her perspective was actually a book she read. Jessie explains, "I've become more present in general. I've been gifted books that shifted my perspective a lot, shifted me as a woman. There's this book called The Power of Now by Eckhart Tolle, which really made a difference in my life. It made me more present. So by default, because it shifted me as a human and as a woman… as an artist, I've been more open to different methods of finishing songs. More open to the other facets of me that I wasn't as familiar with, because I was so identified with my trauma and with my pain before. Whereas now, I'm more present. I can look at the past and even the future objectively, in a way. I've become more present."
Those who are familiar with Jessie's story are aware that Jessie has had her own experiences with depression and toxicity, using that pain and discomfort to fuel her art in a way that allows listeners to confide in her. For example, 2017's "Gatekeeper" was directly inspired by the sexism and misogyny she's experienced in the music industry, in particular, her experiences working with producer Noel "Detail" Fisher (who was accused of sexually assaulting two singers).
Which leads us to her newest album titled YESSIE. The 11-track project serves as her second studio album and includes songs about heartbreak, confidence and knowing your worth. Recorded throughout COVID, Reyez says it was a time when she discovered the meaning of self-love and -care. And, while she may seem extremely self-sufficient to her audience, that didn't come without active effort, discipline, and commitment. In addition to a group prayer with her team, the singer reveals that she has a strict regimen on show days.
"I hope people just feel loose, and shameless. Just themselves, for the moment even."
"I do a solo prayer, and I make sure I stretch. I chug copious amounts of water. Especially because this tour, the dates are strenuous. They're really stacked, so I treat my body really well. I drink a lot of water, I take my vitamins. No dairy and no fried things on show days. It's a lot, but it's good. It's a small price to pay for vocal chords that are up to par."
Jessie's vocal chords are really the selling point here. It's her standout, raspy, one-of-a-kind voice that draws in music lovers from all around the world, combined with her chill, down-to-earth, bubbly personality and aura. Jessie showed up to the show in a hot pink crop top, basketball shorts, and black Prada boots boasting star status.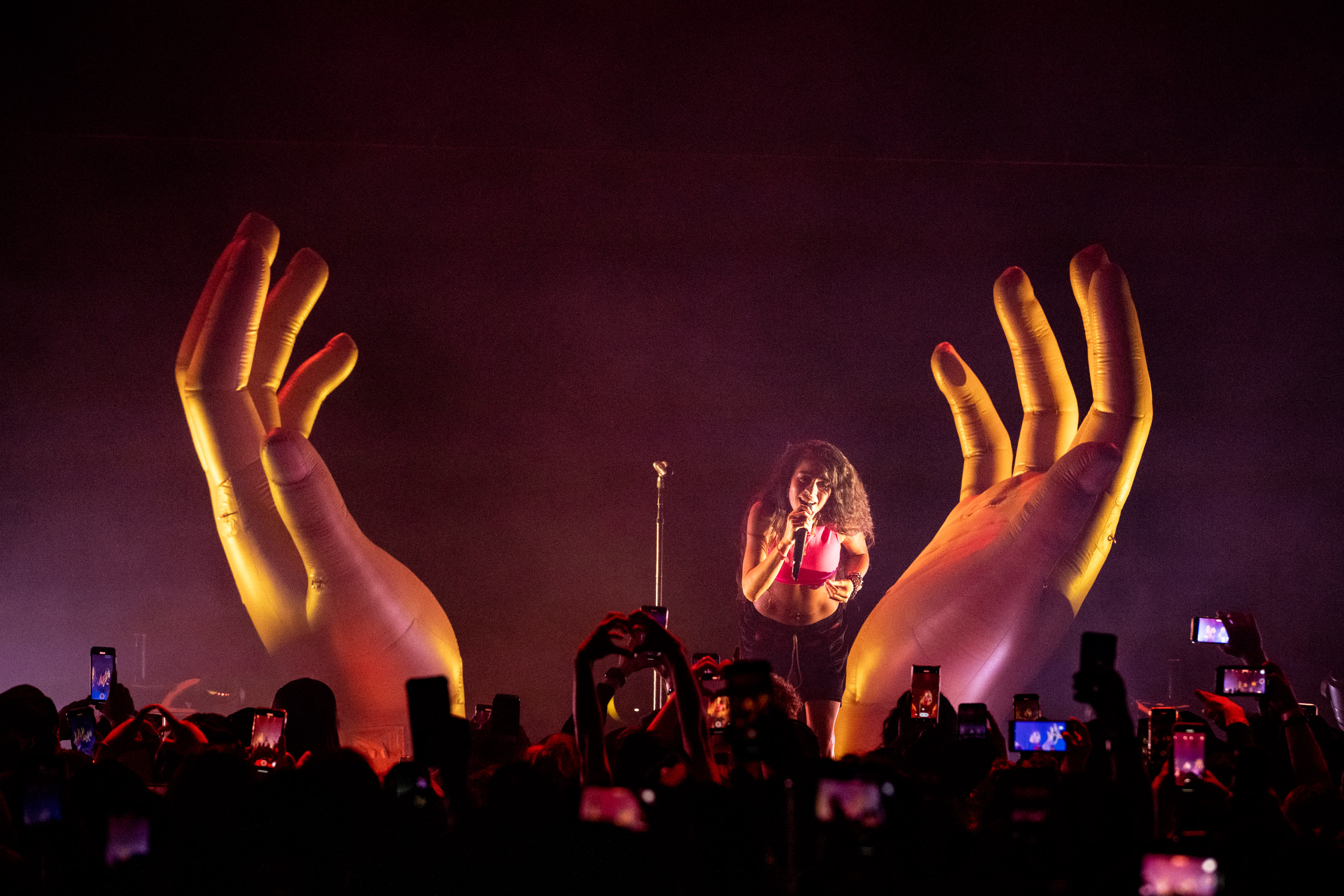 Her set design featured two large-sized hands, as if someone was saying a prayer or calling the Holy Spirit, reminiscent of her faith and trust in God. She kicked off her set with cuts off YESSIE, as "MOOD," "QUEEN ST. W," and "MUTUAL FRIEND" were brought to life alongside her live band. She made it a point to shout them out by name a few times throughout the evening, too. 
Early on in the show, a fan threw their bra on stage, and Jessie quickly picked it up to twirl it above her head in the air. "For those of you whose boyfriend or girlfriend or mother or father or babysitter dragged you here, hello nice to meet you my name is Jessie fucking Reyez!" she said as the crowd exploded in applause and cheers. 
Her energy is unmatched, and she prioritizes connection when she's on that stage. At one point during the show, she told everyone to say hi to the person on their left and right, to ensure everyone in that room was acquainted. It was about being in tune—not only to her, but to each other.
"It's up to God. It's in the air."
Reyez could care less about the industry. In an interview with Hot 97, she said, "The map for the end goal has always kept me really focused forward. I've always heard [that] when you turn to the side, that's when you fuck up the race. Even if it's not a race, because creativity is what you make. You only make it a race if you apply the 'music industry' shit to it."
The irony lies in the fact that she is extremely loved and co-signed by all the greats. In fact, for her YESSIE album release party at No Vacancy in Hollywood, she drew in Drake, Diddy, Yung Miami from City Girls, Ty Dolla $ign, Murda Beatz, Diplo, Cordae, Leon Thomas, and many more. But while Los Angeles may be the mecca of entertainment, she's much more focused on delivering the most unforgettable show for her fans, than she is on special guests.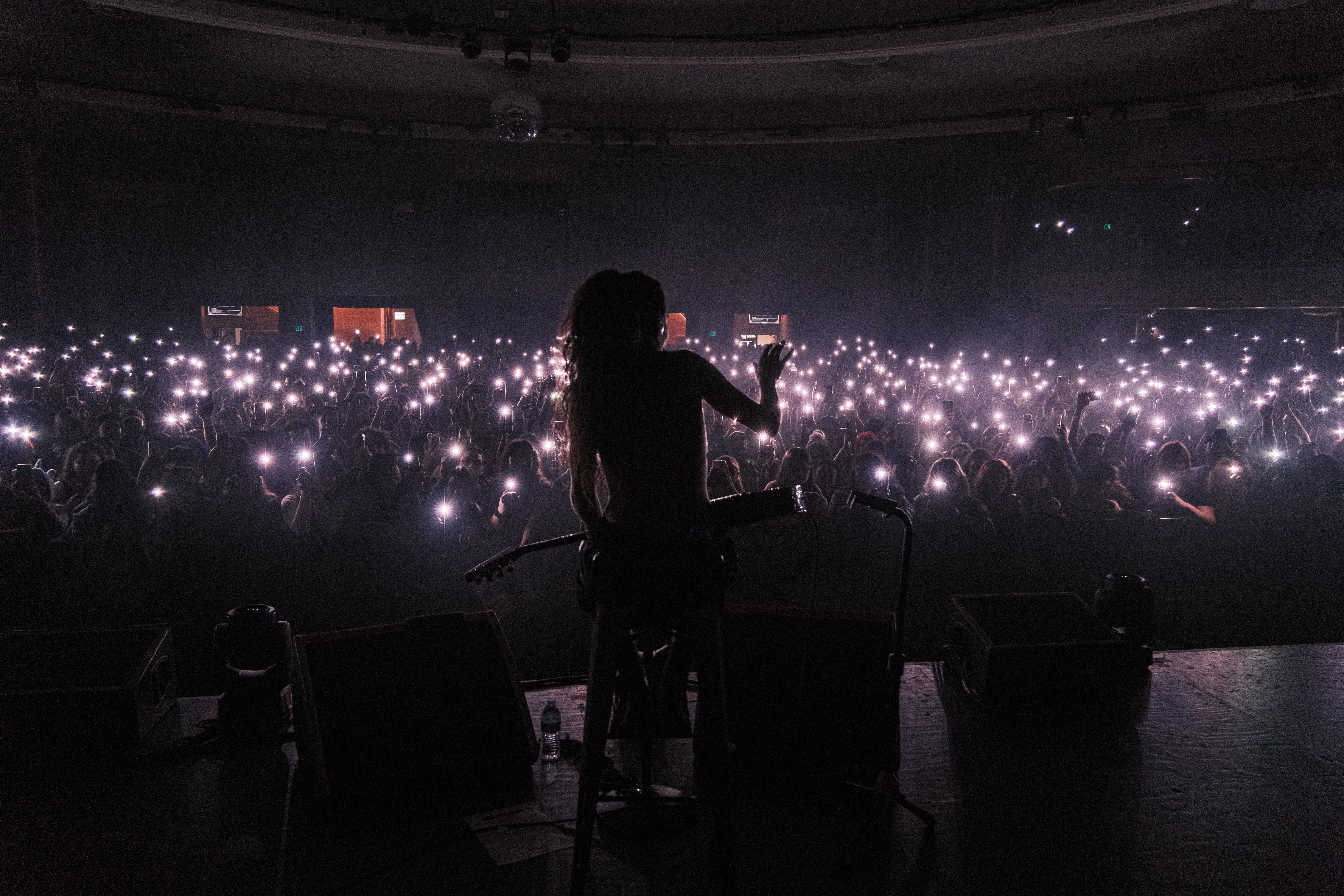 "I don't usually do special guest drops, that was more so just the party," Jessie clarifies. "Every now and then, I'll do the pop-up, but I don't really do the pop-ups often. Just because I'm a fan of getting a show as perfect as possible. The thing is when you have a show as perfect as possible, you've worked out the sequence, you've worked out the timing, the moments and the musical transitions, everything is so precise. That when you're adding in new guests, which other people love but when you're adding in guests, it shifts a lot of things, right?" 
"Si me nace is how you say it in Spanish. That means if it bursts in me, which is if you catch the spirit to do it. If someone's in town and we talk day of, it's usually something that's very spontaneous and of the moment. Because otherwise, I overanalyze… It's up to God. It's in the air."
Truthfully, Jessie's performance was in no need of anyone or anything. Her delivery was flawless, her attention to detail immaculate, and her effortless ability to interact with the crowd is what left us in even more awe of her value. She performed songs such as 2017's "Phone Calls" for her day one fans, too. 
Before sitting down to do "Figures," the last song of the evening, Jessie reminded everyone of her humble beginnings. She was a bartender and a bottle girl, she shared, and when she was fired from many jobs, music became her saving grace. Her closing words: "The only reason I'm able to live off music in this capitalistic ass society, is because of y'all. I'm very lucky, so thank you." 
Everyone in that room felt her presence, and in turn, they were able to be present for her as well.