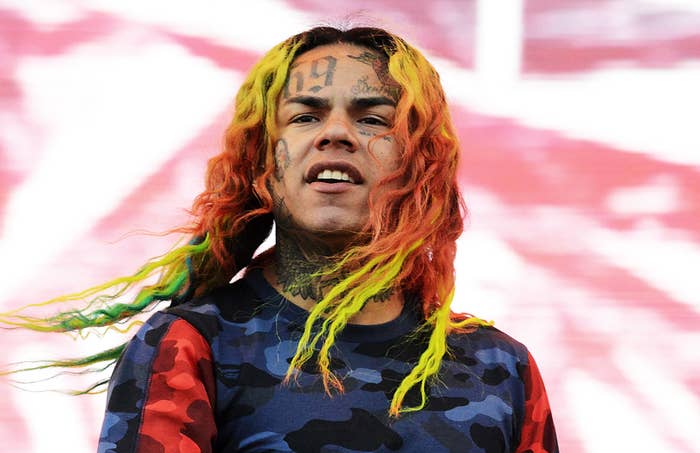 Daniel "Tekashi 6ix9ine" Hernandez pointed fingers—sometimes literally—during his first day of testimony on Tuesday. 
Hernandez, a cooperating witness, took the stand in the late afternoon on Tuesday, September 17, to lay out the path of his career and how it intersected with the Nine Trey Gangsta Bloods. He was testifying to help make the government's case against alleged Nine Trey Gangsta Bloods members Anthony "Harv" Ellison and Aljermiah "Nuke" Mack.
In front of a packed room in Manhattan's Thurgood Marshall Courthouse, Hernandez, dressed in a blue prison jumpsuit with a plain white shirt underneath and his now-dark hair in two long braids, was questioned by attorney Michael Longyear. The rapper squinted a lot and occasionally shifted around in his seat when recounting his story, but spoke unhesitatingly and answered Longyear's questions in full.
This first day of Hernandez's testimony, which will continue on Wednesday, began with him saying that he decided to cooperate with the government immediately after his arrest in November 2018 on racketeering charges. That arrest took place on November 18, and Hernandez said in court that he made up his mind by November 19, "the day after we was taken down."
From there, Hernandez recounted the beginnings of his music career. In 2014, he said, he was working at the Stay Fresh Grill & Deli in Bushwick when he met Peter "Righteous P" Rodgers. Rodgers "asked me if I rap," Hernandez recalled. "He was like, 'You got the image for it. You look cool.'" (You can hear Rodgers recall his side of this encounter—more or less identically—in this interview).
After making a handful of songs and touring Eastern Europe, Hernandez said the first Nine Trey member he met, in the late summer of 2017, was the rapper Seqo Billy. Seqo and Hernandez connected through Seqo's close friend Chris Ehigiator, Hernandez's then-manager. Hernandez said that after writing "Gummo," he asked Seqo to "get Nine Trey members to be a part of the video. I told Seqo that I would like for them all to wear red." 
At that video shoot, Hernandez said, he met Kifano "Shotti" Jordan, along with other Nine Trey members who the rapper then named and identified in photographs (or, in the case of the defendants, in person), as well as in the "Gummo" video itself, which played in the courtroom. 
Hernandez was also asked about the history of "Gummo." He said the track was aimed at Trippie Redd, who Hernandez identified as a member of the Five Nine Brims set of the Bloods. 
"Me and Trippie Redd were signed to the same label," Hernandez explained. "There was a lot of jealousy involved."
After the release of "Gummo," which was an instant hit, Hernandez realized he was on to something. 
"I knew I had a formula," he explained. "I knew the formula was to repeat the gang image, promote it. That's what people like."
Hernandez went on to recall the making of the "Kooda" song and video, and explained that he had learned the gang terms that are used in the track's lyrics from Seqo and Shotti. Hernandez said that after the success of "Kooda," he "officially became a Nine Trey member," though he never had to go through an initiation. 
What he did have to do, Hernandez continued, was to make hits, and thereby make money for the gang. When asked by Longyear what he got from Nine Trey in return, Hernandez was straightforward: "I would say, my career. Street credibility. Protection. All of it."
Longyear also attempted to parse the meaning of "Treyway," Hernandez's often-shouted slogan. 
"Treyway was more of a sophisticated way to name the gang—something that we could market," Hernandez said.
Hernandez broke down several more details about the gang before court ended for the day: how the Nine Trey handshake and hand signs are made; how the "prison lineup" (Nine Trey members behind bars) and "street lineup" (members who are not incarcerated) of the gang are organized and who the leaders of each were; his relationships with the defendants; and more. 
Hernandez will continue testifying on Wednesday. It is expected that he will get into details of his alleged robbery and kidnapping in July 2018, which Ellison is accused of. Ellison's defense team has said repeatedly that the incident was a publicity stunt. 
Before Hernandez testified on Tuesday, two other witnesses took the stand. One was Detective Robert Deck of Brooklyn's 81st Precinct, who discussed an October 2018 slashing that Ellison is accused of. The other witness was Ellison's former girlfriend Jazlyn Ramirez, who recalled hearing Ellison admit to both the slashing and Hernandez's kidnapping. 
"Harvey [Anthony Ellison] said he had kidnapped [Hernandez] and robbed him for his chain," Ramirez explained, while saying that Ellison was excited to see press coverage of the incident because "he said he was going to be famous for that." 
Ramirez admitted that she was testifying reluctantly, under subpoena. 
Why was she frightened? 
"I don't know what Harvey's capable of doing."