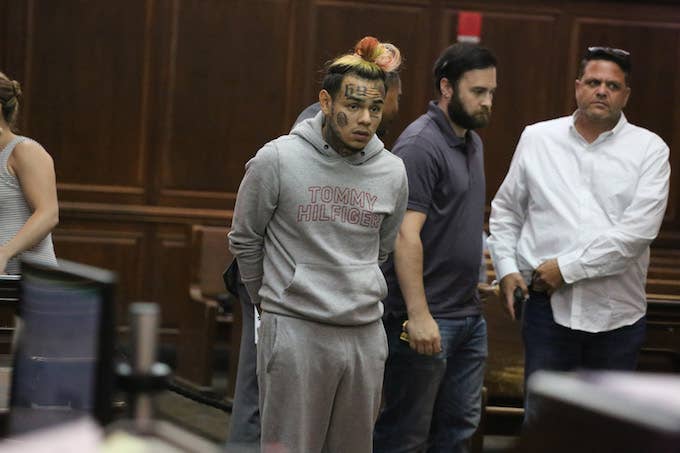 6ix9ine finally has a day to look forward to.
On Tuesday, Judge Paul Engelmayer agreed to the request to move up the sentencing date for Daniel "6ix9ine" Hernandez, the controversial rapper-turned-cooperating-witness. Hernandez's fate will be determined on Dec. 18, 2019 at 10 a.m. ET. It was previously set to occur on Jan. 24, 2020.
The sentencing was moved up following a request from Hernandez's legal team. "He's ready for the next stage," Hernandez's attorney Lance Lazzaro told Complex over the weekend.
Hernandez famously took the witness stand last month at the trial of two of his fellow Nine Trey members, Anthony "Harv" Ellison and Aljermiah "Nuke" Mack. Both defendants were found guilty of racketeering; Ellison of kidnapping Hernandez and of slashing a different person in a separate incident; and Mack of dealing heroin and MDMA. Ellison and Mack will be sentenced in February. 
Hernandez pleaded to crimes that carry a minimum of 47 years behind bars, but is likely to receive far less time due to his cooperation. Many lawyers expect that he may end up with no additional prison time at all. You can find out more about the situation here.