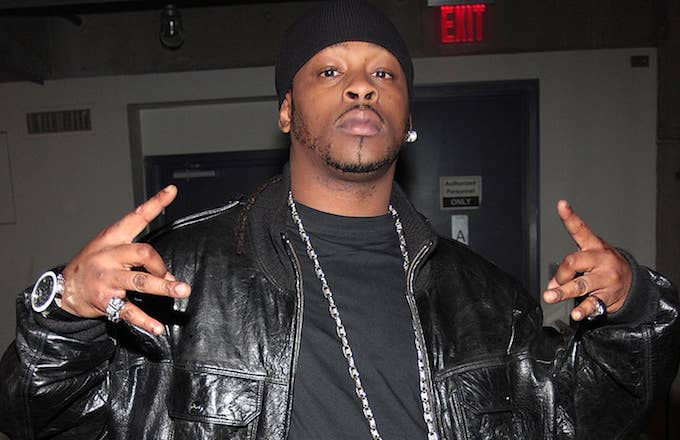 A major player in the 6ix9ine/Nine Trey racketeering case received a heavy sentence on Thursday morning. Jamel "Mel Murda" Jones will spend the next 135 months (or 11.25 years) in federal prison, Judge Paul Engelmayer decided in a hearing at Manhattan's Thurgood Marshall Courthouse. In addition, Mel will have five years of probation upon release and has to pay $10,000 in forfeiture. 
Mel, who according to the government attained the highest rank of "Godfather" in the "street lineup" of Nine Trey, has long been a close friend of Jim Jones. Mel was a part of Jim's Byrdgang rap collective and appears on a ton of tracks with the Dipset capo. In addition, at the trial of Nine Trey members Anthony "Harv" Ellison and Aljermiah "Nuke" Mack, Jim Jones was identified as the previously unknown "Individual-1" during an infamous wiretapped phone call with Mel which discussed how 6ix9ine had to be "super-violated" for disavowing Nine Trey during a November 2018 appearance on The Breakfast Club. 
Mel, 39, pleaded guilty back in April to racketeering and narcotics offenses. The former was for being a part of Nine Trey, and the latter was for transporting heroin and fentanyl on two occasions. One of them was when Mel sold heroin to an undercover NYPD officer on Nov. 15, 2018. That buy, set up by cooperating witness Kristian Cruz and for which Mel was paid $10,000, was filmed. Mel was arrested four days later.
Prior to the sentencing, Mel wrote a letter to Judge Engelmayer asking for a "second chance." In it, he admitted to becoming a member of the United Blood Nation (the parent organization of Nine Trey) at fifteen due to the influence of "older guys in my neighborhood" who were "thugs off the corner… involved in illegal activities like drugs and violence." 
Mel has two children with his longtime partner Dawn Gillespie. In a pre-sentencing letter to the judge, Gillespie painted Mel as a loving and overprotective father.
"Jamel and his children constantly cry when he calls it's so sad all I can do is cry," she wrote. "He so over protective he worries about the children a lot while he in there to point I'm scared he's going to make his self sick."
Mel's daughter, whose name is redacted in court documents, wrote to the judge as well.
"Since my dad has been away I've been very depressed and down. I feel like I have no one in my corner to guide me or my little brother because he's going to grow up to be a man but while has in that process he's going to need a man to show him the ins and out of life. I don't want to have to explain or express to my baby brother that daddy is never coming home."
6ix9ine will be sentenced on Dec. 18.