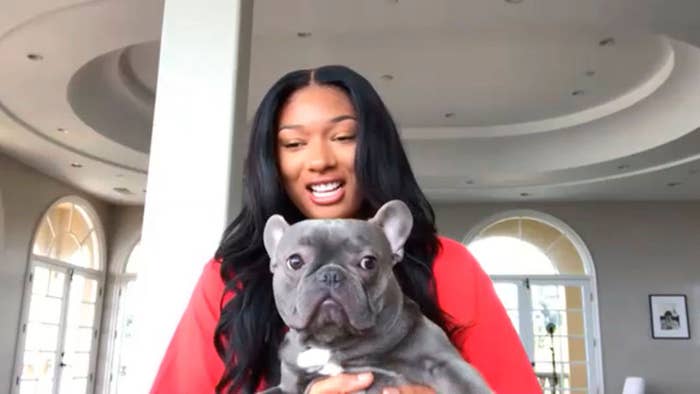 It looks like at least one person is not feeling the H-Town Hottie. Megan Thee Stallion's ongoing legal battle with her label 1501 Certified Entertainment and its head honcho Carl Crawford entered a new phase on Wednesday when Crawford's attorneys attempted to get the whole case thrown out.
Megan sued Crawford and 1501 last month in order to be let out of her contract. Early decisions in the case, including one that allowed her to release her latest project Suga, have gone the rapper's way. Most recently, on April 13, Judge Robert Schaffer gave Megan another win by allowing the case to continue in court instead of moving to arbitration, as Crawford wanted. (On Wednesday, in a separate filing, Crawford also appealed that decision). 
Crawford's move to get the case thrown out centers around a number of legal arguments that his lead attorney Thomas Van Arsdel sets out in a seven-page document. Van Arsdel says that Megan does not set a maximum dollar amount that she's trying to collect, which he claims means the case should either be re-filed or thrown out. 
In addition, Van Arsdel claims that his client isn't bound to follow the particular law, the Deceptive Trade Practices Act or DTPA, Megan is accusing him of violating because, when it came to Megan's latest album, "the consideration paid by Plaintiff [Megan] exceeded $500,000," which the lawyer argues means that "this transaction is excluded from the DTPA." Relatedly, the filing claims that because "Plaintiff has assets of $25 million or more at the time" of the suit, Megan "does not have standing to sue under the DTPA." Those dollar amounts are not particular to Megan's case, and are not based on any direct assessment of her personal spending or wealth—they come directly from the law itself. 
No date has yet been set for the judge to rule on Crawford's effort. Complex reached out to Van Arsdel, who had no comment.