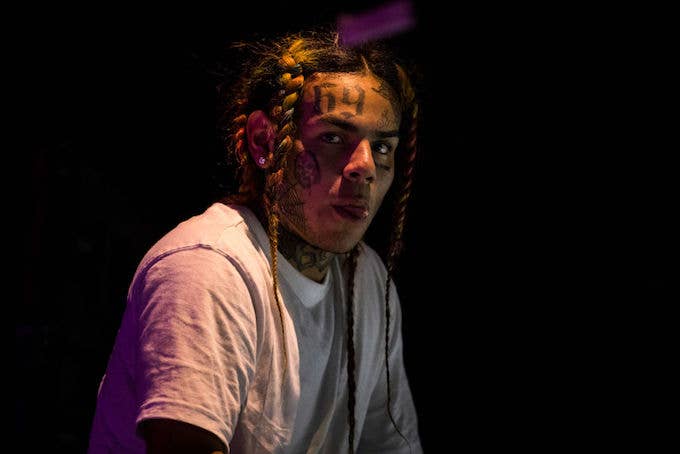 About a month ago, former 6ix9ine affiliate Kintea "Kooda B" McKenzie, best known for his spirited dancing in music videos and the song 6ix9ine named after him, pleaded guilty in federal court as part of a sprawling racketeering case that involves the "Gummo" rapper, his former manger Kifano "Shotti" Jordan, and nine other men.
Complex recently obtained a transcript of McKenzie's guilty plea hearing, which took place on June 3. In it, he admitted to one count of assault with a dangerous weapon in aid of racketeering. The count relates to an incident a year prior, when Chief Keef was shot at outside of the W Hotel in Times Square. The hearing makes clear, however, that McKenzie was not the one who actually pulled the trigger.
"In June 2018, I was present and helped arrange for another individual to shoot a gun at a rival that Tekashi wanted to scare," he said. 
I arranged for the individual to be driven to Times Square and carry out the plan in front of the W Hotel. When the target came out of the hotel, the individual fired a shot in the direction of the area where the target was standing. The shot was fired because Tekashi wanted to intimidate rather than actually hit the individual. I did this because Tekashi asked me to arrange this.
There is no mention in the hearing of the identity of the "individual" who fired the shot.
The hearing also offered an explanation, albeit a tragic one, for why two weeks elapsed between when McKenzie pleaded guilty on June 3 and when he turned himself in to await sentencing on June 17. His lawyer Lisa Scolari explained that the time was needed because: 
There have been two murders in Mr. McKenzie's family in the last week and a half. Two cousins who were brothers were murdered in two separate incidents in Brooklyn, and Mr. McKenzie's family is obviously distraught. He would like to be able to attend the services and be there for his family at this time.
McKenzie is scheduled to be sentenced on Oct. 4. His recommended prison sentence is between 46 and 57 months, though the actual sentence will be determined by a judge.