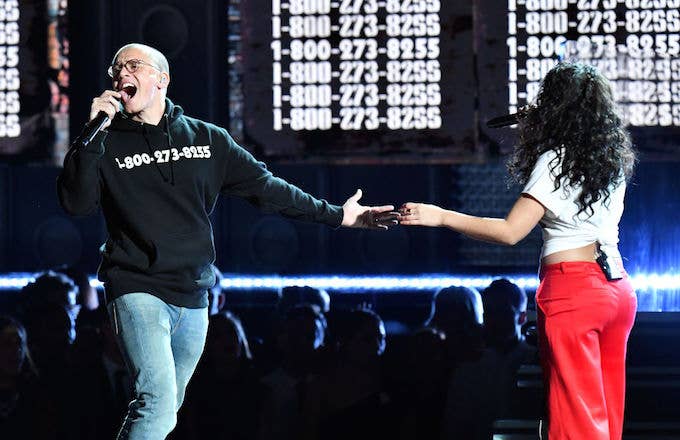 Last May, something big happened for Logic. His years of cultivating a rabid fanbase with free mixtapes, a hard-touring philosophy that was grossing him over $50K a show, and intense focus on his biggest supporters finally paid off when his album Everybody entered the Billboard 200 chart at number one.
The true measure of the devotion of Logic's fans became evident when you broke down the numbers. Of the 247,000 album equivalent units that Everybody moved, 196K were actual album sales—a shocking 79.3%. That's almost unheard of these days, especially in as streaming-heavy a genre as rap. It seemed that almost everyone who was checking out Logic's new album wanted to support him, wanted to hear the project in full, and were willing to go to an actual store (even if it was an online one) and pay real money to do so.
If you didn't hear Everybody, and instead just looked at the stats, you'd have thought Logic was a country singer. His pure sales percentage put him in the company of people like Chris Stapleton, whose From a Room: Volume 1, released the exact same day as Everybody, did 92.6% of its first-week numbers in actual album sales; or Luke Bryan, whose end-of-2017 release What Makes You Country netted a nearly-identical 91.6%. Country is a genre with notoriously low streaming rates, so seeing those kinds of numbers makes sense. But for a rapper? That's the mark of an artist who has a truly exceptional relationship with his fans.
If you didn't hear Everybody, and instead just looked at the stats, you'd have thought Logic was a country singer.
In 2016, prior to Everybody, Logic was profiled by Forbes' Natalie Robehmed. "I don't have a hit but I can do 5,000 people in Chicago or 4,000 people in L.A. and it's sold out," he told her. "Now just wait until that hit comes."
You know what happened next: he got his hit when "1-800-273-8255" blew up. The track spent 43 weeks on the Billboard Hot 100 singles chart, peaking at number 3. The song and its music video was nominated for a Grammy, and Logic performed the tune at the ceremony.
With that hit song came a whole slew of new fans and new opportunities. Logic's concert grosses nearly quadrupled, to a reported $200,000 a show. His personal life and business moves (including a re-upped Def Jam contract) became tabloid fodder.
But another, more interesting thing happened when he had a big hit. Logic's overall listening audience became more like rap's audience in general—he got more (and more, and more) streams.
As of this writing, Logic has over 23.3 million monthly Spotify listeners, placing him 47th out of all artists on the platform. Kanye West, by way of comparison, is only three slots ahead at 23.7 million. His label, for one, is thrilled: press releases from Def Jam now trumpet Logic's streaming statistics.
The difference between pre-hit Logic and post-hit Logic became clear last week, when the rapper dropped his first project since Everybody, the mixtape Bobby Tarantino II. Like Everybody, BTIIdebuted at number one on the Billboard 200. But unlike Everybody, only about a quarter of its first-week units came from actual album sales. The rest came from streaming or people buying individual songs. Logic did not hit number one because of album sales this time (David Byrne's new album, which charted at number 3, actually sold more copies), but because of the sheer volume of people who streamed at least a little bit of music from the project, or bought a song or two.
What a hit has done, essentially, is turned Logic's listenership from that of an artist with a large and devoted cult following to a (much bigger) group that mirrors the audience for other major rappers. He pulled off the Drake-style feat of having multiple songs on the Hot 100 simultaneously. His 26.8% of album sales that are, well, actual album sales now hovers around the likes of Kodak Black (16% for the first week of Project Baby 2) and Lil Yachty (just shy of 11% for Lil Boat 2's debut), as opposed to his prior country-star-level statistics. Bobby Tarantino II's 123 million on-demand first week streams are right there with other recent rap chart-toppers like Migos (115.6 million for Culture II) or TDE's Black Panther soundtrack (138.9 million).
Logic wanted a hit, and he got it. It moved him into rap's upper echelon, and changed how people listen to him.