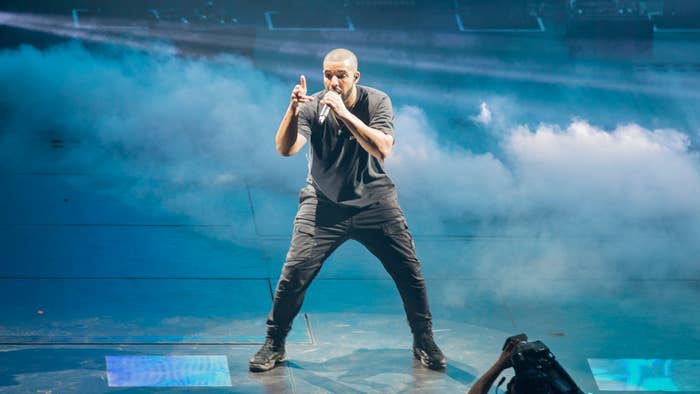 "TikTok is a chaos app."
That's Ka5sh. He's an L.A.-based rapper and artist who has, in his words, "done everything that you could possibly do with memes," from art exhibits to marketing campaigns to TV appearances. As someone who is constantly online, he was instantly aware of Drake's "Toosie Slide," a song and video seemingly made for the kind of viral clips that are Ka5sh's stock in trade. The lyrics spell out, and the video demonstrates, how to do the dance ("It goes right foot up, left foot slide/Left foot up, right foot slide.") The track is named after, and the titular dance created by, a young dancer from Atlanta who has countless viral videos to his name. 
Seems perfect, right? Arguably the biggest star in all of music made a TikTok-ready anthem. What could go wrong? 
Despite the fact that it might well still take off (more on that later), "Toosie Slide" was not a smashing out-of-the-gate success. As of Tuesday, April 7, the song has not cracked the app's "trending" page. It has about 94,000 videos on TikTok—one-seventh of the amount generated by Lil Keed's "Snake," and less than one percent of the number of videos for Megan Thee Stallion's "Savage." And Ka5sh is pretty sure he knows why.
"If you're making a song purposely for a TikTok dance to go off, it's not going to work. These kids are thinking way more steps ahead than how they're going to turn your song into content." - Ka5sh
TikTok's algorithm is set up in such a way that people can become stars almost overnight. (That's the "chaos" Ka5sh is referring to.) And in a community like that, fame—even superstar-level fame—may be less important than producing great videos.
"The kids have learned how to take sounds and songs and then turn them into punchlines in ways that Vine could never do," Ka5sh tells Complex over the phone from his Echo Park home. So Drake's "really basic" song, to his mind, wasn't the move to reach an audience who is already skeptical of being sold to. 
"If you're making a song purposely for a TikTok dance to go off, it's not going to work," he says, comparing "Toosie Slide" to Tyga's "Bored in the House," another play for TikTok virality that remixed an already-popular video. "These kids are thinking way more steps ahead than how they're going to turn your song into content."
In addition, Ka5sh says, Drake didn't approach the right influencers on the platform to share the dance. 
"It's about picking the right people who are a part of a community where people actually follow them and would copy them," he explains. "Because a lot of TikTok is also about copying what the popular trend is."
That lack of engagement inside of the TikTok community (as of this writing, Drake was not on the platform) may have been one factor contributing to the song's less-than-stellar start. Another, according to experts, was the rollout. 
Devain Doolaramani is a college senior who runs The Fuel Injector, an ad agency that connects viral stars with brands and record labels. Most recently, his company has "amplified," as he puts it, Roddy Ricch's "The Box" and The Weeknd's "Blinding Lights." 
Doolaramani has overseen countless campaigns for songs. So he was a little surprised when the first teaser for "Toosie Slide" dropped on March 29, just days before the song came out. 
"I feel like it was a last-minute release," he says. "I don't think there's a lot of room for hype to be built up."
Ka5sh agrees. He thinks that the fact that videos about the song from big accounts popped up immediately was a turnoff. 
"I saw a post of these two dudes making a skit about the song maybe two hours after the song was out and I already know that it was pre-made," he remembers. "They should've spread it out a little bit, in my opinion. Let it gestate, so it seemed natural. But it just felt phony."
Rapper Rontae Don't Play, who has over 13 million TikTok videos set to a medley of his songs "I'm Single and I'm Lit" and "She Belong to the Streets," is more forgiving. To him, Drake's penchant for hopping on trends is what keeps him "the greatest." 
"He knows how to take over everything that's taught to him," the rapper explains. "When he sees something new, he gets on it ASAP." 
Outside of the world of TikTok, Drake's latest gambit seems to have worked. "Toosie Slide" is getting over 6 million streams a day on Spotify, hitting number 2 on their Spotify Global chart. Rontae Don't Play and Doolaramani both think that with time, and with the right influencers jumping on board (Rontae specifically suggests Charli D'Amelio), "Toosie Slide" could still succeed. And Drake's team is trying. On Tuesday, a PR email blast went out offering "Toosie Slide"-themed Zoom backgrounds put out by Pandora "to celebrate Drake's newest single."
But for Ka5sh, Zoom backgrounds or no, it's a case of wrong single, wrong time. With a worldwide pandemic and historic levels of unemployment, as well as anattendantbacklash against privileged celebrities, there's not a huge public appetite for a video showing Drizzy dancing alone in a mansion.
"Everyone's looking at this rich man in his house," Ka5sh continues. "We realized, 'Aw man, we're not sure if we're going to be able to eat next week and he's making a stupid dance song. We can't dance to this. There's no dancing right now.' This is a sad time. Listening to that and then seeing the music video for it just did not sit well with me as a human."