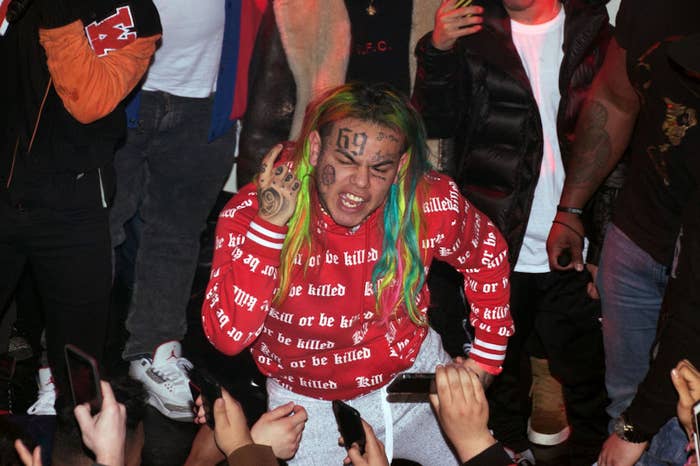 Not all of Tekashi 6ix9ine's co-defendants are as lucky as he is. 
Denard "Drama" Butler, a Nine Trey Gangsta Bloods "hanger-on" who was one of the rainbow-haired rapper's co-defendants, was denied early release from prison this week. Butler, who suffers from asthma and bradycardia, asked last week to be put on home confinement for the remainder of his 60-month prison sentence due to his high risk of serious illness if he contracts COVID-19, the disease caused by the virus. Judge Paul Engelmayer was sympathetic, but turned down the request—the opposite decision to the one he made with Butler's more famous co-defendant, in which 6ix9ine was allowed to spend the last four months of his 24-month sentence at home.
In his order dated Tuesday (April 7), the judge acknowledges that Butler is in a rough spot. "COVID-19 presents a heightened risk for incarcerated defendants like Butler with respiratory and cardiac ailments," he writes. And the "crowded nature" of Brookyn's Metropolitan Detention Center, where Butler is being held, "present[s] an outsize risk that the COVID-19 contagion, once it gains entry, will spread." 
However, Engelmayer continued, two factors weighed strongly against Butler's release: his behavior in the events surrounding 6ix9ine's rise; and his long criminal history. Although Butler was a "secondary player," the judge wrote, he participated in three incidents in the spring of 2018 in which Nine Trey members either "brandished or fired gunshots in public places," including the dramatic April 2018 robbery in Midtown Manhattan that 6ix9ine filmed from the backseat of a nearby car. In addition, Butler's history of five prior convictions between 1999 and August 2018 "reflects a pattern of violent and dangerous conduct." 
"While the prospect of contracting COVID-19 undeniably presents a serious risk to Butler's health, his release some 45 months early at least equally exposes the community to a serious risk that he would resume violence," Engelmayer wrote.
Butler's attorney Jacob Mitchell told Complex that his fight isn't over.
"I'm continuing to explore other legal avenues to get Mr. Butler out of the MDC where it's impossible for him to follow CDC guidelines to protect himself and where conditions are a Petri dish for COVID-19," he wrote via text message.
In other 6ix9ine news, another co-defendant, Kintea "Kooda B" McKenzie, who planned and took part in the June 2018 Chief Keef shooting, was also chastised by Engelmayer this week. Kooda was released from prison in late March because his asthma put him at high risk of serious illness if he came down with COVID-19. He was scheduled to remain out until he's sentenced on June 24. But he almost immediately got in trouble when a video of him partying with a bunch of people showed up on social media. The people in the video were mostly Kooda's brothers and cousins, according to court records. They were "close together" and "one of the individuals appears to be smoking a marijuana cigarette and drinking an alcoholic beverage." In addition, the NYPD claimed that the video was posted by a "known gang member," though the federal government couldn't verify that. Kooda's own lawyer admitted that her client's behavior in the video was "was selfish and reckless" in a letter to the judge. 
On Monday, Engelmayer issued an order in response to the video. He noted wryly that the clip "does not reflect any effort by any attendee to achieve social distancing" and said that the party itself "potentially exposed" Kooda to COVID-19. In fact, that potential exposure was the main reason not to send him back to prison as punishment. "To remand him now would potentially expose United States marshals, BOP officials, fellow...inmates, and others in his presence to the virus. These persons, including the other inmates, deserve better," Engelmayer wrote. Instead, he added three additional conditions to Kooda's temporary release. First, no visitors are allowed to his apartment. Second, he is not allowed to leave the apartment without permission. And third, he can't use "any electronic device or social media application" except to communicate with the government or his lawyer. 
It also looks like the video has the potential to land Kooda a longer sentence than he might otherwise have received. The fact that Kooda "misled the Court by feigning genuine concern about contracting COVID-19," said Engelmayer, affords "an illuminating window into his character." As a result, he's considering going above the recommended sentencing range of 46-57 months behind bars that Kooda is currently facing. 
For more about Tekashi 6ix9ine, check out the Complex/Spotify podcast 'Infamous: The Tekashi 6ix9ine Story,' narrated by Angie Martinez.