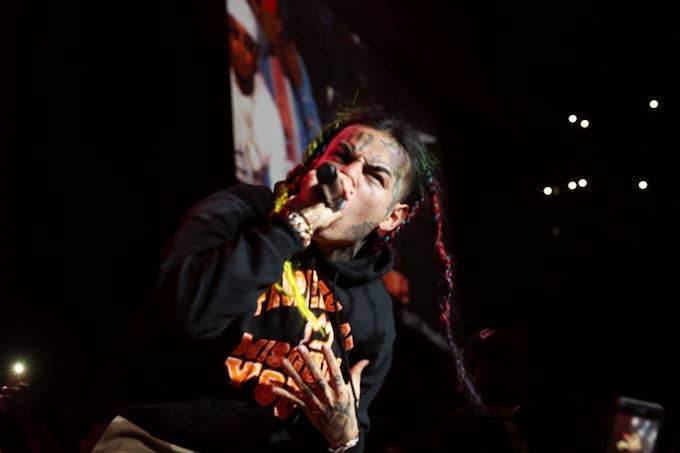 On Monday afternoon, the stiffest sentence yet was handed down in the 6ix9ine-related Nine Trey case. Aaron "Bat" Young, who pleaded guilty back in April to being part of a racketeering conspiracy, was sentenced to 20 years in prison during a hearing at the Daniel Patrick Moynihan United States Courthouse in Manhattan on Monday.
Young, 38, played a major part in the fentanyl dealing operations of the Nine Trey Gangsta Bloods, the gang 6ix9ine was aligned with. Young partnered with fellow Nine Trey member Kristian "CEO Kris" Cruz to deal many kilograms of fentanyl—at least some of which, Assistant U.S. Attorney Michael Longyear explained, would be sprayed with vinegar and sold as heroin. Cruz enumerated the gang's drug activity in the recent trial of Nine Trey members Anthony "Harv" Ellison and Aljermiah "Nuke" Mack (the trial at which 6ix9ine famously also testified). Cruz was one of three cooperating witnesses—along with 6ix9ine's driver Jorge Rivera and 6ix9ine himself—to take the stand in that case.
In addition to dealing drugs, Young also shot fellow Nine Trey member Shane "Snow Billy" Hardy in January of 2018. Hardy was shot at point-blank range in the back of the neck. Young thought he had killed Hardy, though Hardy survived. 
Cruz explained during the trial why Hardy was shot. 
"[Young] played a recording and in the recording you hear Snow talking about how he wanted to have his cousins pretend to be police officers and kidnap me. Then he said that he wanted to kill Mel Murda, a whole bunch of stuff. He said that he had to shoot him."
Young's attorney, Aaron Mysliwiec, asked for a lighter sentence, primarily because of Young's hardships growing up. In court on Monday, Mysliwiec portrayed his client as a compassionate person who "played a real parental role in the lives of kids" despite his upbringing and "cognitive limitations." Young has "a possibility of real rehabilitation and self-reflection," the attorney said. 
Mysliwiec painted Young as a victim of Cruz and Nine Trey godfather Jamel "Mel Murda" Jones. "Jones and Cruz manipulated the dominoes for their own ends," he said. "I am certain Mr. Cruz saw a man he could use as a worker, [...] a man he could manipulate to protect himself." 
When his turn came to speak, Young apologized to his family and his six-year-old daughter. "I'd like to put this behind me," he said. 
Judge Paul Engelmayer pronounced his sentence "with a heavy heart." But he was vehement that Young's crimes "could scarcely be more serious." "Given the vicious nature of your attack on Snow," Engelmayer explained, he couldn't be sure that Young would stay out of trouble if he got a lesser sentence. "A lower sentence would not capture the horrors of the crimes you committed," the judge said. 
6ix9ine is the next defendant scheduled to be sentenced in the case. That will happen on December 18.