Why Gallant Is Always Searching For Home
Arguably one of the most promising R&B artists of this decade, Gallant shares why he cherishes his Columbia, Maryland, upbringing, recording "horrible" songs in his quiet suburbia bedroom.
Once upon a time, there was a boy named Christopher Gallant. He lived in a pretty little town in a sweet little house tucked into a cozy, little tree-dotted cul-de-sac. He rode his bike and played the cello and bagged groceries at the local market, just like a normal boy.
But Christopher Gallant wasn't just any normal boy.
To the outside world, he was "super quiet, super chill" Christopher. In his room in the house in the cul-de-sac, however, he was a different version of that boy. A bolder version. A version that belted R. Kelly ballads. A version that had "cheesy NBC moments." Scooting his desk next to the window, he set up his computer and its microphone. And when he looked out that little window onto his little leaf-strewn neighborhood, he didn't see quiet little Christopher, who rode his bike and played the cello and bagged groceries like a normal boy.
He saw Gallant, one of the most electrifying, eclectic R&B artists of this decade.
"The songs were some of the most horrible things I've ever recorded," the almost 26-year old singer and songwriter says today, laughing. "But it gave me something. The most basic way to describe it is 'fun.' It activated a part of my brain that I didn't feel like I got enough use out of."
That's not much of a concern these days. Ever since self-releasing his debut EP Zebra in 2014, Gallant has had little time to slack. Quickly scooped up by Mind of a Genius Records, he threw down a full house with the fist-pounding statement single "Weight in Gold, which was promptly crowned the "Hottest Record in the World" by Zane Lowe. Over the next year he performed with Sir Elton John and Seal, was named best-in-show at Coachella by Billboard, and collaborated with John Legend, Dua Lipa, and Sufjan Stevens. When he dropped his first studio album—the sleek, spine-arching Ology—in April 2016, he was heaped with critical acclaim and a Grammy nomination for Best Urban Contemporary Album.
Still, his journey from sittin'-up-in-his-room to sitting beside Rihanna wasn't as idyllic as those days from his childhood.
"I moved out when I was 17 to go to NYU. That whole spirit of adventure and going out and taking on the real world? I was down for it," he says. "But when the fantastical adventure melts away and you find yourself in the thick of reality, there are two ways to go: I had to make a decision about whether I was gonna pretend and play the part, or I was gonna try to find somewhere I could be productive and be myself and live the way I felt fitting for the adult version of the kid who was making music in his parents' house."
Like every fairy tale hero worth his salt, Christopher had to walk through the fire to become Gallant.
A quiet child and self-professed nerd, Christopher Gallant grew up in Columbia, Maryland, a quiet suburb of Washington, D.C., and a point of pride. "I'm not sure any other town would've made me as well-spoken or given me the same worldview," he says. His parents were loving and supportive, and his childhood passed without incident—externally, at least.
"Normal isn't a bad word. I feel perfectly normal [now], but I didn't always. Weird internal battles. Same thing everyone goes through," he explains.
Music was a refuge. He dove into '90s R&B ballads by Toni Braxton and Babyface at first, and then, attracted by the lyrics and experimental nature of alt-rock, ventured into Radiohead and Incubus. He kept journals and challenged himself to be as unflinchingly honest as possible. His friends did him the same honor when he played them his earliest material. As he recalled in an early interview, their critique was straightforward: "'This is not good.'"
Unfazed, he continued to record and left home giddy to start college at NYU. He chose an individual study path, piecing together a major with whatever classes piqued his interest, mostly within the Clive Davis School of Recorded Music. "To see the cyclical nature of how everything moves is actually similar to Alpha Industries—they made something that was utilitarian, and then you look back and you have something that's very fashionable. Same in music. People were doing things 'cause they had to, then they became a trend," he says.
Parties and friends populated his university life, but his excitement about the music industry in New York was short-lived.
"I was naïve as you could possibly be," he says.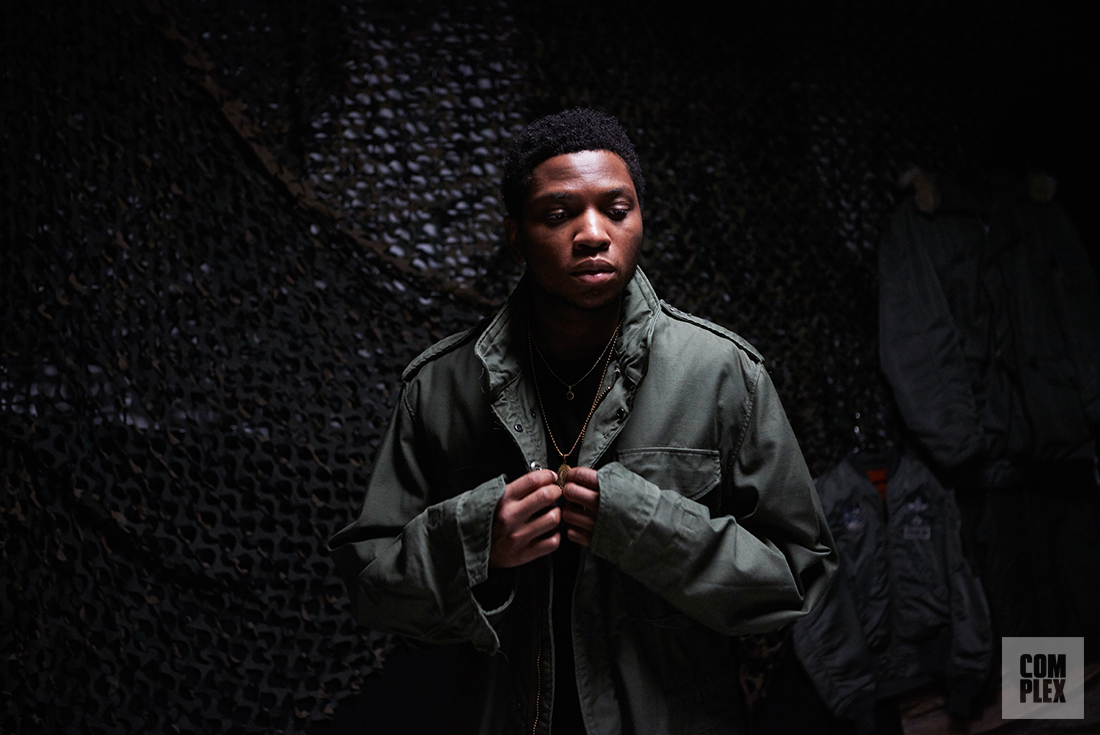 Arriving in the city, he'd assumed he had a strong grasp on the music industry and an even stronger will to play its game. But youth and innocence had blinded him. His professors couldn't seem to align their idea of an R&B singer with Gallant—his lyrics were too left-field—and his classmates were less concerned with being artists than crafting their images.
"A girl in my class was like, 'I want to make my music heard. I'm gonna be 20 soon and I don't know what color to dye my hair,'" he remembers. "I was like, yo, this is BULLS**T. So I kinda gave up. It was just dumb to me."
As crestfallen as he was, the experience was pivotal. "It made me think about the power of honesty and those who said exactly what they believed or what was on their mind. Unabashedly, unapologetically themselves. Making whatever they want to listen to," he explains. He pauses. "If I didn't have that kind of awakening, I might still be trying to chase something with no veracity whatsoever. Leaving with the awareness that whatever I do is for me, and not for commercial purpose—that gave me a catalogue that I was proud of, and a small number of people latched onto it."
That number didn't stay small long. From his collection of influences that spanned from Motown to Thom Yorke, he carved a sound that's urgent, sexy and slightly unhinged. His is the kind of music that plays when you're ripping clothes off your lover the first time you go to bed, or the first time you go to bed after a fight. Guitar stabs punctuate big, bold declarations; chords bang and signal the end of a sentence. In a word, it's passionate.
That characterization might seem at odds with L.A.'s laid-back reputation, where Gallant has lived for the past five years, but the contrast is galvanizing. As was making the leap from New York to Los Angeles. In fact, his decision to leave New York proved so essential that his relief is still palpable. New York, he's said before, felt like a prison. L.A. was a soothing balm to the chafe of its bonds.
"There was a claustrophobic element to all the buildings looming over you every day, your obligations. L.A. was more about the freedom, knowing I could escape, get in the car and just drive. Some people love the efficiency [of public transportation], but I felt trapped," he says.
Even though it's across the country and lacks New York's crispness of fall and freshness of spring, L.A. feels so much more like home, he says. It dawned on him that his dislike of New York might have more to do with its cold, chrome and concrete landscape than with his industry disillusion. He needed a window like the one he had as a boy in Columbia: a way to see the next, greater version of himself.
"That one little spot is what I keep trying to find no matter where I'm working. I'm aiming for that same setup to give me that same [feeling]. Even if there's just one little tree outside," he says. "That window is just so important."
StylingKhalid Briggs
Clothing All Images and Video: Alpha Industries