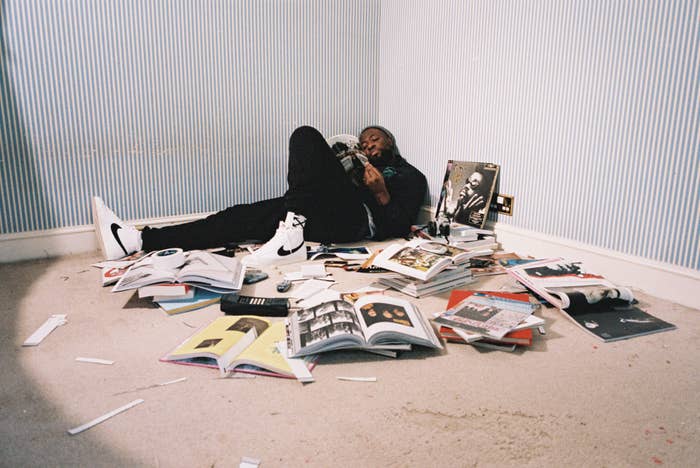 In a seemingly nondescript office unit below a new-build in South East London, stands a wall of plaques with images of some of the most well-known, critically acclaimed projects of our time—from Wizkid's Made In Lagos to Dave's We're All Alone In This Together.
While music producers are increasingly stepping into the limelight as featured artists (see: JAE5, Steel Banglez, Da Beatfreakz), many of the biggest producers behind some of our favourite tunes still choose to stay behind the boards. And even less is known about the managers that support and help to launch their careers. Enter: The Flight Club—a management and consultancy house with arms in music publishing and recording—home to the likes of frequent J Hus collaborator TSB, Beyoncé and Wizkid producer P2J, singer-songwriter J Warner, rising Nigerian star Tay Iwar, and bubbly TV/radio host Nada. The Flight Club's roster has played a pivotal role in some of the most important, most successful Black music releases in recent times, and it's safe to say their network is in high demand.
We sat down with Samuel Ademosu, founder of The Flight Club, to discuss the many intricacies of management, the future of the UK music industry as he sees it, and how one trip to LA changed the course of his business.
"If you're looking for a quick payday, the music industry is not the one to follow. The flashy Instagram posts aren't representative of the long days, slow months and endless effort."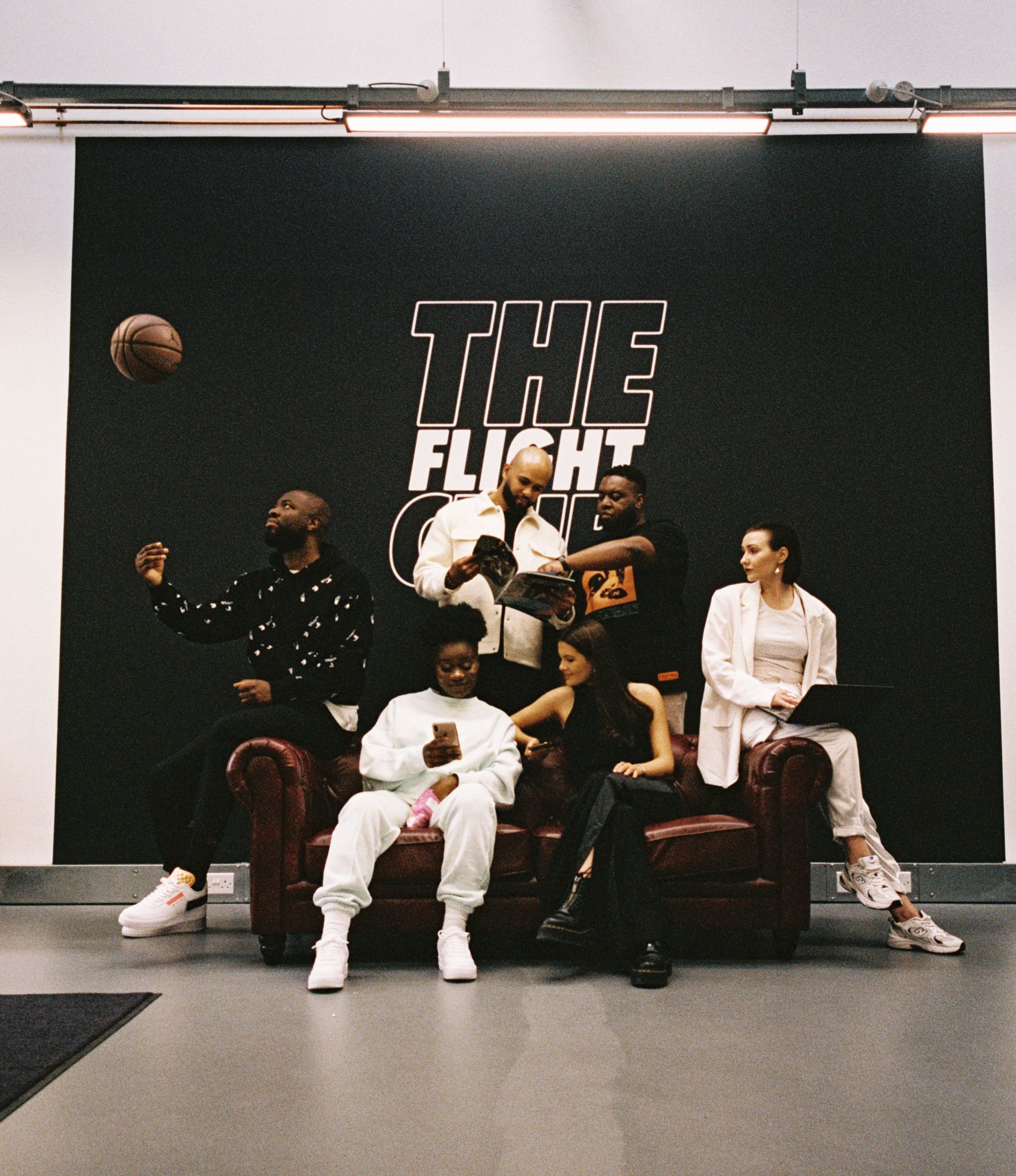 COMPLEX: The Flight Club is one of the most prominent management houses in Black British music today, but it hasn't been overnight. How did it all begin?
Samuel Ademosu: Before it was official in 2015, the 'unofficial' launch of The Flight Club was years in the making. Around 2012 or 2013, I always had the idea and did bits here and there before going full throttle. I wanted to be in the business when I was younger, and even tried making music, but that just wasn't for me once I realised that I didn't like the idea of being in the limelight. Coming from where I'm from in South London, I never even seriously considered it as a viable career until [Dave's manager] Benny Scarrs, then at Island, convinced me to become a manager. I had a meeting with him one day to try and find a manager for one of my friends who was starting out, but based on my passion during that meeting, he convinced me that I should do it myself. That friend was the artist J Warner, who then became my first ever client. P2J followed soon after; he was also my friend—we're from the same area.
Then, around 2014, we started travelling. We were roughing it! It was four of us in one room—me, P2J, J Warner and Ari PenSmith—determined to get our dreams cracking. We got to LA, without knowing a single soul and having to build from the ground-up, sending out emails, setting up meetings that never materialised and booking sessions that got cancelled. It ended up being so random and organic how things worked out; it was as simple as meeting somebody in the queue for a restaurant who happened to be a sound engineer and going into a session straight after. We ended up going into a last-minute meeting with the president of a publishing label on the day we were leaving LA—suitcases and all.
What happened when you got back from that LA trip?
The real hustle began. It was a matter of pooling money and resources together in anticipation of the next trip, now with more experience and knowledge. Here in the UK, we had to strategise. How do you take a producer or a songwriter to market when they're usually the ones behind the scenes? Networking across and working with artists and other musicians who were also up-and-coming helped us build, until our first "big moment"—which was Krept & Konan's debut album, The Long Way Home, in 2015. Ari, Jay Warner and P2J all solidly worked on that project—our first with an act signed to a major label. The fact that all three worked together is something we pride ourselves on; it's a nod to the communal spirit of the company as a lot of our rosters' work interlaps and they're all able to tap into each other's talents.
Publishing is an often overlooked part of the music industry, especially as it's not as visible as the recording side. As a label as well as a managing company, what drew you to expanding into publishing?
Publishing was never something I saw us doing in the beginning, but it was a natural progression from managing producers and writers and having to deal extensively with publishing companies. Where signing publishing deals with majors was initially a means to an end of helping expand our own work and craft, over time, we realised that we had the tools and the reach to do it ourselves. Publishing is so grounded in the creation of music, and that's what we were already doing before I realised what it was. Although the recorded music side is the glamorous side, publishing deals purely with the quality of the music and there isn't enough marketing in the world to mimic a well-produced, well-written or well-composed piece of music.
As far-reaching as the work you do is, what's at the core of The Flight Club's values?
I really want The Flight Club's story to primarily serve as a source of inspiration for others—in the least corny, stereotypical way possible. This idea literally started from an idea in my bedroom, at my mum's house. It's about a collective love of music, but also putting your head down and doing the work. As well as the love of music, in terms of ethos and values, we're grounded in development—that's how the company and collective has grown and that's what we want to help others to do. Although it's popular to talk down on major labels, the fact of the matter is that their structure and size has never aimed at development, whereas development is the primary focus of The Flight Club.
On your journey of development, who are some of the people or some of the establishments you've looked up to?
Def Jam, XL Recordings and Motown. The communal spirit of Motown is something that resonates with us; having an array of talent under one roster and the power in being able to tap into it is something I admire. We're a tight-knit team of ten staff, drawn together by a shared drive, ambition and love for music. We're composed of a young and hungry team that approaches everything with enthusiasm and energy
You've got some amazing talent on your roster from beyond these shores, such as Nigeria-based Alté singer, songwriter and producer Tay Iwar, who featured on Wizkid's Made In Lagos album. How has The Flight Club grown internationally so much, and where does it intend to go?
For us, geography isn't an issue. Tay Iwar isn't from the UK scene, but the way we've grown over the years has allowed us to effectively build some sort of presence in the States, Africa, and the UK. The fact that he was from outside the UK wasn't a deterrent but an asset. When we started working with him, before we signed him, it was evident how talented and driven he was. However, in the same vein, The Flight Club's strength is the bespoke service we have for our roster, working closely with acts and taking a tailor-made approach on the small-scale things we do, so the moment we try to pretend we're a massive conglomerate is the moment we stray from what differentiates us from everybody else. Whilst international expansion is on the cards, there's no rush whatsoever as that wouldn't make sense with the ethos of the company.
We have to talk about P2J. He went from making grime riddims to working with everyone from Beyoncé to Burna Boy. He was also executive producer on Wizkid's Made In Lagos album. How has it been seeing his career grow over the years?
It's funny, because when I went to the third and final night of Wizkid's London show, there was a point where Krept & Konan came on and performed "G Love", then Burna Boy and Wiz performed "Ginger", and then Burna performed "Anybody". P2J produced all three of those songs. I was in shock, in the middle of the crowd, seeing all his talent and hard work come into fruition and remembering how, when we first started out, his studio was in his bedroom with a computer table propped up on his wardrobe. I knew from way back then that he was a genius, and can't express how proud I am not only of his professional journey, but also his personal one—he's still the same humble, hungry guy I met eight years ago when I first started managing him.
What lessons have you taken from your own background and upbringing into your career today?
This isn't just a business—it's also my life. My upbringing was the same old story of growing up with humble beginnings… Growing up with so many distractions has taught me how to zero-in and hone my tunnel vision. When I first started managing J [Warner] and then P2J, I had no network to lean on or expertise to pick from, just a love of music and the drive to push the talented artists around me to the next stage of their careers. I can also attribute a lot of our success to an almost obsessive trait, which was something I noticed a lot of successful people in music had. What it taught me was that if you don't actively get up and do the things you want to, you'll passively end up doing the things you don't want to.
I figured out early on that I had to work in a field that I would look forward to working in every single day, even if it meant I wouldn't be the wealthiest or have all the materialistic trinkets. I still pinch myself everyday and I'm grateful to be able to do this for a living, especially during times where I'm able to see the progression of my clients—from seeing them work in the studio with people they've idolised their whole lives, or seeing them being able to take care of the people around them—all from doing what they love. What I enjoy the most is the beginning stage of any creative process: the learning and figuring out what works and what doesn't in that initial period, whether it be the initial radio demos or the first few sessions of a writing camp.
From your own experience, what do you think are some of the most essential skills for a good manager to have?
You've got to be committed and engaged, not only in your artist's career but the wider landscape you're operating in. In order to be able to make the best moves for your client, you have to constantly assess the market to understand what to do. There is no one-size-fits-all style of managing—every person is different and you have to manage their personalities and expectations, as well as their careers. It's a holistic role that is so much more than simply answering emails, where boundaries can get so blurred you're in such close proximity and have somebody's life and career in your hands. You need to be agile, empathetic and also learn to put your pride aside. There will be times when you all you hear is 'no', and your emails and calls will be ignored. You have to be brave enough to keep going in spite of those disappointments and keep on grafting and hustling. Everybody will ignore you in the beginning—what reason do they have not to if you're an unknown? If you're looking for a quick payday, the music industry is not the one to follow. The flashy Instagram posts aren't representative of the long days, slow months and endless effort.
What can we expect from The Flight Club in the coming weeks, months and years?
As well as developing our roster and continuing to build, we've started an initiative called 'Soundproof', which we hope to serve as a vehicle to help R&B in the UK have the same light and opportunity as other genres. We have some exciting new acts such as Lilah, who dropped her debut EP in November. Amongst all the conversation around UK R&B, Soundproof aims to help create avenues to let the talented musicians we have get a fair shot to get their art across in the same way that US R&B artists sell out arenas and stadiums when they visit the UK.