It's a Wednesday afternoon in early May, and the sun is beating down on the patio outside a hyper-modern studio in Burbank, Calif. YG is worried about logistics. He just got off the phone with a famous DJ who wants him to make a guest appearance at a concert the coming weekend. YG moves quietly, with the careful control of an athlete, canvassing the eight or so people present about the quickest routes from Santa Monica to the Eastside of Los Angeles. The issue: the show conflicts with his daughter Harmony's first birthday party, which he's unwilling to move or miss. Enthusiastic hangers-on tell him he'll be able to make the trip in 30 minutes; despite his friends' assurances, YG squints at Google maps on his iPhone and grimaces. 
An intercom buzzes. The six-inch-thick, wood-paneled gate hums to life and begins to reveal a black SUV. The second the gap becomes big enough to squeeze through, the driver peels into the parking lot, tires squealing as he turns into a spot. A few of those assembled freeze. YG, clad in a white T-shirt, black jeans, a Louis Vuitton belt, blue Toms, and gold bracelets, steps to the front of the porch, peering into the sun and pounding one of his fists into an open palm. Then he breaks into a smile and shouts at his friend: "Why you driving that like it isn't mine?" 
Laughter, daps, "you good, bro?" Before long—but not before a few more questions about the 10 freeway during rush hour—YG suggests that I head into the studio's main room with him to hear his sophomore album, Still Brazy. (At the time, he called the record by its working title, Still Krazy, and while he believed that the tracklist was locked in at the time, the album would be tweaked and expanded in the weeks to come.) As we disappear inside, the smattering of friends and publicists keep watch from the patio, but there's nothing to see. The outside world is barely visible over the wooden gate, which has closed again.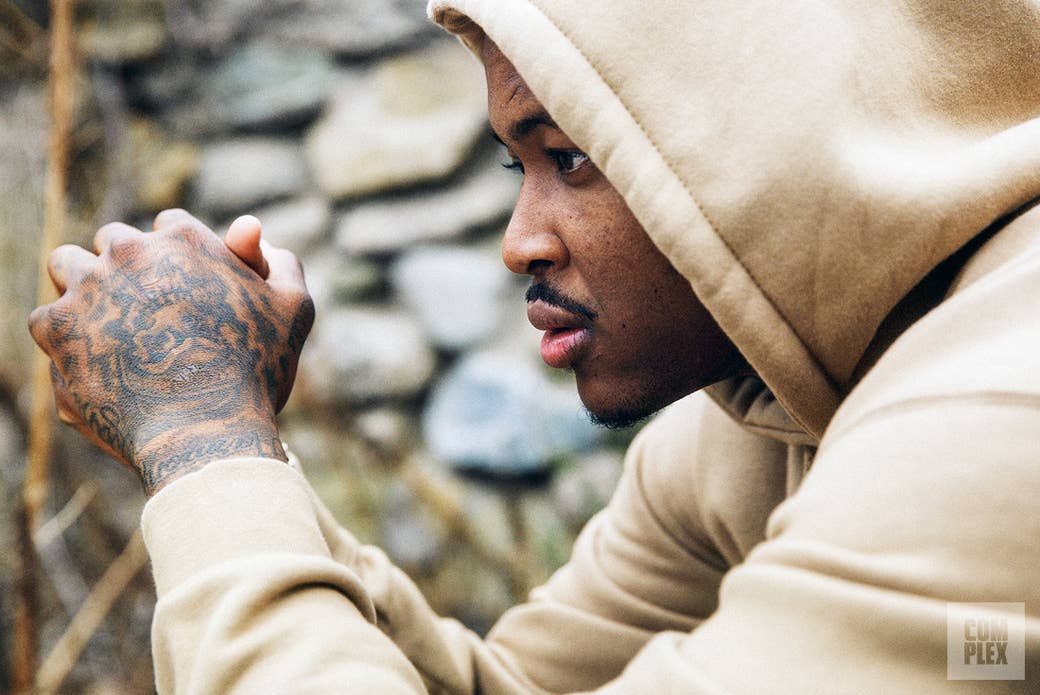 Last summer, the scene outside of YG's studio wasn't so idyllic. Back then he was living and working out of a two-story apartment in Studio City, just across the 101 from Universal Studios. "I [had already done] like five records off the album there," he says, but the atmosphere was starting to concern him. "I was having a gang of motherfuckers up over there all day," he says, "people in and out all day, bringing meals. The homies would call their homies, who I wouldn't even know." 
Shortly before 2 a.m. on June 12, 2015, an unidentified gunman opened fire in the alley below the studio. YG was hit in the hip by one bullet, resulting in three wounds—entry, exit, and re-entry. (First responders found the sidewalk littered with shell casings and spattered with blood.) A friend tried to drive YG to get treatment, but they totaled the car trying to avoid a collision with another driver. He and a few friends switched vehicles and finally got the rapper safely to a nearby hospital. That's where police found him, questioned him, and ultimately found him "very uncooperative."
A day after the shooting, he checked himself out of the hospital. A month later, he debuted "Twist My Fingaz," a neo G-funk triumph that's been in rotation on L.A. radio ever since. Produced by Terrace Martin, who at the time was fresh off his work on Kendrick Lamar's lauded To Pimp a Butterfly, "Fingaz" flits from boasts of blowing up without Dr. Dre's help to lines about smuggled weapons and cuffed khakis to threats for fake Bloods in the rap industry. The headlines, however, came from the second verse: 
"I'm the only one that's 'bout what he say
The only one that got hit and was walking the same day
I tried to pop first, got popped at
Got hit in the hip, couldn't pop back"
As far as hip-hop mythmaking goes, not much can rival shaking off a shooting to record a summer anthem—that then casually dismisses said shooting. But more importantly, "Twist My Fingaz" was a marked departure from the sound that made YG a regional, and then national, star.
"When I caught my case and went to jail, I could have caught a gang of extra time. But I didn't. I knew that was a sign from God."
For most of his career, YG has been inextricably tied to DJ Mustard. Mustard became famous at the beginning of this decade for boiling down jerk, snap, and hyphy into a radio-ready distillation of ratchet music—the sparse, elastic sound that was born in Louisiana but has dominated California radio ever since. YG's 2014 Def Jam debut, My Krazy Life, is the genre's high-water mark, at least when it comes to the album format. That record debuted at No. 2 (behind the Frozen soundtrack), spawned a series of hits—"Left, Right," "My Nigga," "Who Do You Love?"—and was certified gold. So when it came time to ready the follow-up, the duo thought they'd stick to the formula. 
"[Mustard and I] fell out right when we were supposed to start working on the album," YG says. "I had to go and figure out a new recording strategy." That strategy included meeting with a litany of the industry's best producers, though the process was slow-moving at first. "There were a lot of sessions where nothing happened," he says. "I knew I wanted the sound to be taken to the next level, so whoever I was working with, I told them I wanted some next level West Coast shit. But a lot of times I'd be like, 'Nah, that ain't it.'"
The process, deliberate as it was, paid off. The beats on Still Brazy are the natural extension—endpoint, even—of early and mid-'90s Los Angeles rap, from rich G-funk piano arrangements to durable bass lines that could have been lifted from sessions for Quik Is the Name. YG isn't a revivalist; nearly every track repurposes its component parts in a way that's decidedly contemporary. There are contributions from Martin, Swish, P-Lo, CT Beats, and Ty Dolla $ign, among others. 
YG is cryptic when it comes to his falling out with Mustard. "We come from a large group of homies, our little movement we had," he says. "Me and Mustard and Ty [Dolla $ign] were the three successful ones, and there was a lot of people feeling a lot of different type of ways. It was messy, inside shit that was going on that eventually came to light." (Late last year, in a since-deleted Instagram post, Mustard claimed that he hadn't been paid for his work on My Krazy Life, by then nearly two years old.) They didn't speak for a year, but recently reunited; in April, Mustard brought out YG as a guest during the first weekend of Coachella. But where he was once the driving force behind YG's creative output, Mustard and his sound are absent from Still Brazy, relics of the era the rapper is trying to transcend.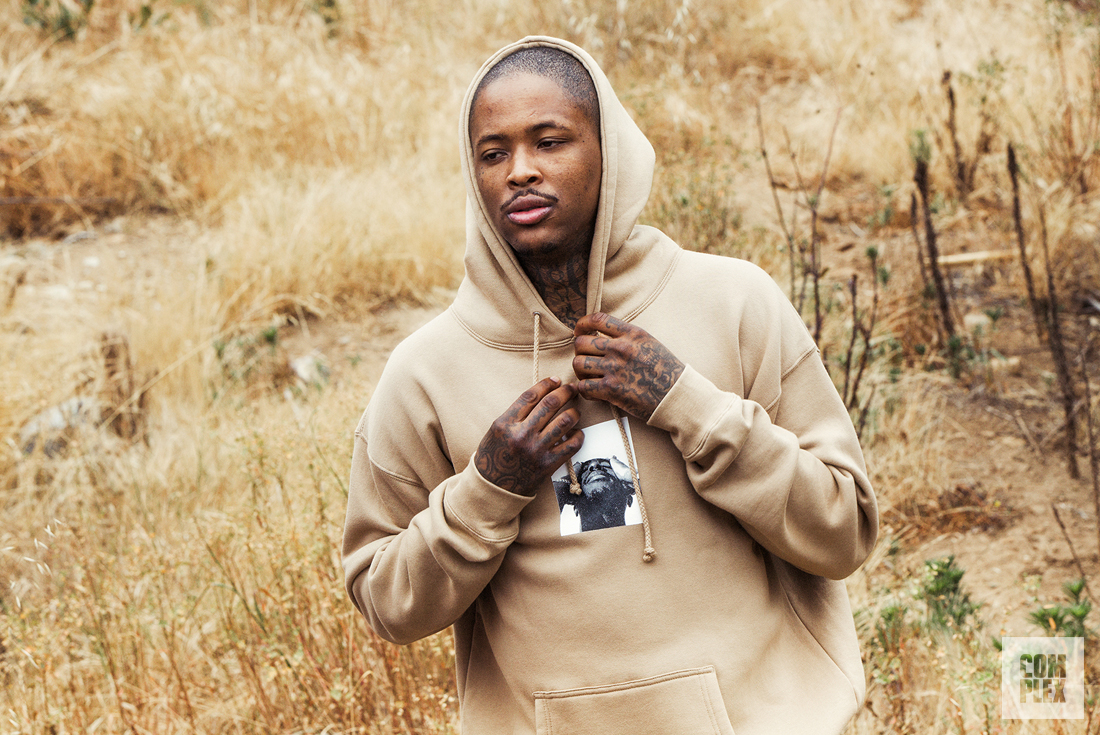 Keenon Jackson—Keenon Daequan Ray-motherfucking-Jackson, as his mother shouts at the beginning of My Krazy Life—was born 26 years ago in Compton. His mom, Shone'e, has roots in L.A. county, but his father, Ulysses, was a transplant from Atlanta. "He ain't from out here," YG says of his dad. "So when he moved out here, he was always not with the L.A. shit. He was the one who was always on me about not being in the streets." But when YG was 16, Ulysses went to jail for tax fraud and all that changed. "I was already doing shit on the low," YG says, "but that was when I really started gangbanging, when I really got put in the hood. I caught, like, three or four cases. That's when that whole shit started." He pauses. "When my pops went to jail, I hopped off the porch." 
In 2008, just after he turned 18, YG was arrested and served a brief jail sentence following a botched home robbery. "When I caught my case and went to jail, I could have caught a gang of extra time," he says, enumerating the list of cases prosecutors questioned him about. He shakes his head at the thought. "But I didn't. I knew that was a sign from God—I got signed two or three months later. If I wouldn't have gotten out of jail, it wouldn't have happened." 
A blessing though it may have been, the Def Jam deal didn't pay dividends right away. "I was a West Coast-based artist signed to an East Coast label," he says. "So when me and Mustard came up with our sound and that whole shift started, we had 'I'm Good' and 'Bitches Ain't Shit,' and they were big records. But we would go to Def Jam [offices in New York] and tell them, 'This song and this song is the singles.' They'd listen and be like, 'This is a regional record, this is a regional record.'" YG still smirks at the memory. "They was doing that shit for like, two, three years. So we would be like, 'All right, fuck it—we'll shoot the video ourselves.'"
A steady stream of mixtapes, videos, and independent tour dates bolstered his reputation, but YG didn't feel that he was getting any closer to making his proper debut. Then one night in 2012, Jeezy happened to take in one of DJ Drama's club sets during a trip to L.A. The five-song run impressed him so much that when one of his friends mentioned that YG was, like Jeezy, signed to Def Jam, the Atlanta star called up his label and asked what he could do to help. Before long, YG flew to Atlanta to record while Jeezy gave him a crash course in navigating the record industry. "He put his album on hold and everything," he says. "He was making sure My Krazy Life came out right, that [the label] spent money on it."
By any measure, My Krazy Life was a runaway success. Until "Twist My Fingaz" started hanging over the city like smog, it could be heard reverberating from strip clubs, at stoplights, and everywhere in between. While artists like Kendrick Lamar and Earl Sweatshirt enjoy more critical adulation and have cults of fans across the world, YG has become L.A.'s most reliable craftsman of hit rap songs, dating all the way back to "Toot It and Boot It," an obvious smash gifted to him by Ty, who has continued to be one of his most important collaborators. But that distinction has brought a level of fame that often makes him uncomfortable. 
"I feel like I'm regular," he says. "I'm humble. I go and walk to the liquor store on the corner by my damn self, I'm not tripping. But that's not what I'm supposed to do, due to the fact of who I am and where I'm from. If I wasn't YG from Bompton, and motherfuckers didn't feel some type of way about me—if I ain't have haters, basically—that wouldn't be so bad. I'd just be attacked by fans. But the fans ain't what we're worried about." 
YG's team has to remind him to call his security guard when he goes out to eat, or when he wants to make a quick run to the mall. It's clear that he resents this on some level, but he's on board with the logic. "Before I got popped, I was already feeling like certain motherfuckers was trippy," he says of the 2015 shooting. "It made me tighten up my shit: the crew, how I move, the circle."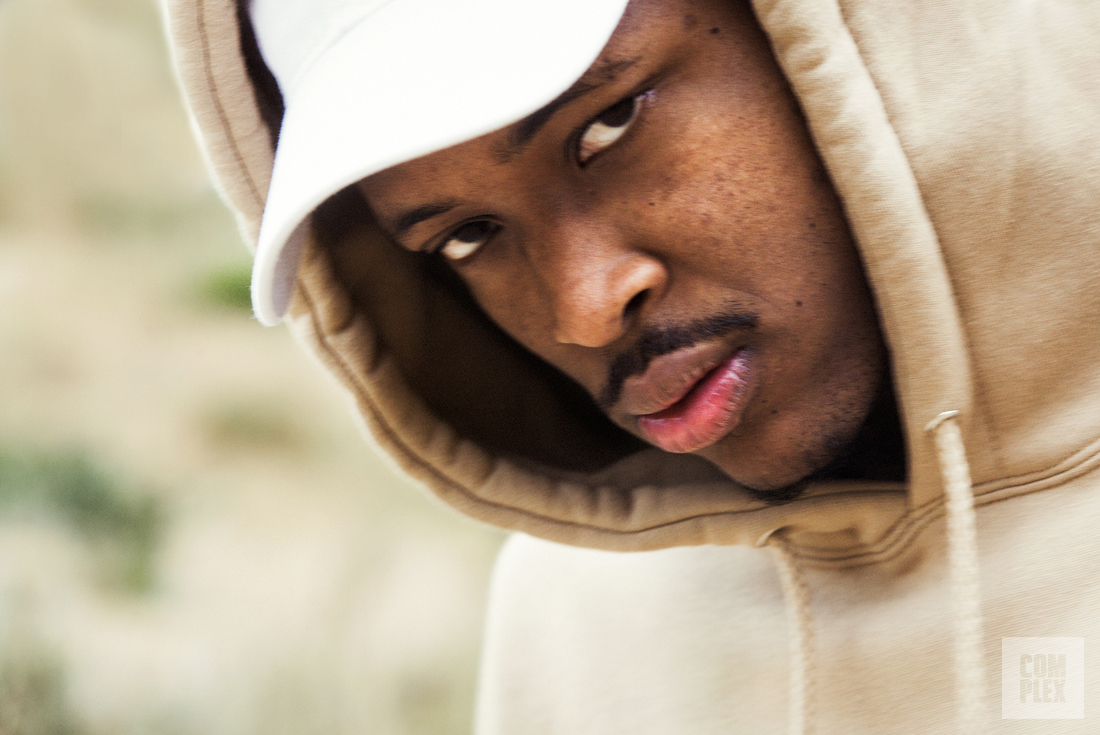 A few weeks after the Burbank studio session, I pull into the parking garage of an apartment high rise in the heart of Hollywood. I hand my keys to an attendant. I walk through a security clearance area and sign my name, license plate number, and the time of my arrival. A security guard double-checks that I know the unit number I'm visiting and the name of the tenant; he finally lets me step onto the elevator. 
The apartment that YG is turning into an office sits at the far end of a hallway, which looks more or less like a mid-level hotel from the '70s. The office itself is much more cutting-edge, with clean lines, gray hardwood floors, and floor-to-ceiling windows. Ostensibly the nerve center of YG's clothing brand, the place is still being unpacked: In the main area, there are only two red bean bag chairs, a poster of YG in a shirt that reads PALM TREES MODELS & GANG MEMBERS, and a woman in Yeezys scrubbing non-existent stains from the floor. When we sit down—in the bean bag chairs—to talk, YG is wearing knee-high socks in a rich shade of royal blue. 
"I became a gang member not by force, but by choice," he says. "I didn't have to be a gang member. My people were trying to prevent that type of shit. But being from L.A, that's a part of the culture. Either your family members is gang members or your homies is gang members. It's either-or, or it's all of the above. When it's all of the above, it's 95 percent you're going to end up in it." Despite mentioning that he joined the Tree Top Pirus on his own accord, YG notes a social dynamic that shows just how routine gang membership and gangbanging are in L.A., by showing the limits of his friends' words of caution.
"They ain't gonna tell you, 'Stop banging the hood,' because that's some sucker shit," he says. "Once you're a gang member, you're a gang member. But they'll tell you to be smart about it, not to do any of the extra-d out shit. What you see people doing, it looks cool, but half of those motherfuckers be snitching anyway."
"The most dangerous sh*t be the sh*t that everybody wanna be a part of—from a distance, though."
There's no doubt that YG's popularity has led to an uptick in a certain offshoot of Blood slang entering into—or resurfacing in—mainstream hip-hop culture. My Krazy Life was originally called I'm 4rm Bompton, and even the more quote-unquote "palatable" title excises the 'C' from 'Crazy.' That album had songs called "Bicken Back Being Bool" and "BPT"; he's often performed in front of all-red backdrops in all-red outfits to crowds that are, overwhelmingly, dressed head to toe in red. Your Twitter timeline is full of "brackin" and "bool." It's a phenomenon he's keenly aware of, and one that he examines from several angles at once. 
"You got the fans that's not out here, they're up in their house watching this shit online, and it looks like it's cool cause it's dangerous," he says. "The most dangerous shit be the shit that everybody wanna be a part of—from a distance, though. So for those people at the crib, the little white kids, the young motherfuckers, that be playing with this shit, throwing up Bs and wearing red and playing with it? I don't feel no type of way about that, because I can't—I'm the reason why they're doing it." 
YG lets that point linger before he turns his attention to his peers in hip-hop who claim affiliations they haven't earned. "But for the motherfuckers that's really with the fake, acting like they're really with this shit, but they're not from nowhere over here, their name never been out here, they've never been in any real situations—they're making this shit watered down. So once again, I've gotta say something, because if I don't it'll look like I'm allowing it."
Though there have been gangs as we know them today occupying territory in many major cities for decades, L.A.'s gang culture has a unique hold over the public imagination. Part of that is the easy blue/red dichotomy that the Crips and Bloods supposedly pose; part is how the expansive L.A. landscape lends itself to complex subdivision. In any case, rappers who claim or even imply affiliation have long been cause for moral panic in middle America. 
Fear of gangs—and young men of color—is so entrenched in the country's DNA that law enforcement agencies often treat groups of young black and Hispanic men as gangs for the sole purpose of charging multiple people with felonies under conspiracy laws, which generally would not apply without the gang label. What's more: in California, being "registered" as a gang member, or as someone who associates with gang members, can tack an additional two years to life on to the end of a sentence for an underlying felony. The way by which teenagers in targeted areas of Los Angeles end up on the registry is wildly arbitrary, and those who do are seldom informed of their status until they show up in court. 
"They say it's ignorant, but there's gangs everywhere, bro," YG says. "People pay attention to [Los Angeles] because they make it seem so ignorant, because it's red and blue type shit. But the police are a gang. You've got the military, you've got the government, you've got the fucking mob, the mafia. The gang is just like motherfuckers in college in a frat. It's the same type of shit." The difference is a matter of consequence: "It's just that gangbanging on some street shit—you can get murdered. You can get life in jail. That's part of it. But you've got motherfuckers in the military killing people all day long. They just feel like if the president or someone says it's OK, then it's OK."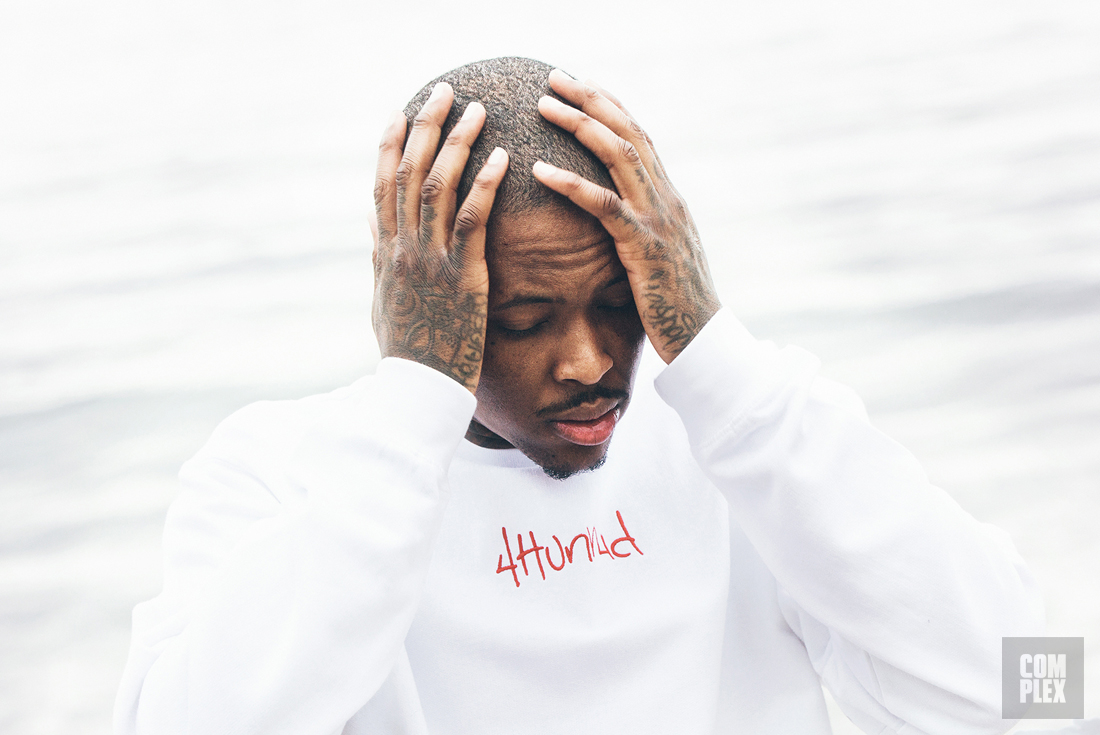 Earlier, in the studio in Burbank, YG is explaining to me why Still Brazy has been held up for so long, even after its completion. According to him, "FDT (Fuck Donald Trump)," his protest song with Nipsey Hussle, caught the attention of the Secret Service, who then demanded that Def Jam allow them to review the rest of the album's lyrics for anything that constitutes a credible threat. (At the time of our first interview, YG believed that "FDT" would not make the final cut; by the time we met at his office, the song's updated lyrics—sans references to Trump getting "smoked"—had been approved, and an uncleared sample issue had been addressed.) 
Trump aside, Still Brazy engages with a series of issues that have gained traction in the national press. Both "Blacks and Browns" and "Police Get Away Wit Murder" grapple with the sort of police brutality that, despite going largely unchecked for years, has finally become a hot-button issue in the national press; the former teases out the differences between the black and Hispanic experiences with law enforcement. "Blacks and Browns" might draw some ire from some progressives for its reference to "black-on-black crime," but the rest of YG's verse is aimed directly at systemic issues; Sad Boy, a YG affiliate and superb writer in his own right, laments that Hispanic people "gotta look for work at Home Depot." That Still Brazy ends with these two songs—and specifically, with a roll call of young people murdered by the police—​shows how much weight YG places on himself as a voice for his peers. 
"I'm growing as an artist," he says, to explain the increase in social commentary as compared to My Krazy Life. "This shit that's going on, I feel some type of way about it, and I've got a platform to speak my mind and say what I feel. There's a gang of motherfuckers who have the time to speak on it, who have the platform to speak on it, who—I feel like—are supposed to speak on it, because they're associated with hip-hop and rap. That should be protocol." 
But as one might expect, most of Still Brazy deals with the psychological fallout of the attempt on YG's life. On "Who Shot Me?" which was said—maybe apocryphally—to have been recorded the day after the shooting, posits the idea that he was set up by friends. On opener "Don't Come to L.A.," he makes the uniquely Angeleno threat to "catch your ass slipping at the BET Awards." My Krazy Life was a day-in-the-life narrative stitched together by conversations with YG's mom; on Still Brazy, news clips about the murder attempt to serve a similar purpose. (Although Ulysses does stop by to voice the intro.) "I Got a Question" moves from the visceral to the metaphysical and is capped by one of Lil Wayne's Auto-Tune-drenched verse, one of his better turns so far this decade. 
Still Brazy is defiantly regional, from the scattered, low-concept skits to the catchy-but-wildly problematic anchor on the B-side ("She Wish She Was"). "Twist My Fingaz" comes after a three-song suite of paranoia about would-be assassins.  On "Word Is Bond," he raps, "Life still crazy, newborn baby, niggas I don't know still hate me." The stakes are impossibly high, but the weather is great.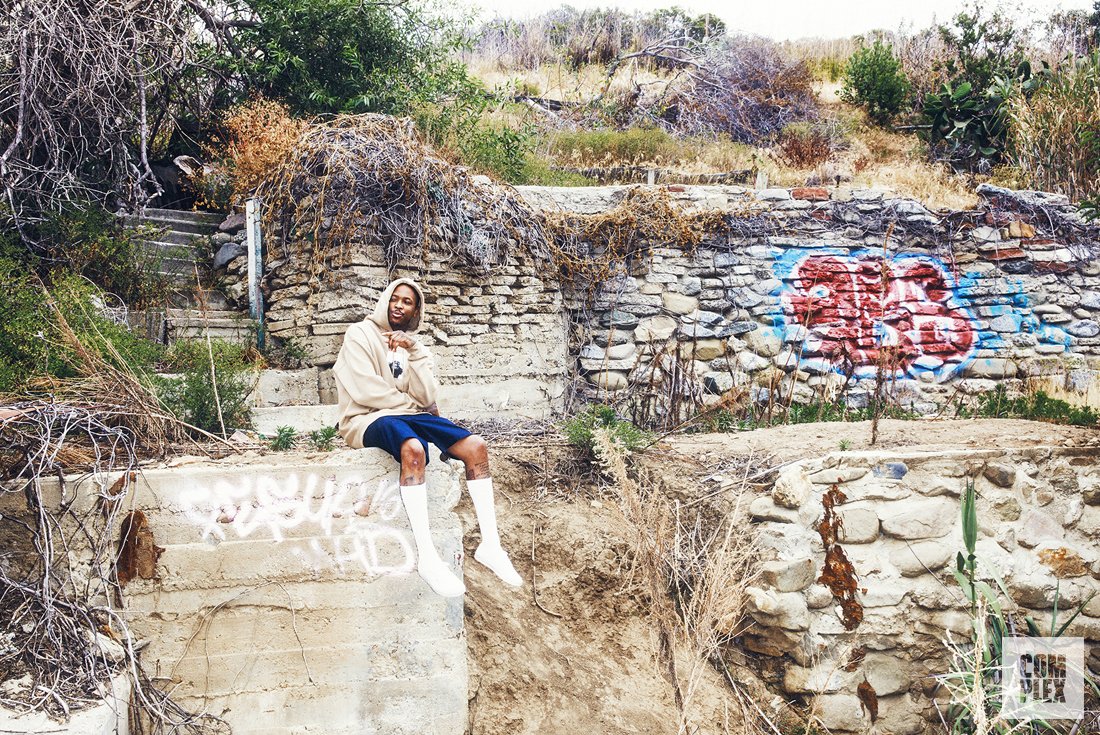 On his debut, YG defied major label history by sitting on the shelf for years, then scoring a commercial hit with an uncompromising, unapologetic LP. With its follow-up he bucks conventional wisdom again, hauling over his sound while becoming a more technical rapper and more engaging writer, cackling in the face of the sophomore jinx. Still Brazy is a tour de force, the kind of album that will not only rattle out of sound systems all summer but stick in subconsciouses for years to come.
At the end of the afternoon, YG plays me a song that didn't make the final cut. It's dedicated to Harmony, his daughter. It's unguarded, endearing, and doesn't oversell itself—at one point he tells his daughter that he and her mother are "kinda cool." The song might never see the light of day, but as I pulled out of the studio's hidden driveway and onto the freeway, it occurred to me that it probably didn't matter—that YG might be eager to steal back some of the privacy that's been stripped from him since he became one of his city's biggest stars. 
A few days later, I woke up and, realizing that the concert YG was trying to race across town to play was the night before, checked the recaps online. Most of the column inches were dedicated to the superstar headliner, but with a bit of digging I found the list of guests from the DJ's opening set. YG was nowhere to be found—he must have been in Santa Monica, opening presents and passing out paper plates of birthday cake.