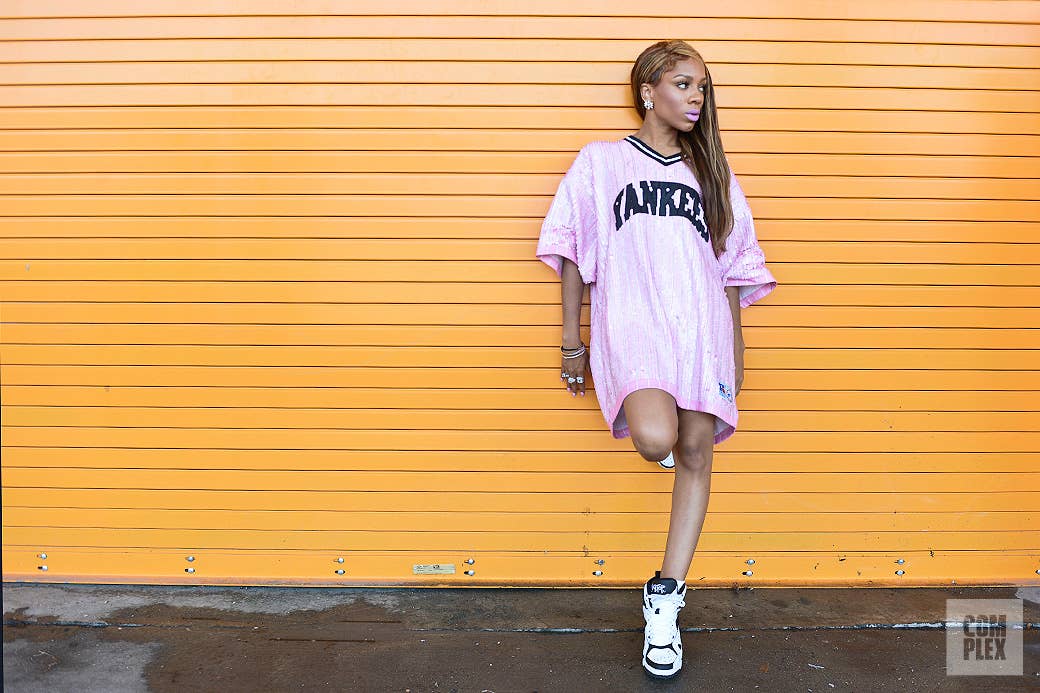 Ambitious adventurers kayak in the East River. Teenagers argue foul calls on the basketball courts. Fratty white-boys in sunglasses and sandals fistpump to EDM blasting overhead. And in the distance, on the perpetually clogged Brooklyn-Queens Expressway, traffic grinds to a halt. Brooklyn Bridge Park is a sprawling 85-acre recreational complex abutting the waterfront on the northern, hyper-gentrified end of New York's artisanal capitol, and on this muggy morning in early August, the place is already packed.
That's probably a good thing. Because it is here, at the park's Pier 2 Roller Rink, all velvety-smooth blue tiles surrounded by see-through plexiglass, where a group of wide-eyed pre-teens from Trenton, N.J., will have their childhood dreams turned into a reality. Here, an unlikely hometown hero will re-emerge. Here, among smiling little black boys and little black girls, Niatia Jessica Kirkland, the rapper, dancer, and actress professionally known as Lil Mama, will do the exact same thing that once made her so infamous—she's going to show up unannounced.
"Raise your hand when I should come out," she yells to her younger brother, the street dancer ArnStar, as she shields herself behind a brick column. "Where they at?"
In a pink, oversized Yankees jersey and white Reebok Blacktop Battlegrounds on her feet, it's hard to picture Lil Mama nervous. Not at this point in her career. Not when she's got no fucks left to give. Seems like it was just yesterday—2007, to be exact—when she hit with her first record, "Lip Gloss." The world was at her fingertips. A deal with Jive Records. Studio sessions with Dr. Luke, Cool & Dre, and Scott Storch, hitmakers du jour. T-Pain and Chris Brown on her follow-up single. A 17-year-old with unmatched potential.
And then, it all changed.
Her mother died. Her second single bricked. Then her third. Then her debut album flopped. Shit was bad. But she could dance. She could act. She could talk. She had moxie! So she rebounded. She got a gig judging America's Best Dance Crew. Things were good again. Until they were bad. Really bad.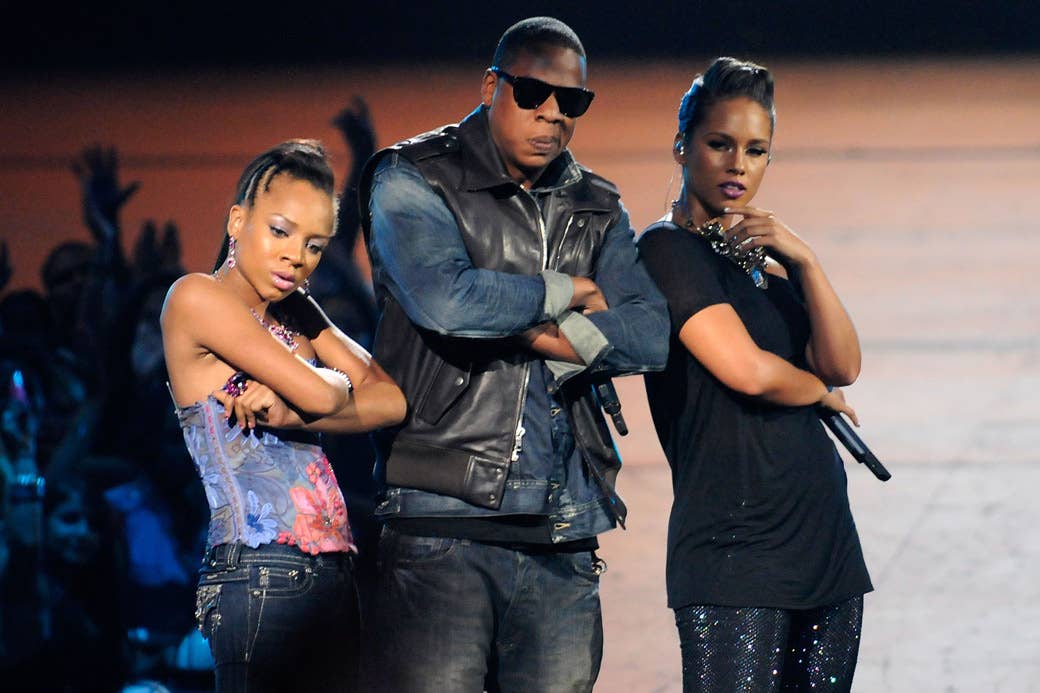 At the 2009 VMAs, something possessed her. The Holy Spirit. The Holy Ghost. Something. Nobody knows. Jay Z and Alicia Keys are performing. "Empire State of Mind." The biggest song in the world. The biggest song of their careers. And there's Lil Mama, stage-crashing them. Arms raised. Triumphant. Jay is confused. So is Alicia. Who is this person?
Jay pats her on the leg. Get out of here. Alicia pretends she isn't there. It's embarrassing. Lil Mama's got egg on her face. Twitter, a new social media platform, explodes. She gets publicly shamed. She becomes a punchline. A laughingstock. And just like that, hip-hop's new around the way girl becomes the annoying little sister nobody wanted.
"I went through a tough time," she says. "I did it to myself, because I'm the one who went up there. But them [Jay Z and Alicia Keys] not saying anything or even caring about the backlash…it taught me to be stronger and understand this is a business. That no one is here to protect you. It's sad when the people we look up to as mentors don't take the time out to let us know—'I was angry, you did piss me off, but I forgive you.' When you're a young person, you're never forgiven for the things you do. It's America."

She's not holding a grudge over Jay ignoring her apology—OK, maybe just a teenie weenie one—but whatever, fuck that dude. The self-proclaimed voice of the young people is 26 years old now and isn't living in the past. She's got a new record out, "Sausage," and that shit is hot. It's mid-summer, two months since its release, damn near an eternity these days, but people are still fucking with it. Two weeks ago, some kids from the Community Dance Theater in Trenton remade the video, outfits, choreography, and all. Lil Mama fell over herself.

"I cried when I saw it," she says. "I boo-hooed like a little baby. They went ahead and put together a whole video, like, the same exact way I did, to show their appreciation for me. It's cool!"
Today, they think they're getting rewarded for the video with a skate trip, which they are, but there's more. Lil Mama's going to surprise them. Pop out when they least expect it. Then, they'll skate together, hang out, and leave with gift bags and memories. "I've done this before for fans, but it was more the label," she says. "I'd just show up. I bought all these things myself. It makes it a lot more personal."
For now though, Mama waits. Patient. Not nervous. Maybe anxious. Slightly. The kids took a 90-minute train from Trenton to Penn Station. From there, they took the subway to Brooklyn. It's been hours, but finally, around 2 p.m., they arrive. The 12 of them are a roving mob of tiny arms and legs and heads, and they have no idea what's about to happen.
"They better not scream," says Lil Mama. "Wait. No. They better scream."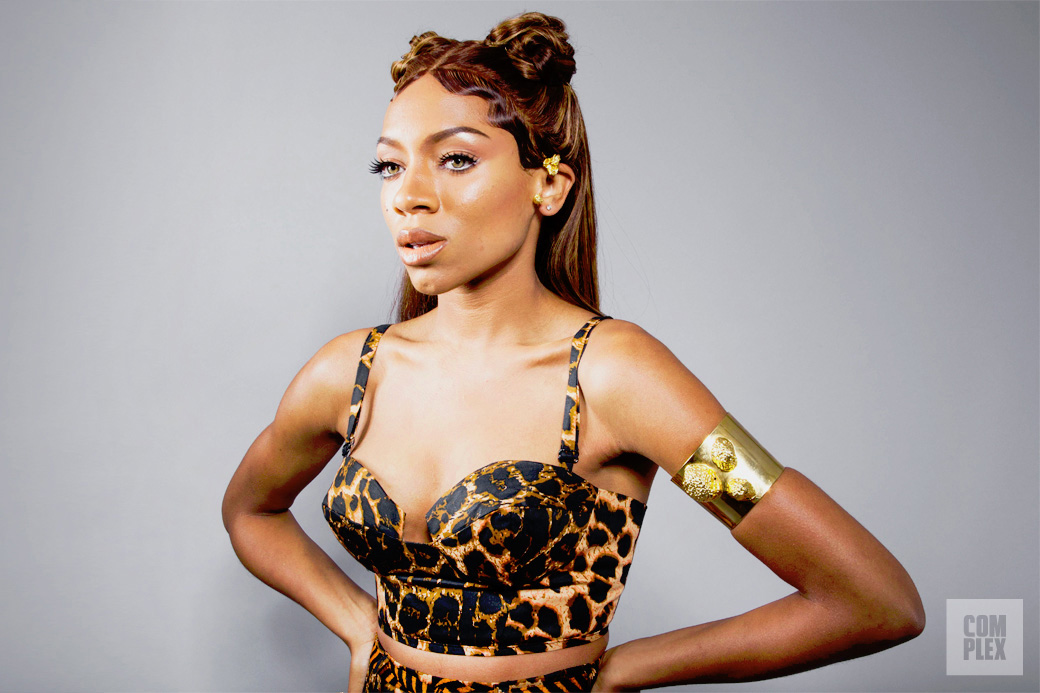 Niatia Jessica Kirkland wasn't supposed to be here. Or, maybe this is exactly where she was supposed to be.
Her parents are from East New York, Brooklyn, one of the most impoverished and crime-ridden communities in the entire United States, and when she was born, they all lived together in the Bronx. Dad was a DJ, and mom was an aspiring R&B singer. They were young parents, and things were rough. They separated when Lil Mama was very little; at age 4, she moved with mom and two older brothers into a homeless shelter in Bushwick.
"I think about it," she says, pausing to collect herself. We're in a conference room now inside Complex Media's plush New York offices—high up in the historic Time-Life building, about as far from the shelter system that you can get without booking a flight—and she's just spent two hours glammed up for a photoshoot accompanying this article. Her voice softens: "I think about my mother's struggle. More importantly, I think about her strength. It motivates me. Because I know that the age I'm at now, the things my mother was doing, she was unstoppable. I had it easier because of how hard she had it."
Mom eventually landed an apartment in Harlem, and each weekend she shuttled her daughter to East New York, where she spent time with her dad. It was the '90s. Biggie. Jay Z. Lil' Kim. Hot 97 owned the airwaves. Mixtape DJs owned the corners. Hip-hop was the lingua franca of the streets.
"Harlem definitely raised me," she says. "But the weight of hip-hop, how we saw life, your morals, how you move—it was so Brooklyn."
Days were spent in classrooms at Edward R. Murrow High School in Midwood, nights in recording studios. Her dad had an upstart record label/rap group, Familiar Faces Ent., which became an incubator of sorts; Lil Mama was a kid hanging out with the grown folks.
"I learned a lot just from being around them; I never got off easy," she says. "If you were corny, it didn't matter if you were 14 years old. We're not throwing baby jabs. We're throwing hard jabs, punches to the gut, haymakers, all of that. So I would get in the studio and be like, 'Let's do this!' It was my boot camp."
One day, Lil Mama was rapping with her girlfriends on Lenox Avenue when she bumped into a guy. She thought he was trying to holler. "I'd have ended up pregnant if I didn't ask him who he was," she recalls. He said he was down with the Ruff Ryders, and introduced her to Ali Samii, a former road manager for DMX. Samii wanted to work with Lil Mama, help develop her. In 2006, they flew to Atlanta and cut a handful of records, one of which was "Lip Gloss."
"I was in high school," she says. "My whole thing was lip gloss. Next you know, it was a hit, and I'm sending all types of stocks up. I'm talking MAC, L'Oreal. It had a big impact on a generation."
Back then, social media was largely limited to blogs, Myspace, and YouTube, so if you were a young aspiring rapper, you were just one "Crank That (Soulja Boy)" or "Walk It Out" from being the next big thing. The record business saw dollar signs—kids were where it was at. "Lip Gloss" broke on Hot 97 first, which landed her a deal with Jive, and then came the schoolhouse-inspired music video. Kids ate it up. It was the desired effect, but also Lil Mama's Achilles'​ heel.
"'Lip Gloss' definitely was a reflection of my truth," she says. "But by the time I went in to do [second single] 'G-Slide,' I started to get carried away. It wasn't like my other work. It was gimmicky."​
Unlike most artists, she doesn't blame her label. Instead, she chalks it up to the same thing that got her in the door in the first place—youth.
"I didn't know what the hell I wanted to do," she says. "I was focused on being young. Before, studio time was every other day, between school and dance. I had a balance. I had friends. I had a life with other people, and then it quickly shifted. It was different. I had a weave, when before I always had natural hair. I wasn't a makeup person, and then they're like, makeup, prep, prep, prep. I was very excited at the moment I was signing…[but] I wasn't aware of everything that was coming with it."
"Lip Gloss" peaked at No. 10 on Billboard's Hot 100, but by the time Voice of the Young People came out, in 2008, hip-hop had already moved on. Listen back to it now and you'll hear songs about teenage pregnancy ("L.I.F.E."), incarceration ("College"), heartbreak ("Broken Pieces"), and even about being a flash in the pan ("One Hit Wonder"). It's not all kiddie rap; in fact, very little of it is meant for kids. All bullshit aside, it'​s actually pretty damn good. 
"It's not 'Lip Gloss' from beginning to end," she says. "It's not what you'd expect from someone who comes out and is like, bubbly. People categorized me as—it's either girly or it's kiddie. And it was mostly men who did that."
Nevertheless, she shook it off like Taylor Swift, and on to America's Best Dance Crew she went. In its early years, ABDC was a smashing success, the most-watched show on cable amongst people ages 12-34. On the show, Lil Mama dressed down bad performances one minute, which got her in trouble with GLAAD back in 2009, and cried over others the next. She wore her heart on her sleeve. People loved that. And she kept it real. Not everyone loved that. Regardless, each week she was beamed into millions of homes and reached an untold number of impressionable kids. She'd come in the game as a rapper, but this was bigger than music. This was celebrity. This was influence. And yet, there were still low moments.
"I fit into it perfectly, because it was my world, dance," she says. "But when I look back at some of the hair and the makeup and the wardrobe, I'm like, what was I thinking? What the hell was I letting them people do to me? And I think about some of the things I said on the show, and how it affected people, it was a learning experience. You don't have to hurt people to help them."
"It took a lot of mental strength, spiritual strength, and physical strength, not to want to hurt others, not to want to hurt myself. A person could be damn near suicidal."
—lil mama
Her own troubles proved instructive. The public backlash from the stage-crash helped. It was only then when she began understanding what it felt like to get torn apart. Only then did she understand empathy. But even now, she can't completely reconcile that night. It was something in the air. Something in the universe. "I'm not a fearful person," she says. "I go with the wind." But she also suggests that the intent was never to be up there by herself in the first place. Rather, she was trying to drag Beyoncé too, who, perhaps understandably, left her hanging.
"As I'm walking, I stop, and I'm like—'come on, come on, let's go,' to Beyoncé," she says. "And she's like, 'What?' She couldn't believe it. I was trying to celebrate the city. Now that I'm a woman, how crazy would it have looked if she walked up there? They would have been like, [Beyoncé's] jealous, she can't stand to see [Jay Z] with another woman. And here I am, someone who's not in that state of mind, not thinking that way, just caught up in the moment. I look back and think, damn, she was right. I was tripping."
Lil Mama did, in fact, publicly apologize, but it didn't matter. In the aftermath, people had a field day—an Internet mob on a quest to bully her right back to where she came from, right back to that homeless shelter. MTV, for its part, softly banned her from their award shows.
"Was it memorable? Sure," says a source at the network, who spoke on the condition of anonymity. "But it was funny to hear the producers asking, 'Who is Lil Mama?' Jay Z didn't even know at first. You haven't seen her at an MTV event since. She's persona non grata with the music talent department here."
Things got dark. She arguably got blackballed ("A lot of people felt like they didn't want to take a chance on me with certain things because it might have made Jay Z or Alicia Keys not want to work with them"). Big bad Charlamagne tha God bullied her to tears during a radio interview ("He had a solid point—where is the music?"). She parted ways with Jive Records ("They wanted me to do a whole album with Dr. Luke, but my dad knew I wasn't in the space to create—we walked away"). There was a resistance. A sort of quiet, mocking disdain. Shit was real.
"It hurt," she says. "It took a lot of mental strength, spiritual strength, and physical strength, not to want to hurt others, not to want to hurt myself. A person could be damn near suicidal."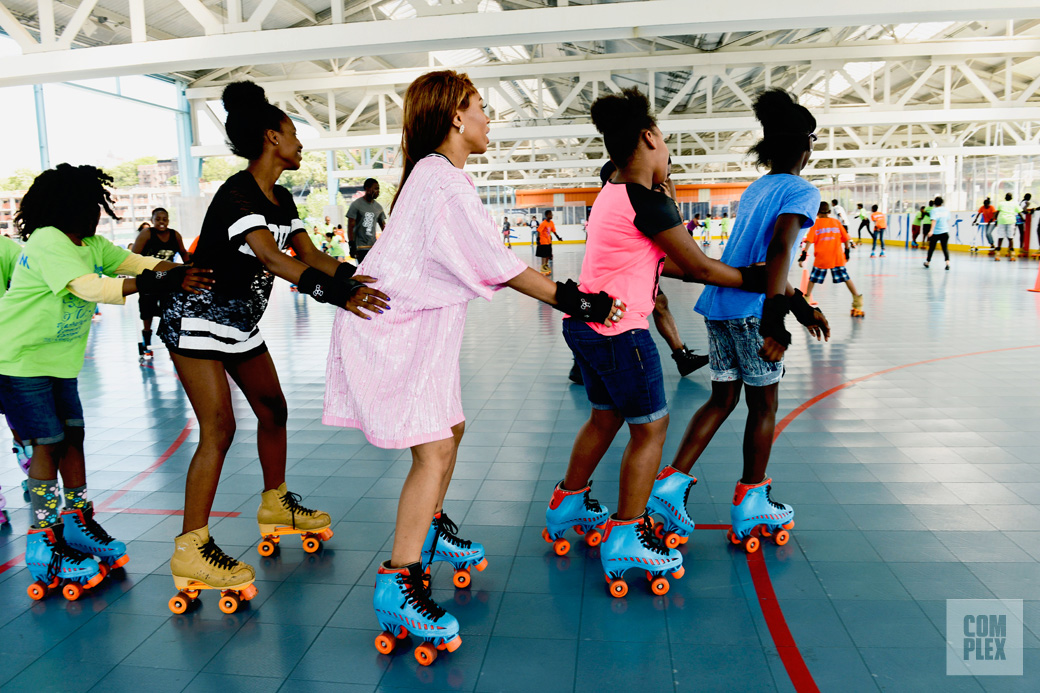 Back at the park, the sun beams off the water while the arms of the Brooklyn Bridge lay stretched out between the boroughs like an angel's wings on the horizon. Skaters zip by, and camera phones flash. In the middle of it all, Lil Mama—short, angular, arguably still a kid herself—holds court.
"Hey, Lil Mama."
"That's Lil Mama!"
"Do you remember me, you saw me in that dance competition?"
"You did a great job as Left Eye. I love the TLC movie!"
A "Sausage" remake brought her here, even though the song itself is something of a remake; it cribs from the #sausagemovement—a hyper-sexualized viral craze started by teens in Miami—borrows its beat from Slick Rick's classic "Mona Lisa," interpolates Mary J. Blige's "Not Gon' Cry" video, and is an amalgamation of other clever inside references. But these kids don't know anything about that. They just know Lil Mama's guest appearance left them speechless.
"I'm a big Lil Mama fan," says 12-year-old Kanaja, who plays her in the clip. "I like, really,really, really admire her. Today, when I saw her, I was like, 'Oh, my god. She's really here.' I was so surprised."
Another kid, Robert, says he wasn't really up on Lil Mama's old music—he's only 11 years old—but he knew her from the 2013 biopic CrazySexyCool: The TLC Story. "I think she did an awesome job playing Left Eye," he says. "Just hanging out with her today…she seems like a really inspiring person. Really fun and cool."
Meeting the Trenton kids was simple enough, but by the time they're done taking pictures, hundreds of others are lined up. The entire park, it seems. The requests keep coming. There could be a riot. For Lil Mama, what a long way it is from gossip blogs, VMAs, and the haters. But this resurrection didn't happen overnight, and it hasn't been smooth sailing. It's a work in progress, in fact. It started about two years ago.
"I auditioned for the TLC movie several times," she says. "I'm talking preparation, getting myself into character, knowing that the odds were against me. Because at that point, who could I expect to be on my side just to be on my side? And I got the role because I had the acting chops, not because I'm Lil Mama."
TLC fans were initially skeptical, but the film got exhaustively hashtagged, live-blogged, and picked to bits. Most importantly, it got watched. In the end, 4.5 million people tuned in, the most ever for a VH1 original film, and Mama's portrayal drew rave reviews. She killed it. The role proved to be therapeutic, too. There was something about Left Eye—the crazy one—that she saw in herself.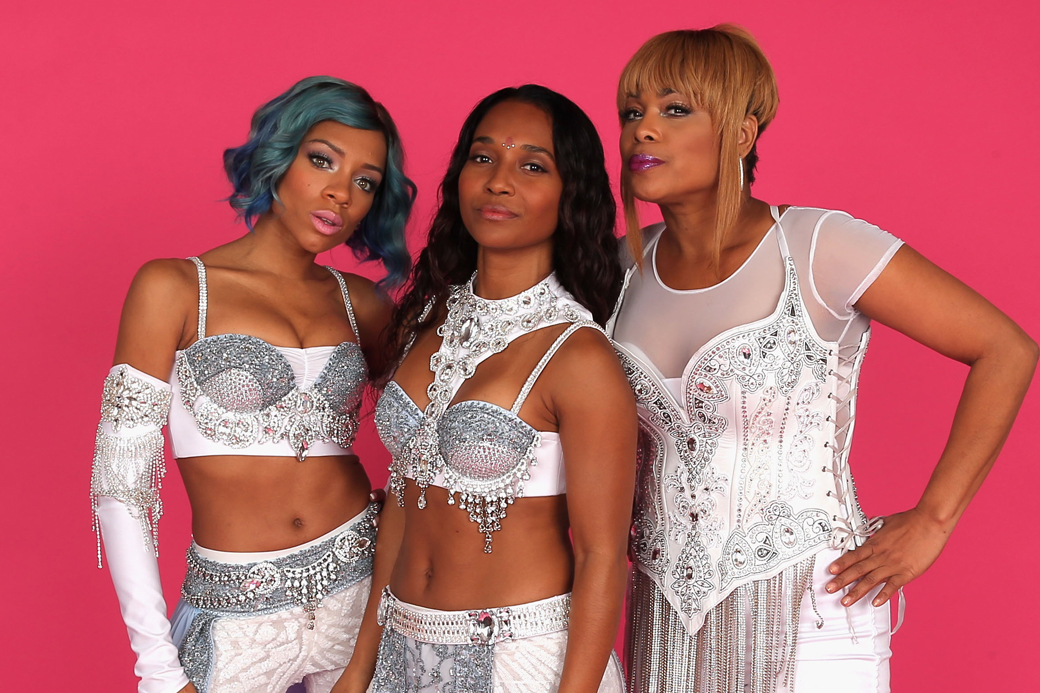 "As powerful as she is and as smart as she was, it's interesting, when you are that kind of person, people shy away from you, make you seem like the crazy one, so you can lose credibility," she says. "She's the crazy one? Did you ever do your history, ever hear them speak, get to know them? No, you're just going off of what you read off the top line on Google. I understood that. She didn't take no shit."
A month after the movie aired, she was still in Left Eye mode, filling in for her at the American Music Awards, as she'd done on spot TLC tour dates the previous summer. This time, things didn't go so well. "Shit was terrible," she says. "I should have been way better. I shouldn't have worn that damn blue wig with that spacey part, looking crazy.com. I should have came out in a guest slot, and my energy could have been better. I should have hit that damn treadmill, and listened to Tionne."
Two years later, there is a significant change in her demeanor. A maturity. A wisdom. An acknowledgment of mistakes made and ways to be better. "When you are of certain level, you need to perform at that level," she says. "I'm harder on myself now, and that's why you see a change. In my performance. And my behavior."
Controversy still abounds, however. "Sausage" blew up online, caught people, as Lil Mama tends to do, by surprise. The song itself is a perfect blend of the familiar and unfamiliar, something old with something new, something analog with something digital. But it's the video—the frenetic choreography, the youthful jubilance—that makes it work. Not everyone was pleased. In late May, Matthew Bellamy, one of the teens who created the #sausagemovement, released a video suggesting Lil Mama needed permission to turn something that was purely a viral thing into an actual song, even though it wasn't being sold. He said he spoke to her before the video was shot, and asked for a promotional look. He requested a flight to New York, got offered a bus ticket instead. He never made it north of Miami. (Bellamy ignored multiple requests for comment and has since released his own video "Sausage: The Original Movement.")
"I let him know—you wanna be a part of it, come on out," she says. "He told me he'd try his best to come, that nobody would want to drive him. I've been a part of tons of things, even before my professional career, where artists have said, 'Hey, wanna come to my album release party?' It could be across town. If I really want to go, I'm going to make it. Everybody made videos. Girls made a video. Guys made a video. It just so happened that mine was a production that was fire. It was hot. So now everybody wants a piece of it, whether it's him or anybody else. More money, more problems."
Almost a decade since she entered the entertainment business, that is the sort of air that follows Lil Mama around. Two steps forward, one step back, another step forward, three steps back, five steps forward, two steps back. Sometimes it looks like she's running in place. But as long as she's running, she insists, she's good. She is delusional in the way that all successful artists, all successful people for that matter, are. Even a loss is a win. There are no downs, only downs that eventually become ups; an optimist till the end.
"Whatever I do works out," she says. "When I do what I do, and I know that my heart is in it, it works out. I'm not looking to impress anybody anymore. Because I already have a fan base. I already have people who follow me. I already have people who, no matter what I do, they're going to be right there to support me. I'm a dancer. I'm a rapper. I'm a singer. I'm an actor. I'm a writer. I create."
It is later now, and skate time is over. Lil Mama huddles with the kids, still posing for photos. So many photos. So many kids. Employees sweep the rink. A sound emanates from inside. It's a boy in his late teens. "Eggs, bacon, grits, sausage!" he blurts out in a mocking yelp. A cold-stare from a co-worker. "Shut up!" A suspicious glance outside the rink. "Eggs, bacon, grits, sausage!" Again. "Eggs, bacon, grits, sausage!" He laughs. "Eggs, bacon, grits, sausage!"
Lil Mama can't hear. Doesn't hear. Pretends not to hear. Lil Mama, is here.