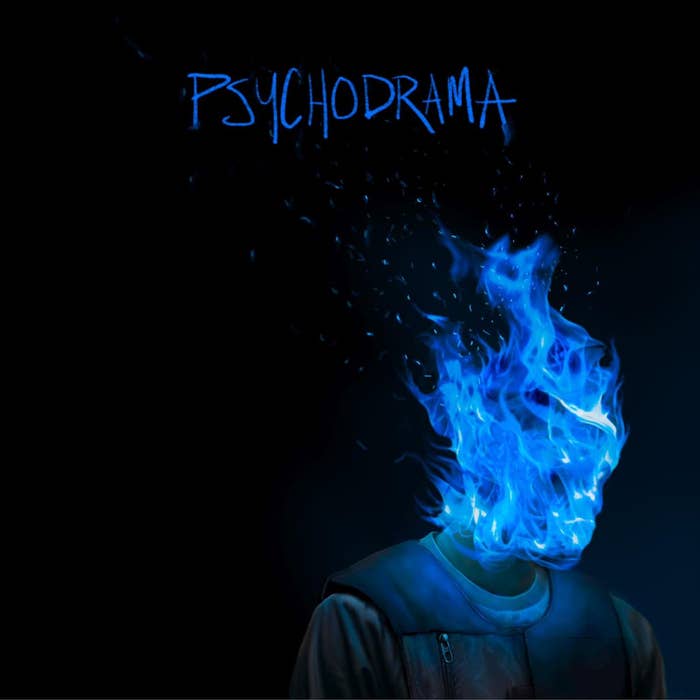 The 'best' art (if such a thing exists) holds a mirror up to society, allows you to look into it and then questions whether you're happy with the reflection you're presented with. Dave's debut album, Psychodrama, does all that and more: it asks the all-important question before proceeding to answer it in immaculately complex and empathetic detail. Punctuated with spoken interludes that appear to take place in a therapy session, Psychodrama starts as it means to go on.
With guttural album opener "Psycho", which thrashes between dismissive arrogance and naked vulnerability, Dave begins by painting a painful but very necessary picture of the discussions being had around mental health within the black community. Unpacking the anxieties of life for him growing up in Streatham, South London—surrounded by countless tests and struggles—by the end of the song there's a breakthrough, soundtracked by Dave's signature tinkering piano motifs. The rapper admits his own need for therapy and the toll that having to grow up so fast may have taken on him, before finishing off in true Dave style: slipping in a profound gem that challenges your way of thinking. "If you're thinking bout doing it, suicide doesn't stop the pain, you're only moving it," he spits. And there's more of those where that came from.
It's clear that even at the age of 20, Dave has lived a multitude of lives and, as a result, he seems to carry the weight of the world on his youthful shoulders, doing so however in a way that seems so sincere and non-performative. On the controversial single "Black", Dave takes it upon himself to verbalise the breadth and intricacies of blackness in all its beauty and all its pain; detailing the effects of colonialism and slavery and the issues within black communities, as well as the pride of our heritage and the royalty of our ancestors. In fact, maybe it was the balance in his account of blackness—rather than the one-dimensional portrayals within the media—that jarred so heavily with white audiences hearing the song being played on the radio, forcing them to voice their disapproval and pushing BBC Radio 1 DJs Greg James and Annie Mac to have to comment on the choice to give the track airtime. 
On the controversial single 'Black', Dave takes it upon himself to verbalise the breadth and intricacies of blackness in all its beauty and its pain.
Dave's incredible flow and compelling vocal make it such that he doesn't have to rely on game-changing production to blow us away. But on Psychodrama, his team doesn't let that stop them from pushing his boundaries sonically. And for a record tackling such heavy subject matter, it's still shockingly listenable. Constantly moving through different paces, it holds your interest. Over a pared-back, bumbling instrumental, the J Hus collaboration "Disaster" is a cutting and emotive call-and-response chain between two of the UK's most exciting artists—which rings of '90s hip-hop in its invigorating back-and-forth momentum. As Santan Dave reels off street mantras ("love no witness, hug no traitor, spud no stitches") and Hus' voice audibly breaking as he admits "you think this is the life but it ain't all that, I've done some evil things that I wouldn't take back," the track does nothing but demand to be felt.
Even on "Lesley", the challenging 11-minute apex of the album, the warping of police sirens into melancholic wails add to the chilling atmosphere of the track in the verse breaks. It's also great to see moments of lightness shine through as palate-cleansers at the centre of the record. On "Purple Heart", Dave shows off his romantic side, despite the first verse where he opens darkly with, "I told her love's a game, you learn that love is pain, then learn to love the pain." 
On "Location"—the understated bop featuring Nigerian star Burna Boy—Dave playfully rhymes 'ting' with 'ting' approximately ten times in a row and declares "this year's about vacation." After crafting something as direct, timely and unique as this, on a debut album straight out of his adolescence, if there's one thing that Dave deserves, it's a holiday.