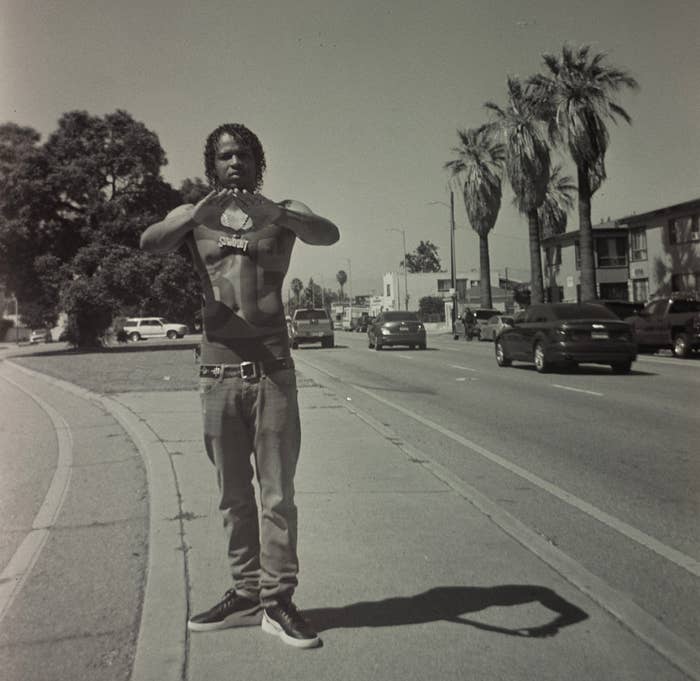 Moving to the valley is practically a rite of passage for Los Angeles rappers of a certain tax bracket. Last year, like Dr. Dre and Schoolboy Q before him, G Perico moved to Calabasas. A new Kardashian country address signifies his continued success as one of the most gifted and singular rappers in a city replete with burgeoning talent (as well as his entrepreneurial acumen). In addition to releasing a string of acclaimed records independently, including 2016's Shit Don't Stop and 2017's 2 Tha Left (2017), he owns Mid-City smoke shop One Stop and a store for his clothing brand, So Way Out. (He also plans to open a juice bar.) 
This year, G Perico has entered into a partnership with Roc Nation for two joint releases with his label (also called So Way Out). Today marks the release of the first, Ten Eight.
Ten Eight is a titular homage and declaration. Like his decision to run So Way Out on the corner of 108th and Broadway in South LA, it is meant to inspire those from his neighborhood, to deter them from the decisions that could have prevented Perico from the second act of his life, and the first act of his musical career. Here, in his early teens, he became a member of the notorious Broadway Gangster Crips. Before and after two stints in prison, he watched peers die, receive life sentences, and become addicts. In 2016, he was shot outside of the So Way Out store. Despite these tragedies and tribulations (and partly because of them), Perico takes great pride claiming this neighborhood. 
On Twitter, Perico has called the project an appetizer. In other words, it is a prelude to Broadway, his forthcoming So Way Out/Roc Nation album, executive produced by Terrace Martin. "I don't want people to feel like I said this specific thing already," Perico explains. "There are certain stories and things that happened for me to be G Perico and be in this position." 
Ten Eight is a compelling document of this transitory phase of Perico's career, an introduction to what he calls "progressive gangster music." He paints his present in broad strokes, cataloging the material and sexual perks of having a rising profile and credit score. More importantly (and progressively), he touches on his reasons for considering therapy and his anxieties about visiting his old neighborhood. Like past Perico projects, Ten Eight marries sounds of '90s LA rap with those of the present. Over beats from longtime collaborators like Poly Boy, Perico's nasal, Eazy-E-esque voice is more assured than ever. If he occasionally sounded like he was shouting on previous records, he's now struck a balance between urgency and laxity.
In conversation, Perico exudes calm and charisma. Loquacious and unfailingly honest, he expounds on anything with little prompting. What follows is an edited and radically condensed transcript of our conversation about Roc Nation, Ten Eight and Broadway, therapy, his mission in South LA, and more.
Apart from distributing All Blue via Priority, you've remained independent your entire career. Why did you decide to sign with Roc Nation?
Roc Nation is a big conglomerate, a fixture in the culture. It's Black owned, Black created. It was created out of adversity. Nobody was fucking with JAY-Z, and they turned [Roc-A-Fella and eventually Roc Nation] into one of the strongest [entities] in rap music. I'm coming from a similar situation. I'm an underdog. The founding members of Roc-A-Fella and Roc Nation are underdogs that made a splash in the game. They're going to understand where I'm coming from and my woes. The conversations make sense, as opposed to me going to another label that's only focused on the bottom line and doesn't understand the impact that G Perico has in the streets. 
A lot of people were on my line for a lot more money, but the situation wasn't better. I'm [now] over at Roc Nation with great people and great businessmen that I can talk to and stop in the office and holla at. It's more than just a deal or partnership. These are people I can see myself doing business with my entire career in some capacity, even if it's not music… However you're steering your vessel, they're going to put the wind behind it so you can sail off. 
You've repped this neighborhood and 108th Street on several projects. Why did you feel compelled to claim it via project title now? 
I named this project Ten Eight because 108th is pretty much the essence of G Perico. What I represent now came from days and nights of being right here, fighting right here. I've been shot right here. The police have come in and kicked in doors. This is all during the time that I was trying to become a successful musician, philosopher, entrepreneur, forward-thinker. This is where I did my first project, around the side. We built a studio right here. That's where I did Tha Innerprize. I was on bail, down the street hustling. There were shootings every day, it was crackin'. This is where the vision came about and we started cultivating it into something. 
A lot of people were on my line for a lot more money, but the situation wasn't better. I'm [now] over at Roc Nation with great people and great businessmen.
"Ten Eight," the first song on the record, opens with you considering therapy. Why now? Have you been reluctant to go in the past? 
I've never been to therapy. There's so much going on, especially right now. I think my life in the streets was way easier than doing music, becoming an entrepreneur, and helping my homies and changing their lives. In the streets, we already know what it is; we're doing some crazy shit, we're outlaws on our own island. I grew up doing that. It was drummed into our my minds and our psyches since we were babies. Doing something different, like this store, is harder than being in the streets. I still have to deal with the street shit, but my objective is completely different now, and it's something that people don't understand.
Do you think that you have symptoms of PTSD from either of your stints in prison, from being shot in 2016, or anything else you've endured?
For sure. I don't really sleep. Sometimes when I'm asleep, I hear keys or footsteps and jump up. But there aren't any keys or footsteps. That's from being in numerous raids—more than usual. One is fucking unusual for the average person. I've been in loads of raids. I've jumped out of windows and got away, ran out of backdoors and got away. I've been caught a gang of times. Then there's jail. Them keys [mimics sound of keys jangling] on the tier. Them two things still fuck with me. Overall, though, I think I'm doing well.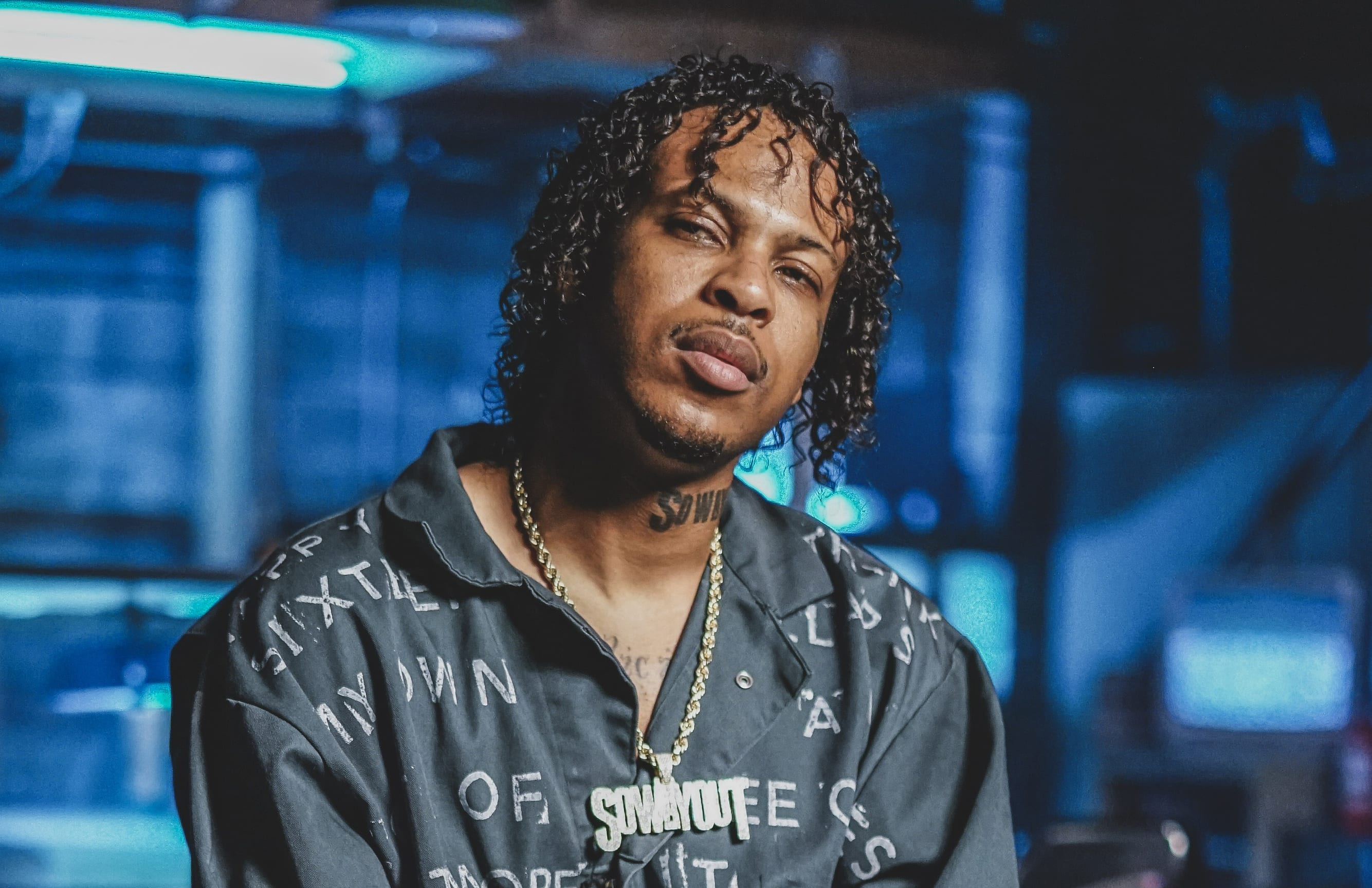 Is there a stigma around going to therapy in your community?
Hell yeah. "Nigga, you going to a therapist for what? To talk about what, nigga? Are you snitchin?" A therapist might get a motherfucker killed. That's if I was still thuggin' in the streets. As far as shit that's happening now, I don't know anything about it.
Have you ever watched The Sopranos?
Yeah. [Tony Soprano] would've been killed. The mob would've killed that nigga. Therapy? You get killed for less in the mob. He would've been killed right after [they found out]. He would've gone to somebody's birthday party and nobody would've been there. He would've been dead [laughs].
Do you feel like rap has been your therapy? 
Yeah.
Are you worried that going to therapy that will affect your art?
Yes. Have you ever seen motherfuckers who are so cool with everything that they're just relaxed and don't give a fuck no more? Their ambition is gone. I have a sense of urgency. In the battle that I'm fighting, I need money. I'm trying to at least be able to see my kid. On top of that, all of this time she and I are apart, I need her to see that her father was a man inspiring people and fighting for her. If I don't handle my business, how is my kid going to look at me? I still have to have a sense of urgency. 
On "Ten Eight," you say that your love for the hood "might sound crazy." Have you isolated what it is about this neighborhood—a place where a lot of bad things have happened to you and where that's still a possibility—that you love?
This is where I came to be, from pre-teen to grown man. It molded me. It gave me my rebellious spirit, my "I can take the world" attitude. This is my family, too. I didn't really come from a big family. Grams, moms, and on my other side I got three cousins; that's pretty much it. Everybody around here that was older was like my father figure. And I was so amazed with this shit coming up. It was all I wanted to do. 
But I also knew about the world. I used to get school bussed out of here to a school by the beach, Westside Leadership Magnet. There's sand on the playground and shit. That was pretty much my intro to moving around. That's why I'm nomadic. A lot of my homies don't never leave the hood. I got a lot of niggas that don't leave unless they're going to jail. 
But anyway… This was like a premier respected hood in LA. Being a part of that and being respect amongst some shit that's respected in L.A., that's super big for me. That'll never change. A lot of people say it's crazy, but that's the life that I know.  
108th is pretty much the essence of G Perico. What I represent now came from days and nights of being right here, fighting right here. I've been shot right here.
Are you mentoring anyone from your neighborhood that's facing some of the same situations you survived?
Pretty much, in a direct way and an indirect way. There's a couple young homies that I've known since they were born, and it's my duty to show them something else. That's my whole purpose for being around, to inspire and instill that forward-thinking mindset. Niggas have been doing the same shit for years, and we know the results for that. I want to be able to be in somebody's face so I can tell them, "You're not going to end up like me doing the same shit that I did. I'm blessed." 
My whole shit is like, "Look what I'm doing right now." That's my whole reason for being around. Motherfuckers can still see me, still touch me, still get that inspiration, and skip past that bullshit. When I was little, niggas were telling me to I was supposed to go to YA [Youth Authority] and all that shit. I'm trying to [get them to] skip past that. The activity that's going to get you put away—modern day slavery—that shit ain't fly. It's not fly to be like, "I just got out the pen." What's fly is doing something that's going to take care of my people and being free to do whatever you want to do. Prison doesn't have to be in your future. Death is in everybody's future. That's something you can't shake. Nobody leaves life alive. But I'm with Jay-Z and them and I'm on the block. 
The late Nipsey Hussle was doing a lot for his section of South L.A. Did the circumstances of his death make you reconsider operating the So Way Out store? 
No. That's part of the life that we live. The situation is super sad, but he died doing some shit that he believed in. He died inspiring. Could the situation have been avoided? Yeah. But would the impact be the same? Would his life's mission have been the same?
Did it change my mind? No. My homegirl got killed standing next to me across the street. Am I going to leave? It's bigger than me. My purpose is to motivate the ghetto and change shit in a different direction. The way that shit's been going clearly don't work. Niggas is doing dumb shit over and over, generation after generation, just lost and more lost. I probably won't be the person that changes the world, but I'll be someone who inspired thinkers and gave people the confidence to even think. Around here, if you're smart, motherfuckers will steal your confidence in your intelligence. We all ignorant to certain things, but it's frowned upon to have your own mind. That's a battle within itself. I'm here to inspire that. Let your intelligence fly free. Whatever you're trying to do, don't let someone else's fucked up way of thinking hold you back. And don't let a death hold you back. After me and you are gone, this shit is still going to be going on. What did you leave the people with?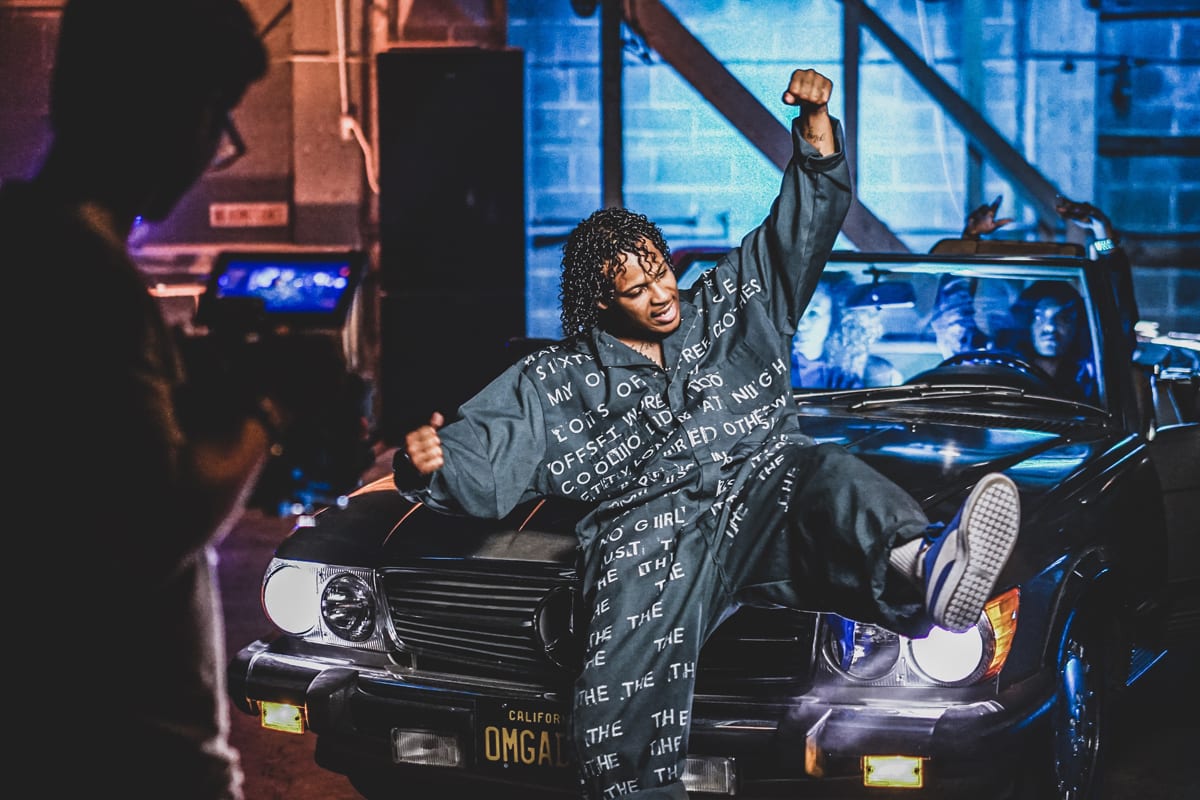 Trust, or lack thereof, is a common theme on Ten Eight and throughout your catalog. Who do you trust right now?
This is the thing about trust: I pretty much know who I'm dealing with. I trust everybody to be them, to do exactly what they're going to do. It takes away that room for me to be angry with someone, but I know that trust got a lot of people I know killed. A lot of my homies that ain't here no more, trust got them killed or got them locked up.
The last track on the album is called "Days of Our Lives." Did you watch the soap opera of the same name? 
No. In the pen, though, I used to watch The Young and the Restless. I used to watch that every day for a solid year before I went to the hole.
Do you ever feel like your life is a soap opera?
Hell yeah. There's constant changes, drama, fun, happiness, sadness; just twists. It's a great thing for creating content and entertaining. I've been writing scripts lately for sketch comedies and dramas. It's pretty much just based on my life. When I look back on some of the sad and dramatic shit in my life, I can find the humor in that. And in some of the funny shit I can find the severity. 
My homegirl got killed standing next to me across the street. Am I going to leave? It's bigger than me. My purpose is to motivate the ghetto and change shit in a different direction.
You grew up listening to Cash Money. The beat for "Number 1" has elements of bounce music. And on "Dog Year" you talk about playing 400 Degreez. Do your listening habits still skew towards older stuff? 
I love Cash Money. I was listening to 500 Degreez on the way over here. Before that, I listened to Juvenile's "A Hoe," the Lil Wayne diss. 
Do you listen to any of your L.A. peers? 
I try not to, even though there's a lot of dope shit right now. Lately, when people's shit drops on Thursday night, I download it and tune in. My best time for listening to shit is probably late at night when I'm on the way home or when I'm driving through the city. I have a habit of just driving through the city and hitting corners. But I try to stay away from current shit so I won't wind up subconsciously saying  the same shit or doing the same cadences.
Rucci is my favorite. He's been my favorite since I met him. Pound for pound, besides G Perico, Rucci is one of the best artists coming from L.A. Topic-wise, cadence-wise. He knows how to reference shit from back in the day. You can tell his music acumen and that he listens to a lot of shit. [Rucci's late friend and collaborator] Sean Mackk was actually my guy. We used to be chillin' over here. They'd have all of the Bloods cooling. We pretty much started around the same time. 
How conscious are you of your sound? Do you tend to gravitate toward beats and sounds that feel like they come from an older era of LA rap?
I like to mix in the old with the new. When you think about the history of rap, they were originally rapping on break beats. That's sampling. The essence of rap music is based on sampling. Name your greatest and we're going to name 20 songs they sampled for their hits. Great shit spins off from great shit. That's part of the reason I listen to old shit and a lot of different music to make sure I'm in the essence of rap.
You've tweeted that Ten Eight is essentially a prelude to your forthcoming album, Broadway. In your mind, what's the distinction between a G Perico album and a mixtape/project/not-an-album?
I would say that Ten Eight is an introduction to more commercial street shit. It's just to keep the street bouncing. I love it when motherfuckers pull up banging my shit. From me starting until now, I kind of understand what they like. Ten Eight is pretty much that. You're going to be able to party to it and take something from it. My previous shit is just straight gangster. This is some shit you can vibe and party to. 
Terrace Martin is executive producing my album. My whole shit is not driven by money but by what's going to last. I'm going to be gone one day, and I need my music to stand the test of time. The album is more topic driven and is definitely going to solidify that. I saved a lot of stories for that. Everything is about timing. I don't want people to feel like I said this specific thing already. There are certain stories and things that happened for me to be G Perico and be in this position. 
Ten Eight is going to bring you to the hood, and Broadway is the ride through. There's going to be a lot of shit that I haven't touched on because I was waiting for the perfect time. That's the vision that I got for this shit. 20/20 vision. Full speed ahead. Geah.