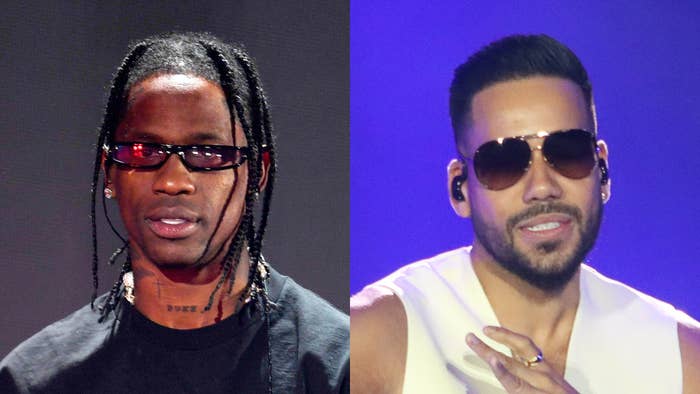 Travis Scott busted out some moves to the sounds of bachata music while Romeo Santos performed at Jay-Z's REFORM Casino Night and Gala.
On Saturday, Hov hosted several celebrities at the event held in Atlantic City's Ocean Casino Resort, and the King of Bachata took the stage to sing his mega-hit "Promise" featuring Usher. La Flame wanted to learn how to dance the traditional dance from the Dominican Republic and joined Santos on stage to ask him how to do the steps.
In footage from the event, Santos is belting the tune with Scott close by doing his best four-step. The Utopia rapper was so into the dance he turned to the crowd and screamed, "Let's go!" in excitement.
The REFORM Casino Night and Gala was attended by several A-list celebrities who participated in a number of charity events, such as an art auction and a $100,000 buy-in blackjack tournament. Non-tournament attendees had to make a minimum charity donation of $50,000.
Michael Rubin, Matthew McConaughey, Tiffany Haddish, Gayle King, Kevin Hart, Alex Rodriguez, Fat Joe, Gary Vaynerchuk, French Montana, Dez Bryant, Tobias Harris, Ella Mai, Ne-Yo and more from the worlds of sports, entertainment and business attended the event.
Kim Kardashian and Tom Brady were reportedly seen privately chatting and laughing" throughout the night, including at an afterparty following the gala. However, an insider maintained that Kardashian and Brady's interactions merely "seemed friendly."
They were also trying to outbid each other for an expensive painting by acclaimed artist George Condo at the gala's art auction. The SKIMS mogul started the bid with $500,000 before Brady answered with a higher bid. The two went back and forth in a way that sources described as a "super fun and flirty" interaction.
After the bidding reached $2 million, event hosts decided Brady and Kardashian would each receive their own Condo painting, with their $2 million bids used as payment for their canvases.
Check out photos from the event below.