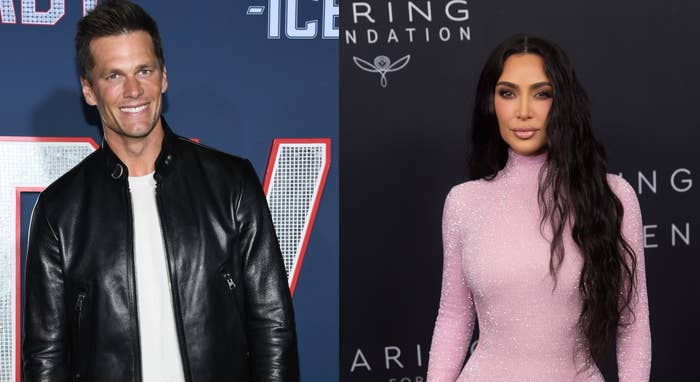 Months after cozying up at Michael Rubin's annual Fourth of July white party in the Hamptons, Kim Kardashian and Tom Brady reuinted at another event hosted by the Fanatics CEO.
Page Six reports Kardashian and Brady crossed paths on Saturday night at Reform Alliance's Casino Night and Gala Event at Atlantic City's Ocean Casino Resort.
Sources close to the reality star and former NFL quarterback said the pair "was seen privately chatting and laughing" throughout the night, including at an afterparty following the gala. However, the insider maintained that Kardashian and Brady's interactions merely "seemed friendly."
In addition to participating in the event's charity blackjack tournament, Kardashian and Brady faced off in a bidding war at the gala's art auction, with the pair one-upping one another in an effort to snag an expensive painting by acclaimed artist George Condo.
The SKIMS mogul started the process with a $500,000 bid, before Brady placed a higher bid, which resulted in an ensuing back-and-forth between the two that sources described as a "super fun and flirty" interaction.
After the bidding reached $2 million, event hosts stepped in and decided the pair would each receive their own Condo painting, with their $2 million bids to be used as payment for their canvases.
Kardashian's reunion with Brady arrives days after it was reported that she and Odell Beckham Jr. have been spending time together. However, sources close to the pair told TMZ and People that Kardashian and Beckham Jr. are strictly friends who have mutual acquaintances.