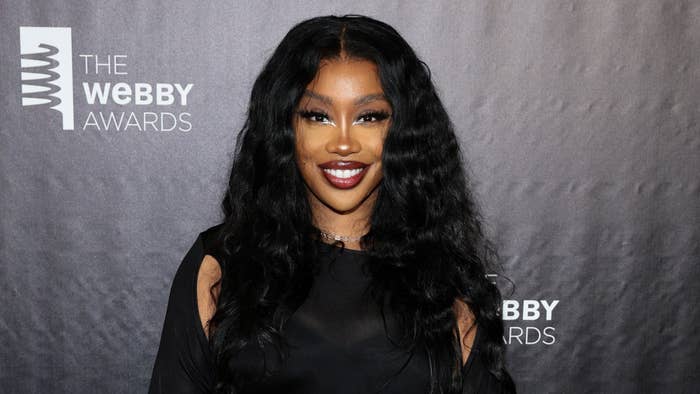 SZA had gotten into a back-and-forth with a fan on Instagram over sharing the "SZA WACK" meme during one of her tour stops.
Earlier this week, a woman took to her TikTok to share a story when SZA reached out to her over a joke that didn't sit well with the singer. According to the woman, she recreated a "SZA WACK" meme at the show and shared it on her Instagram.
The SOS singer caught wind of the post and took to the woman's comment section saying, "I don't think you realize how fucked up that actually is and how hurtful it was back then and hot it RUINED my confidence and desire to perform live. Y'all not human it's sad. Really wish you the best. Love."
The woman said she deleted SZA's comment out of embarrassment, but the singer allegedly continued to set the record straight with her through DMs. According to SZA, she didn't appreciate the joke.
"I just wanna remind you imma PERSON," SZA wrote to the woman. "Like I have feelings and a life and anxiety like anyone else. It's really hard to have courage to get up on stage and even wanna do my job. My feelings matter."
The woman then explained she received a "You're lame as fuck !!" message from an unknown account that appeared to be SZA's friend. She also said she continued telling SZA that it was a joke and there was no need for a confrontation or sending people after her.
However, SZA wasn't letting her off the hook and continued to drag the issue by telling her she's a person just like everyone else and threatened to block the fan. The interaction had a polarizing reaction in her comment section, with many feeling SZA was justified in her actions and others feeling that she had no need to say anything.
"Yeah. This kid sucks. She IS lacking empathy and is generally being mean. I'm not even a fan, but I stand with SZA on this one," one person wrote on Reddit.
Another said, "SZA was doing too much, she might be having a bad day or something, but I hate people like this girl who post something about a celebrity and then act shocked when said celebrity reply. Not only that but the girl is now posting a private conversation (?) Using SZA for clout."
While she's dealing with people sharing memes about her, SZA is still finding time to enjoy herself at concerts. Last month, the New Jersey native took hilarious measures to attend Drake and 21 Savage's It's All A Blur Tour stop in Los Angeles by rocking a baseball cap, a hoodie, a pair of glasses, and even a fake mustache.