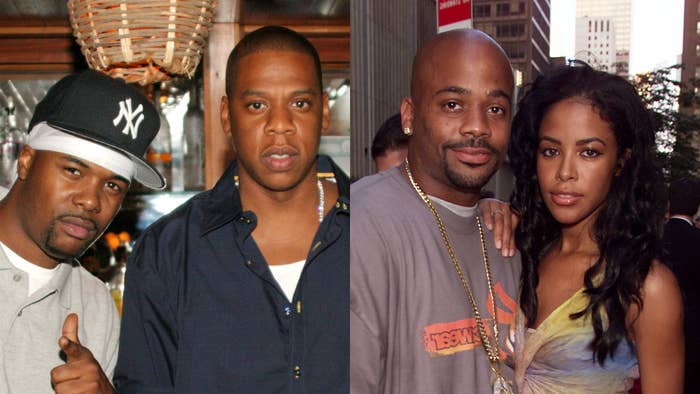 Memphis Bleek has addressed the rumors that the fall of Roc-A-Fella Records happened over Jay-Z and Damon Dash being at odds over the late Aaliyah.
During his Drink Champs interview, the "It's Like That" rapper clarified that he wasn't around when Jay and Dame allegedly competed for Aaliyah's affection in the early 2000s. According to Bleek, he was making less money than the co-founders of Roc-A-Fella, so he wasn't invited to the Hamptons parties.
"See, I ain't have no money then. That was them Hamptons parties," Bleek said. "I wasn't invited there. I was too hood, I ain't have no money then, that shit took place in the Hamptons, I wasn't there. So I can't really speak on something I don't know. I don't recall Jay ever with Aaliyah. That was always Dame's lady to me. God Bless."
Bleek then reflected on Dame's consistency in speaking about Roc-A-Fella's decline. For years, the music executive has done interviews where he shared his side of the story and pointed fingers at his former business partner.
"I don't know what any angle come from with Dame still speaking on the situation," Bleek said. "That shit almost 30 years ago, bro. Like n***as is on to new and better and other things. Hov done created six, seven different businesses since the fall of Roc-A-Fella.
He continued, "It's like we still talking about that? [Jay-Z] got a song called 'What We Talking About,' like you feel me? It's like, come on, man, you got to move on to something else, man like you gotta grow, man. Life is about growing. Evolve or dissolve man."
During an interview with the That's F*cked Up podcast in July, Dame opened up about his relationship with the late singer. The two dated in 2000 until she died in a plane crash in 2001. According to the 52-year-old, he and Jay were both trying to get with Aaliyah, and the latter grew bitter after Dame started dating her.
"I just threw my A-game," Dame said. "And then, you know, I guess Jay was trying to get at her as well, and I didn't know. It got brought up and I was like, 'Fuck both of y'all.' But it never worked out for them, and we were both trying to get at her. And I kind of eased up, but then we ran into each other. It's a long story."
Dame also claimed that Jay-Z was pursuing Aaliyah by sending her flowers and more. Things seemed to boil over at a Fourth of July party in 2000 where all three were at the same house party.
"Yeah, he felt a way. But everybody knows that shit," Dame said. "They be trying to act like he wasn't really fucking with her. Nah, he was sending flowers and doing all that shit, he was courting her. So we were both going hard, and we ended up in the same house for Fourth of July."
He continued, "It was, like, one day [Aaliyah] might lean towards him, then it'll lean towards me. But I was just on fire that week. Everything I was saying was funny, you know what I'm saying? I remember coming downstairs and [Jay] was like… [sigh]. 'Cause like, you know, his friends were laughing at him and shit."