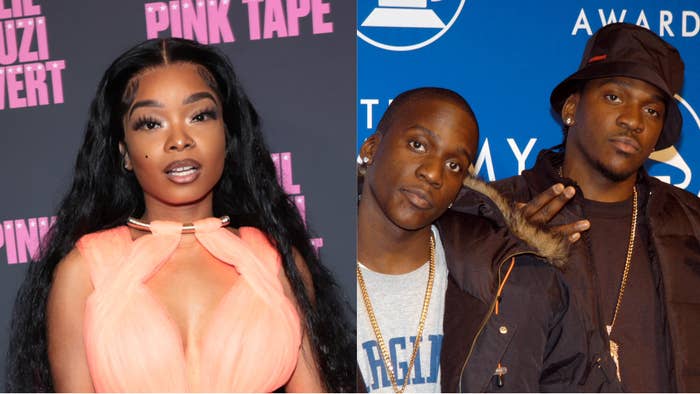 Lola Brooke has jumped on the classic Clipse record "Grindin'" and added her own twist.
The Brooklyn rapper dropped her reimagining of "Grindin'" titled "Blind Em" last Friday, in which she lays down her vicious bars with her trademark bass-heavy voice as she raps about her come-up and standing against her oops.
The release of "Blind Em" is a part of the much larger project, the Pixel RePresents content series. Mass Appeal, Google Pixel, and Sony Music Entertainment's Certified joined forces for this special project celebrating hip-hop's 50th anniversary that finds promising women rappers reimagining some of the genre's most classic records.
"Fifty years of Hip Hop— it's an honor to be called on by Google and Mass Appeal to celebrate the culture this way," said Lola Brooke in a statement. "From reinterpreting one of my favorite records, 'Grindin'' by Clipse, to capturing all the magic on a Google Pixel phone, every part felt like a celebration."
She continued, "It's dope to see how it all came out, and I'm happy to have gotten the chance to create art that I can always look back on and cherish."
Lola Brooke's appreciation for hip-hop history comes from her days listening to the genre when she was a kid, as she explained during Complex's Volume NY women rapper roundtable conversation.
"I started off with 50 [Cent], [Lil] Wayne, Meek [Mill]. [Lil] Kim, Foxy [Brown], Nicki [Minaj]," she said. "I tap into Michael Jackson every now and then. I tap into Beyoncé every now and then, as well as Janet [Jackson]. I'm like a student and I'm OK with being a student in the game, and I'm just watching. I'm just trying to make sure that I polish my craft as much as I can."