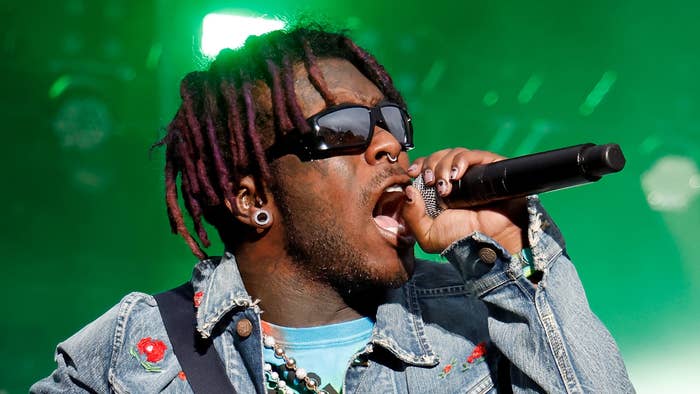 Lil Uzi Vert gave fans a special treat when they showed up at the Roots Picnic with the purple dreadlocks hairstyle seen earlier in their career, while also hinting at the release date for The Pink Tape.
The Philly rapper took the stage on Saturday at The Roots annual festival, where they performed a medley of hits while showing off their new hairstyle. Uzi broke into the mainstream in 2016 with the same purple dreadlocks that later turned into colorful variations.
At one point during the festival, Baby Pluto was asked when their long-awaited project The Pink Tape, would be dropping. According to the 27-year-old, fans can expect it to arrive at the end of the month.
As it happens, June 23 is National Pink Day in the United States, so it's not too far-fetched if Uzi dropped their project on that date. The Pink Tape has been teased as far back as 2021, and Lil Uzi Vert hasn't shied away from giving fans a healthy dose of updates.
One of them came in March when Uzi told TMZ they were sober while recording songs for the project, making almost 700 tracks.
"It was challenging at first. But then after probably after a month, I got used to it," Uzi said. "I thought that my creative process wasn't going to be the same because I wasn't on drugs no more. It was the same. Even better. Because I could think more clear and I could actually, like, instead of my words slurring, which is kinda of cool, everything made sense. I didn't just make random music. How can I say? I didn't play off the beat. I actually made song with topics this time."
Uzi's label co-owner Don Cannon appeared on an episode of Math Hoffa's My Expert Opinion podcast, and revealed the rapper recorded 680 songs for The Pink Tape.
"Ain't nothing changed, so he one of them guys. And it's different because we're getting all kinds of songs out of him. Might get a rock song, a real rap song, because he really rap. Might get the melodic shit that he do. That's a fun thing," Cannon explained.