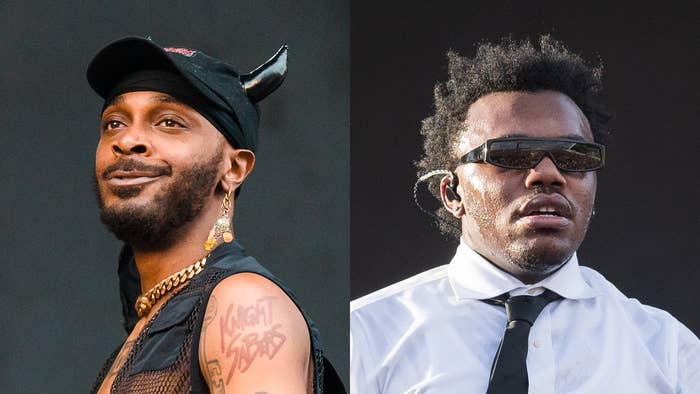 JPEGMAFIA has thrown some shade at Baby Keem on a new track off his latest project with Danny Brown, Scaring the Hoes: DLC Pack. Check it out below.
The Brooklyn native released the project with Brown on Tuesday, and it serves as sort of a bonus follow-up to their March joint album Scaring the Hoes. The aptly titled DLC Pack comes equipped with four new tracks, and there's one in particular that's grabbing the attention of fans, all off a bar where JPEG name-drops Keem.
On the wildly titled "NO! NO! NO! NO! NO! NO! NO! NO! NO! NO! NO! NO! NO! NO! NO! NO! NO! NO! NO! NO! NO! NO! NO! NO! NO! NO! NO! NO! NO! NO! NO! NO!" JPEGMAFIA references Baby Keem and the huge co-sign he got from his superstar cousin Kendrick Lamar. According to Peggy, his career is doing just fine without any nepotism.
"When I was just 18, the judge put me on a list/Bitch, I ain't Baby Keem, my cousin ain't gave me shit," he opens the track. "They don't want no Peggy on the scene, so I pray 'fore I'm fuckin' they bitch/'Cause they know that lyin' is a sin, but she used it to get by us, woo."
The bar surprised fans as there's no reported friction between JPEGMAFIA and Baby Keem. Several people took to social media trying to figure out why he took aim at the Melodic Blue rapper.
"Why did i just hear Jpegmafia dissing baby keem outta the blue for no reason??," one Twitter user wrote. Another tweeted, "@babykeem you need to respond to that corny n***a @jpegmafia."
A third wrote, "jpegmafia baby keem diss oh lord this is horrible for me."
While fans break down their new release, JPEGMAFIA and Danny Brown are getting ready to hit the road this year. The duo will embark on the Scaring the Hoes Tour beginning in Nashville on July 25. The nationwide trek will have Peggy and Danny hitting up cities such as Louisville, Cleveland, New York City, Philadelphia, Atlanta, and more before closing up shop in Dallas next month.
Stream JPEGMAFIA and Danny Brown's Scaring the Hoes: DLC Pack below.