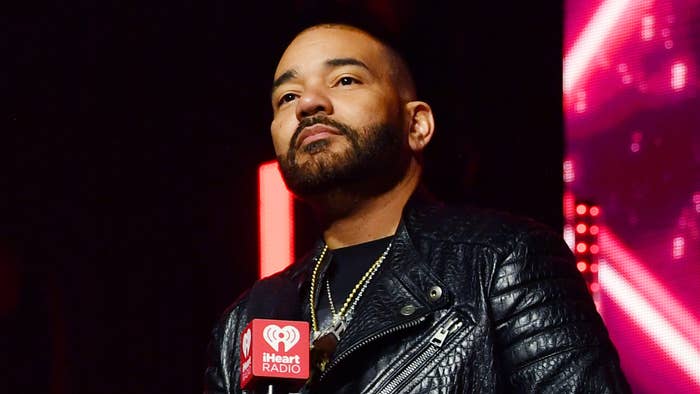 DJ Envy has been making headlines for all the wrong reasons after his former real estate business partner, Cesar Pina, was arrested and charged with federal wire fraud last month. Pina is accused of defrauding dozens of people through an alleged Ponzi scheme. Victims are accusing Envy, who was not charged, of using his celebrity status to lure people into the alleged real estate scam.
In addition to the arrest, there have also been at least 20 civil cases filed in recent months against Pina where Envy was named as a co-defendant.
Since Pina's arrest, social media has been having a field day trolling The Breakfast Club co-host. The 46-year-old has denied he had any knowledge of Pina's alleged wrongdoings, saying during an episode of The Breakfast Club, "For anybody to say I was involved, that's totally not true. I would never. I've been on radio close to 30 years and never in my 30 years' time did I do nothing but try to uplift people… And I would never take a dollar from somebody."
Some of Envy's peers had warned him about Pina over the years, but Envy chose to stick with Pina. Now he's in the middle of a very complex legal issue. So how exactly did the radio host get himself involved in this messy situation?
Who is Cesar Pina, and what is he accused of?
Cesar Pina has been in the real estate industry since about 2006, when he first got into the business following a stint in prison. While in jail, Pina learned the ropes through a real estate developer and, in exchange, taught the man about how to maneuver in prison.
According to an interview with Bootleg Kev, Pina landed a job handling people's mortgages and even jumped into the restaurant business following his release from prison. However, according to Pina, a life-changing opportunity in real estate came knocking on his door, and he took it, flipping a three-family home in Patterson, New Jersey for $70,000.
According to a press release from the Department of Justice, Pina is accused of allegedly soliciting "dozens of individuals to provide him with millions of dollars to purchase and invest in residential properties." Instead of sharing those profits, though, Pina allegedly defrauded his investors in a Ponzi scheme. Pina built a following on Instagram with the brand name Flipping NJ and is accused of falsely representing the nature of his business while also lying about investment returns.
"We allege Pina offered a ridiculously high rate of return to investors, then took the millions he got and invested it in himself," said James E. Dennehy, FBI-Newark Special Agent in Charge, after Pina's arrest.
Pina promised investors "20 to 45 percent returns on investment within five months" but is alleged to instead have used that money to pay off prior investors while also spending funds on himself. He is facing a maximum penalty of 20 years in prison if found guilty of wire fraud.
According to Billboard, there have also been at least 20 civil cases filed in recent months against Pina and his wife. Many of those lawsuits name Envy as a co-defendant. Trevor Roman, one of the people suing Pina, claimed he's owed $280,000 by Pina and his company. A New Jersey man named Paul Peralta claimed he gave Pina a total of $600,000 for what turned out to be a "Ponzi scheme and investment scam." Another investor named Anthony Barone said they lost $1.5 million by investing in a Paterson apartment project that was never completed.
How is DJ Envy involved?
DJ Envy first linked with Pina in 2017 when he wanted to get a deeper understanding of real estate. At that point, Pina had already been working in the industry for years and built a portfolio of clients in the New Jersey area. The two joined forces and started running a company that held real estate seminars and taught people about the business while also recruiting them to invest in properties.
DJ Envy and Pina recorded several clips promoting their business and promising to teach people the right way to work the real estate market. Their clients would receive Land Lord chains with the word Trap struck out. Envy even invited Pina to The Breakfast Club to promote their business.
Through all the seminars, self-promotion, and more, Pina's popularity rose on social media. He even released a book in 2021, titled Flipping Keys, which offered readers real estate advice.
One couple told NBC New York that they connected with Pina after seeing him on social media with DJ Envy. "He's advertising this all over radio and television, so I thought this was legit," said Jose Santiago, to NBC New York. "We invested $200,000 and it looks like we won't ever get it back."
Pina and his wife Jennifer are also facing legal issues over their Flip 2 Dao company. DJ Envy is also listed as a co-founder of the company.
What is a Ponzi/Pyramid scheme, anyways?
A Ponzi, or pyramid, scheme is an investment fraud where existing investors are paid through the money collected from new investors. Ponzi scheme organizers often promise to boost the money people have invested with little or no risk, but the fraudsters usually pocket the money. You can see an example of this in a season two episode of The Office, where Steve Carell's character, Michael Scott, tries to get his staff to invest in a fraudulent calling card business.
In the show, the "son of the deposed king of Nigeria" e-mailed Scott to recruit people for the fake calling card business, which he's utterly oblivious to. However, John Krasinski's character, Jim Halpert, helps him see the pyramid scheme as he literally draws it out for him.
The largest Ponzi scheme in history was conducted by financier Bernie Madoff, who stole over $64.8 billion from investors in a scam that ran as far back as the 1970s. Madoff was sentenced to 150 years in prison in 2009 for being the mastermind behind the massive fraud. Madoff's list of victims included many banks, investment firms, and hedge funds—a reminder that these types of schemes don't just work on the poor or working class.
What have people said on social media?
Social media has been buzzing about the situation with DJ Envy and Cesar Pina. For starters, NFL player-turned-entrepreneur Tony "The Closer" Robinson was one of the first people who began accusing Pina, his wife, and Envy of running a multi-million dollar Ponzi scheme, which caused other investors to speak up.
X (Twitter) users have also been resurfacing various old clips of DJ Envy where he explained his work with Pina. During a 2021 visit to Maino's Kitchen Talk show, Envy even admits he was told to be careful doing business with Pina and recalls Joe Budden telling him he was going to land himself in jail. In a recent episode of The Joe Budden Podcast, the former rapper corroborated Envy's story and said the whole idea sounded "fishy."
Funk Flex, who has had a longstanding feud with Envy as well as Charlamagne Tha God, tormented Envy when he received a cease-and-desist letter from the victim's attorneys of the real estate scam. Flex took things a step further by airing out Envy's business during a radio broadcast.
If that weren't enough, Rick Ross also had words for Envy in addition to their ongoing car show beef. Ross went on Flex's show and went on a lengthy rant. "Nah, we ain't selling fake houses!" said Ross. "We not gon' steal no old lady houses. You going to hell for that."
How have DJ Envy and Cesar Pina responded to the allegations?
Envy took to his own radio show to explain his side of the story.
"Let me explain some things," said Envy, during an episode of The Breakfast Club. "So Cesar and myself did seminars. Now, the reason I did these seminars is because I wanted to uplift my community. I wanted to teach my community about real estate. Things that I didn't know when I was buying my first home.
"So I did these seminars and brought industry professionals to all these seminars, whether it was real estate agents from different markets, contractors, money lenders. I even brought Auction.com to actually show people how to purchase houses online."
He continued: "Now Cesar, if he took money I wasn't privy to it nor did I even know. But I do understand how people feel if they did give him money because I gave him a lot of money that I didn't see a dollar of return."
Meanwhile, Pina recently took to his Instagram Live and addressed all the accusations and said they weren't true. However, he did also say Envy was not involved in any of the "transactions" made with people who are suing him for fraud.
"I'm at the point now that I can't communicate with anybody 'cause now everybody's a potential co-conspirator, everybody is a witness, everybody is a victim," said Pina. "Nobody's an investor anymore, everybody's a victim."
He also brought up Envy's role in the real estate business.
"DJ Envy's attorney's defense that DJ Envy is a victim — that's the dumbest shit I ever heard in my life," he said. "Me and him were partners in the real estate seminars, we were partners in a couple of real estate transactions. That's it. He's not a victim. He was my partner, he was an investor."