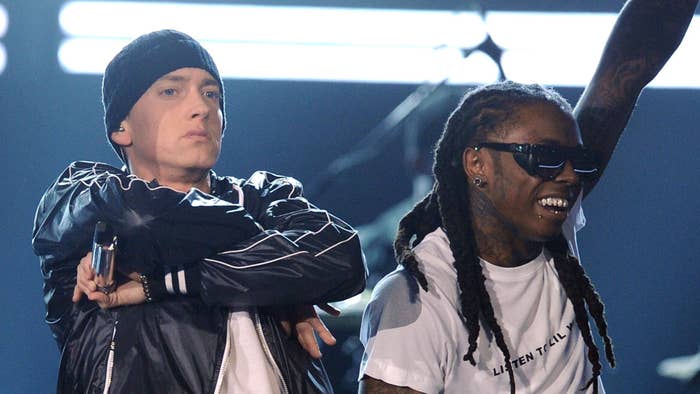 Eminem has revealed he's in complete awe over the Funyuns line in Lil Wayne's excellent lyrical performance on "Brand New," his new single with Tyga and YG.
On Thursday, Slim Shady took to his X, formerly known as Twitter, account to talk about the track that has fans going wild on social media. Wayne proved that he can still drop crazy bars with a lyrical assault over the DJ Swish and Mike Crook-produced record.
For Eminem, the verse that stood out to him the most was the one in which the Young Money boss referenced Funyuns. The metaphor was so crazy, the Detroit rapper was upset he didn't come up with the clever line himself.
"Bro Wayne just said 'got a bunch of zeros like a bag of new funyuns!!' FUCK why didn't I think of that????," Em said.
Eminem is very familiar with Lil Wayne's lyrical ability as they've gone toe-to-toe on tracks such as "No Love," "Drop The World," and "Forever" featuring Drake and Kanye West. Earlier this year, Weezy admitted he was scared working with Em when they first collaborated on 2009's "Drop the World."
"I was scared, actually, when I called Eminem for a song," he told The New York Times in July. "That is a monster. He must have the same thing I have with words. Like, we can't get them out of our heads."
He continued, "Every meaning, every aspect of them. Things that rhyme, we hear it. I already know the gift and the curse that he has. And I love to hear the way he puts it together."