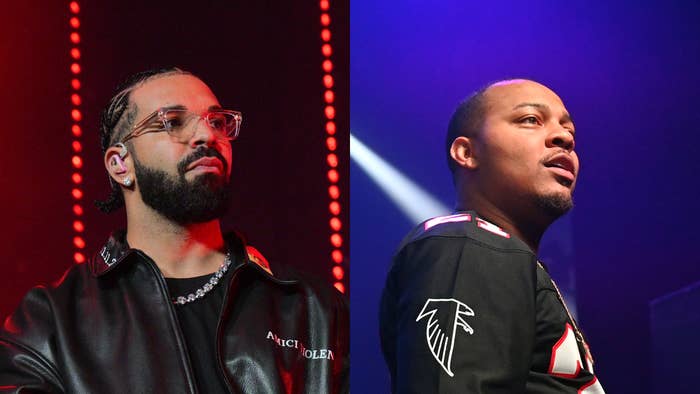 Drake had Bow Wow, one of his childhood idols, walk out with him to kick off the second and final night of his stay in Atlanta, Georgia, and once again gave him his flowers.
The 6 God's list of celebrities that have walked him through the crowd of whatever arena he's in during the It's All A Blur Tour has been star-studded, and that roster only grew Tuesday evening. The Like Mike actor accompanied Drizzy as he made his way through screaming fans inside the State Farm Arena.
Right when the Toronto megastar hit the stage, he took a moment to thank Bow Wow for the massive influence he had on his life.
"Shout out my boy Bow Wow for walking me to stage tonight," he said. "I gotta say, Atlanta got a lot of legends, but that's somebody who I wanted to be like growing up, so shout out to Bow Wizzle walking me to stage."
This isn't the first time Drake has given credit to Bow Wow for having such a huge impact on him. In 2021, after he debuted three songs atop the Billboard Hot 100, Drake partied up with friends, including Bow Wow, at a private dinner.
In an Instagram post, Drake shared a toast with Bow Weezy celebrating the huge accomplishment on the charts and explained he had to share in the moment with the rapper.
"I didn't know how else to bring in 1, 2, 3. I had to link with Wizzle," he said. "Everybody wants to have drinks and everybody wants to celebrate and turn up, I just had to see Wizzle. I had to see Wizzle in person."
Drake also gave credit to Bow Wow for opening doors while quoting lyrics from his 2001 hit "Thank You." "If it wasn't for you, there wouldn't be no me," said Drake, "and that's why I'm a rock with y'all forever more. I appreciate y'all."
He did the same thing during an interview with Nardwuar in 2016 where he said, "When you were younger, you wanted to be as big as Bow Wow was. All the girls wanted Bow Wow."