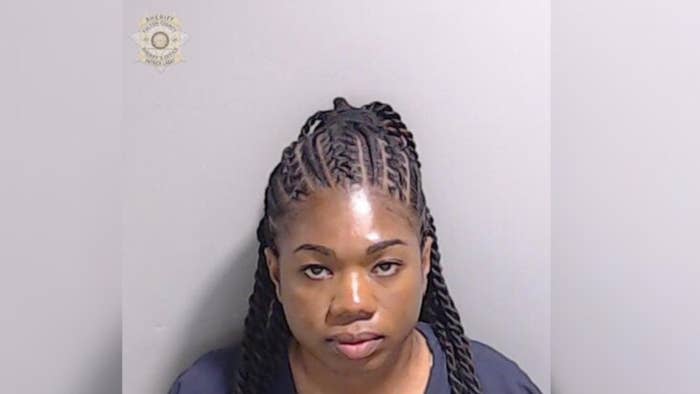 A Fulton County deputy has been arrested and charged after a search warrant revealed she was in a relationship with a defendant in the YSL RICO case.
According to the Fulton County's Sheriff's Office, Akeiba Koren Stanley was charged with reckless conduct, violation of oath of office, conspiracy to commit a felony, and hindering apprehension or punishment of a criminal. The charges came after a search warrant was issued to seize a computer of the defendant's attorney that revealed Stanley was in a relationship with Christian Eppinger.
The two reportedly communicated through Instagram and a cell phone. The sheer if's office also stated that Stanley had allegedly agreed to help Eppinger smuggling items and is also accused of handling contraband from one of Eppinger's relatives. If that weren't enough, she also visited Eppinger in his cell.
According to The Atlanta Journal-Constitution, Eppinger was using his lawyer's laptop to communicate with several individuals through Instagram and deputies realized Stanley was amongst those people. The pair got caught after an investigator with the sheriff's office saw Eppinger write a message, smile and look at Stanley, who then typed something on her Apple watch before smiling back at Eppinger.
An investigation confirmed Eppinger and the deputy were texting each other after their social media accounts were traced back to them. There were other instances where Stanley and Eppinger displayed an inappropriate relationship.
Eppinger bought Stanley a birthday card from the jail commissary in April. The following month, Eppinger got into tussle with another officer and Stanley allegedly stood by and didn't detain him while other deputies stepped in. According to the warrant, Stanley rubbed Eppinger's back after the scuffle and said, "look at me, baby."
Eppinger's lawyer, Eric Johnson, is also accused of being a co-conspirator after letting his client message people on his laptop. Judge Ural Glanville severed the case from the much bigger YSL RICO case due to conflict of interest and potential concerns with security.
Stanley was arrested last week and granted a $1 million bond. She has worked with the Fulton County Sheriff's Office since October 2022 after being fired from the Atlanta Police Department in July 2018. A hearing has been scheduled for June 21.
Eppinger faces 15 counts in the sprawling YSL RICO case and is accused of shooting an Atlanta police officer six times during his 2022 arrest.