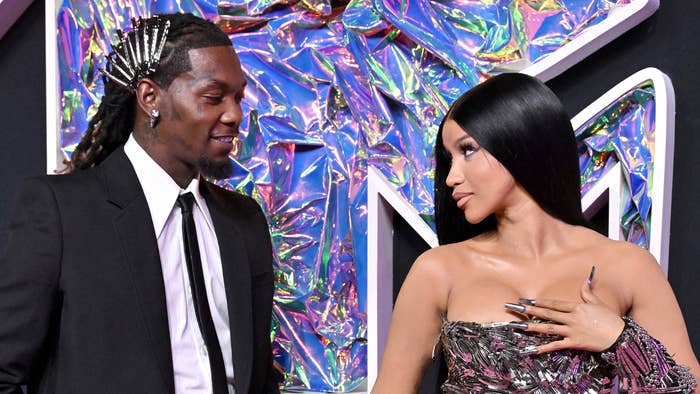 Cardi B and Offset are no strangers to public displays of affection as they shared a raunchy bathroom moment at the 2023 MTV VMAs.
On Tuesday, the leader of the Bardi Gang shared a video of herself and Offset hanging out in a bathroom inside the Prudential Center in New Jersey, where the MTV VMAs were taking place. In the video, Cardi and Offset are fully clothed while pretending to have sex in front of the bathroom mirror.
Cardi B makes all sorts of sexual sounds while Offset looks at his wife's backside, hitting against his crotch. At one point, one of their friends walked into the bathroom looking for a phone charger, and Cardi told her she could use hers in a sexual voice.
The couple is no stranger to showing their freaky side in public. In July, Offset recorded his wife in a red bathing suit twerking on him in a pool in Las Vegas.
Earlier this month, Cardi B had an interview with Sirius XM's Hip Hop Nation where she revealed she wanted to make more "freaky" music with her husband. According to The Bronx native, her and Offset are always making aggressive songs, and she wants to flip the switch on their musical output.
"I do wanna do more songs with him, I do wanna explore. I feel like we do so much rough songs and it's like, let's talk about fucking," she told host Swaggy Sie. "We always talk about the music. Let's talk about fucking because I always feel like on the attack mode when we do songs together."
The 30-year-old rapper also mentioned that she has recorded five songs with her husband. Over the years, the couple has collaborated on the remix of "Lick" from Cardi's mixtape Gangsta Bitch Music Vol. 2, as well as "Clout" and "Jealousy."