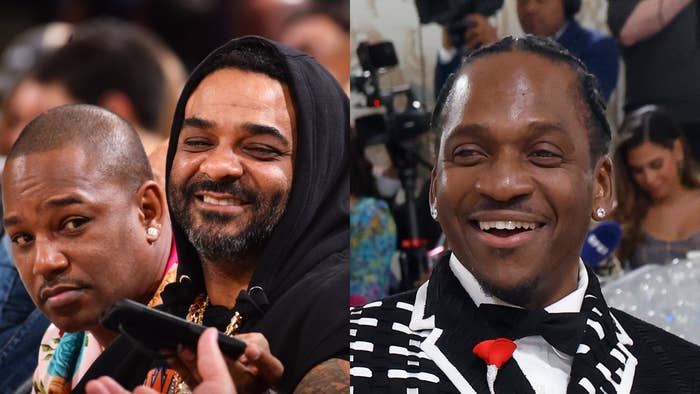 Cam'ron has revealed whose side he's picking in the rap beef between his Dipset brethren Jim Jones and Pusha T, and the answer shouldn't surprise anyone.
On Wednesday, Killa Cam took to Instagram with a photo of himself and Capo back in the day. According to the Dipset leader, he's always going to side with "family," and regarding Jim Jones' latest rap beef, he won't allow Pusha to use their roller-coaster history as ammo.
Cam also said King Push was "nice" with the bars, but Jim Jones's "Summer Collection" diss has put him against "the ropes." However, the Harlemite made it clear he won't be rapping alongside his peers as he's in the sports world now.
"Naaa Push!!! Me and capo definitely don't be on the same page all the time. But I don't go against the family (Harlem)," Cam wrote. "Don't use no old problems we had to try and win a battle. Get in dat booth. U nice but @jimjonescapo got u on the ropes and u aint Ropa-doping!! And I don't care if y'all put me in y'all bars I quit. I do sports."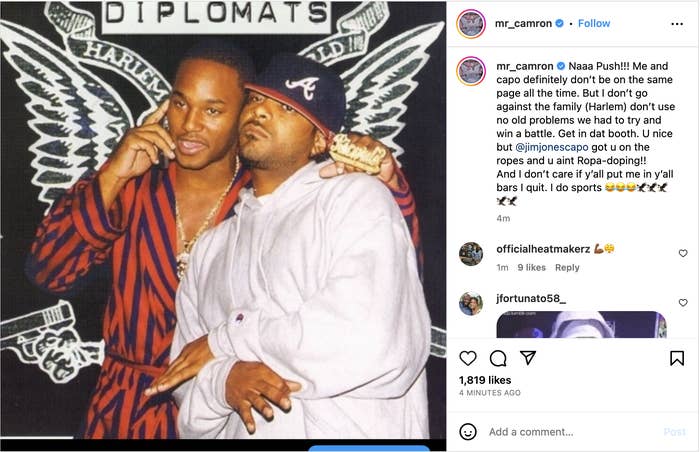 Cam'ron's post comes days after Jim Jones unleashed "Summer Collection," an impressive diss track aimed at Pusha T. The record has been stirring up conversations on social media, with fans siding with Jim and others saying he doesn't stand a chance.
Push is next up to bat as fans are waiting to see what his next move will be if there is one. The Clipse member has a long history of digging up dirt on people and using it against them in his bars, and Jim has quite the relationship with Cam'ron.
Over the years, The Diplomats have had their fair share of issues. There was friction between Capo and Killa and both men threw shots at each other several times. They reunited at times but it wasn't enough to completely heal the group.
On Back In My Prime, his collaborative album with Hitmaka, Jim Jones reflected on his relationship with his Dipset brothers on the track "Status Update." The song had fans think the group was at war again with Jones holding nothing back in his rhymes.
"I be in the streets, they are asking where Juelz at/ I wanna know the real reason why he fell back," he rapped on "Status Update." "And it's hard for me and Cam to see eye to eye/ I love him and I still hug him, but when I see him it's like hi and bye/It's kinda crazy, I thought it was ride or die … next subject."
However, during an interview with HipHopDX, Capo explained there was no beef as he was just getting things off his chest from a place of love.
"People hear music and take it so literally. I was just saying some personal stuff that I wanted to put on record," he explained. "It was no way, shape or form me dissing or talking down on anybody. If you listen to the words, it's all complete love. They're still my brothers above all, and Diplomats is for life."